We've seen some pretty bizarre nail decals in the past (such as ones with Ryan Gosling's face) but these "Cute & Sleazy" nail decals are the most absurd nail art we've ever seen. At first glance, we thought they were images of sunglasses, hearts and hot dogs, but we quickly figured out why the "sleazy" is in the title. Instead of describing all the inappropriate things to you all, we figured an up-close image of the decals would work best: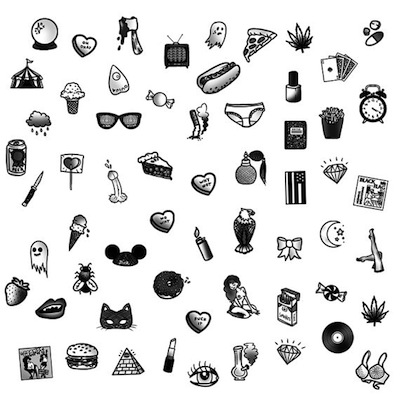 Now do you see why we're blushing like a school girl? At first we thought this was a joke, but turns out you can purchase your very own "Cute & Sleazy" Nail Decals for $8 a pack. I mean, they are kind of fitting for a bachelorette weekend in Vegas, and they make for super easy nail art. We'll give them credit for that. But we'd highly recommend not showing up to work with the penis, stripper or weed stickers on your nails, unless you're looking to get fired. What are your thoughts on these indecent nail stickers? Will you be rocking bong nails anytime soon?
For more beauty news, check out Ciate feather manicure kit, Deborah Lippman punk rock polishand royal baby nail polish now.