I hate to be dramatic, but can we all agree Sarah Jessica Parker's colorblock Burberry poncho is absolutely everything? And with the monogram?! I've seriously never had such fashion envy. She can keep her Louboutin heels and Chanel bags–I just want a monogramed cape!
Now you're probably thinking, "Well, why the hell don't you just order the cape?" Ah, if only it were that simple. First, despite the fact that the Color Block Blanket Poncho is from Burberry's Fall 2014 collection, it's already freaking sold out on burberry.com.
As luck would have it, I did find the poncho available at matchesfashion.com–for $1,383. Why????
If you do happen to have a G to drop on a cape, (1) I'm very jealous and (2) you should definitely use that cash to snatch one up ASAP. Not sure if MATCHESFASHION will monogram, but the cape is pretty amazing on its own.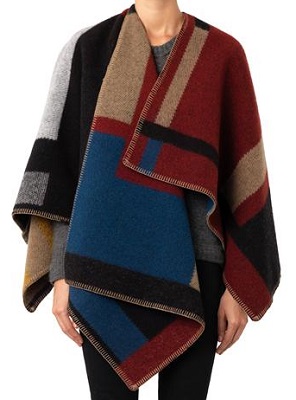 Burberry Color Block Blanket Poncho ($1,383)
 For more must-have celeb style, shop Julianne Hough's black handbag, Lea Michele's tank and Jessica Alba's leather track pants.
[Photo: Splash News]