We all know that nail polish remover, gets rid of nail polish on all kinds of surfaces, not just your nails. If you spill or drip your polish on the counter, on the table or on the floor, you can still count on your remover to get rid of it. But, did you know that nail polish remover has other uses?
Despite the smell, sometimes nail polish remover can be better than good ole' soap and water or even laundry detergent. So why not use it for more than just your nails? Everyone has a bottle laying around their house somewhere, so put it to use with these two hacks.
1. Getting rid of Sharpie. 
Sharpie's and other permanent markers can be pretty tricky. If you aren't careful (or your paper is too thin), Sharpie can end up all over your table or desk, which probably won't make your boss too happy. So, instead of reaching for a wet paper towel or some kitchen spray, head to the closest drugstore and get some nail polish remover. Rub it on any surface and your Sharpie stains will disappear! It even works on your skin. Just check out the before and after pic above.
If you've ever written with a Sharpie, which I'm sure we all have, you know how easy it is to accidentely get it on your skin. But next time this happens, you'll know the best way to fix it: nail polish remover! Or how about those Sharpie marks and stamps you get at the bar? No matter how much you scrub your hand, they're impossible to get off. Not anymore, as long as you have some NP remover on hand.
2. Cleaning your Converse.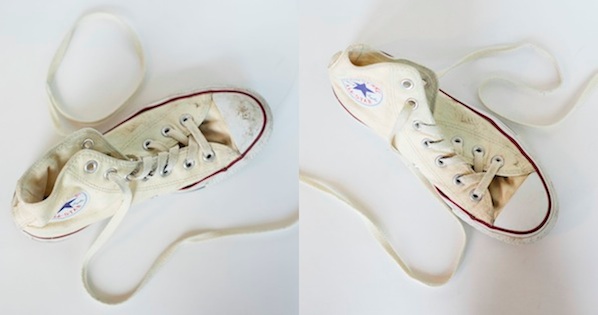 If you've ever owned a pair of Converse sneakers, you know how dirty they can get. After all, you probably are wearing them outdoors. Take a look at my Converse. In the pic on the left, they are extremely dirty from an outdoor concert I recently attended, and I needed an easy fix. The next time I wanted to wear them, I just didn't have the time to toss them in the washing machine and wait days for them to dry. I needed them right then! So, I took a cotton ball and some nail polish remover and rubbed it right on my kicks. Look how clean they are in the pic on the right! Nail polish remover is such a time saver, when you need to clean your sneakers in a hurry.
Do you know any other alternative uses for nail polish remover? Let us know in the comments below. Maybe we'll add them to our post. Ya never know.
And don't forget to check out: Beyonce's $25 crop top, knock off Celine sandals and Sam Edelman's new clothing line.