We all saw Beyonce's recent Instagram of her "Blue" ring and wondered the same thing: where did she get that? Well, you can stop guessing because we have the answer. The ring was custom made by none other than celebrity go-to jewelry designer, Jennifer Meyer. Zoe Saldana, Emma Stone and Kate Hudson are just a few of her other famous fans.
Since we can't get the same exact ring, here are some other ah-mazing Jennifer Meyer products you can shop now:
Jennifer Meyer 18-karat Gold Banner Necklace ($1,250)
 Jennifer Meyer "Love" Ring ($650)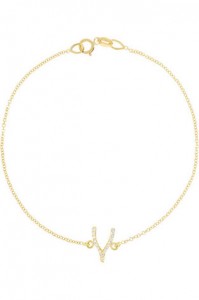 Jennifer Meyer 18- karat Gold Dimond Wishbone Bracelet ($650)
Don't miss the U.S. Women's National Team epic World Cup win and see all of Kim Kardashian's see-through outfits!
[Photo: Instagram]