If you spent your lazy Sunday Pinning aspirational photos of pin-thin street style (pun intended), recipes you'll never bake and dream closets you'll never have, and as a result started your week feeling a little bit bad about yourself, this story might help you combat that a bit. It turns out that that $500K closet in Texas was actually filled with fakes! Ok, let's start at the beginning:
Former Mrs. Texas Theresa Roemer was all over the internet (The Houston Chronicle, Cosmopolitan, the Neiman Marcus blog, to name a few) earlier this summer, bragging on her 3,000-square-foot closet filled with 60+ Birkin bags, 75 pairs of Louboutins (her favorite shoe–duh), Rolex watches, a Chanel collection that would make Coco blush, and more. Most of us fashion lovers were pretty jealous of the 3-floor "she cave," because well, who doesn't want a bigger closet? And also, because dream closets have become quite a status symbol as of late. She even had a built-in champagne bar!
Anyways, Roemer's space was burglarized of "nearly $1M worth" of Rolexes, Birkins, and other assorted items back on August 2, when she and her husband forgot to turn on the security system before heading out to dinner at a local club. They were only gone for 90 minutes, but returned home to find Theresa's sacred space completely torn apart (below). Security footage caught an unidentifiable man rummaging through her things (ew, gross!) and making out with seven figures worth of jewelry, bags and valuables–allegedly.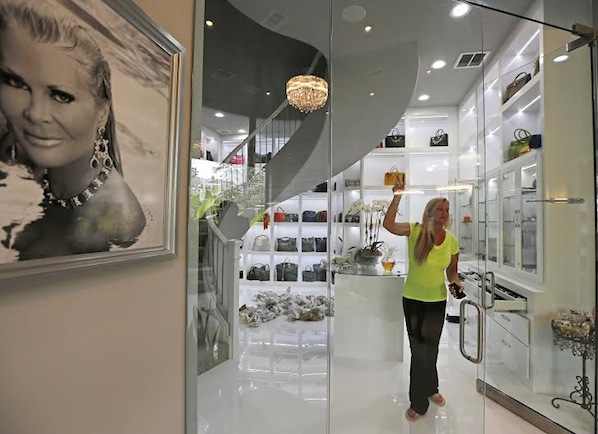 Theresa Roemer's $500K closet was robbed August 2. 
This is when the story gets even stranger (as if spending that much on Hermes cuff bracelets wasn't far-fetched enough). On August 12th, the Houston Chronicle received an anonymous call from a man (who went so far as to modulate his voice!) claiming to be the burglar of the closet and calling from a burner phone with a New York area code. The man revealed that the items he stole from Roemer's closet are FAKE and that he tried to extort $500K from her to keep quiet about it (again–EW! who is this creep??). The deal fell through though, because she (understandably) called the cops, and so he decided to make good on his threat to "expose her" to the media. The dude then MAILED the Houston Chronicle a small sampling of the stolen items–a bracelet, watch and a locket containing the hair of Roemer's deceased son–to prove that they were in fact "worthless."
Roemer has since admitted to the Chronicle and other outlets, that yes she has "costume jewelry" in her closet and that not everything she owns is a "million dollar design" and that, "'In my closet, I have a Donna Karan dress next to one from the Gap." Ok, so she's just like us! Which brings me to my point (I have one, I swear). Next time you are thumbing through Instagram or your Pinterest feed and start to feel even the tiniest tinge of jealousy of someone else's fancy shmancy life, just think of poor, ostentatious Theresa Roemer and her looted closet of fakes. Nobody's life is perfect, even (and especially) the rich. That floor-to-ceiling wall of Louboutins you're Pinning in to your "dream closets" Pin board does not equal happiness. The same rule applies for the Kardashians or the $1M blogger Pink Peonies, or anybody that looks like they have it all on social media. Everybody has their fair share of issues–and Canal Street fakes. OKAY?