Ever since we broke the news that Spanx are making a move into the outerwear world (sort of) with Spanx swimwear, we've never been so excited to go swimsuit shopping. Here, we've put together our top five one-pieces to suck in your tummy this summer. Finally, bathing suit styles that are fun–and wearable–for everyone.
1. The Spanx structured one-piece not only has a really cool design and cups that give you support, but this bathing suit style shapes and tones your tummy in seconds.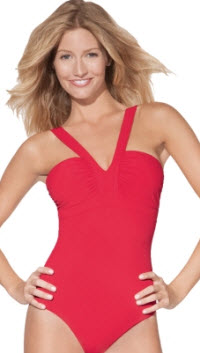 2. Deep v neck red swimsuit looks really stylish, and has a retro feel, while lifting and creating an hourglass shape.
3. The triangle top one-piece has the feel of a bikini on top, without having to show off your tummy. Instead, the ruching and the technology inside gives you a great shape.
4. If you want something different, consider the one shoulder one piece that has a cute ruffle and trendy asymmetrical shape. You don't have to compromise style just because you're wearing a one-piece bathing suit style instead of a bikini.
5. The convertible one piece can be tied around the neck or the waist, giving you more ways to wear the suit.
See more Spanx swimsuits, plus shapewear, and the best bathing suit styles for you.