If you thought pink hair was just a passing fad, you were wrong. Mermaid or watermelon hair, as it's also called, is becoming more popular than ever–especially now that Kim Kardashian has dyed her hair pink!
The reality star just showed off her new pink mermaid hair via a series of Snaps on Feb. 25, and now everyone will want to get the look. I bet you're wondering how to dye your hair pink, right? Especially for dark brunettes like Kim, making that drastic of a hair transformation can be a tricky–but have no fear, we're got the step-by-step expert tips here.
Kim used Snapchat to debut her new look and ask fans if they liked it. Of course, they all do–which means everyone on your Instagram feed is about to have that bubblegum hair soon.
Kim's no stranger to drastic hair changes–loyal fans know that she's been rocking bleach blonde hair since the beginning of 2018–but these changes can be a little smoother when you have your own glam squad.
So, what made the KKW Beauty founder decide to go pink? Well, it turns out that she was "over" being a blonde and was looking for a fun, new way to spice up her look.
"Ever since I did the CR Fashion Book shoot and wore a pink wig, I thought it would be fun to dye my hair pink," the "Keeping Up With the Kardashians" star explained on her website this morning.
"[Hairstylist] Chris Appleton and I thought about it for a month and then decided to just go for it! Since my hair is blond right now, it was easy to put the pink color over it. I figured now was the perfect timing! North absolutely loves it! She was so excited when she woke up to see I had pink hair. Kanye loves it, too. He thinks it's fun to mix things up."
Now that Kim has such beautiful mermaid hair, we're dying to try it out for ourselves! But we've always wondered: are blondes the only ones who can get in on the fun of wild colored locks? What about brunettes? If you've wondered the same thing–or if you're a raven-maned lady considering going pink, purple, blue or green–you're in luck. We spoke with a top hair expert who let us know exactly how to dye your hair pink if you've got dark hair to achieve mermaid hair–and what to do once you have that glorious color:
Color Transformation
"For women with dark hair to achieve the pastel, mermaid look, their hair needs to be pre-lightened with a lightener treatment that completely strips out the hair color. The lightener will turn dark hair to a pale blonde," explains color specialist Daniella Scaffo of Suede Salon and Spa in New Jersey. "For virgin hair, this process typically takes 20 minutes; for previously color-treated hair it can take hours as it depends on the condition of the hair (I wouldn't recommend the lightener treatment on damaged hair). There are ways to do this at home, but I highly recommend having this done at a salon because the process can damage your hair if done incorrectly. You should also keep in mind that the lightener treatment is a commitment. Once you've had the treatment, you either have to dye your hair darker to get back to your natural color or wait for the blonde to grow out."
Once the hair has been lightened, your colorist will move on to the dyeing process which can take anywhere from 90 minutes to three or more hours depending on what treatments you add on to the coloring process. "The amount of time the entire process takes, from start to finish, really depends on the condition of the hair, how many colors the client wants and how long their locks are," Scaffo explains. "There's the dyeing process and then the processing time. After that, I usually do a fast rinse and blow out. During the rinse, you can have a clear glaze applied or get conditioning treatment added on, which helps lock in the color."
Also worth noting, transitioning to pastel hair can be more damaging than your run-of-the-mill dye job. "With traditional color, you're depositing color and enhancing the hair. Pastel color is more of a double process because you're stripping the hair first then applying the color so the latter can be more damaging than traditional coloring," Scaffo says. "Pastel coloring can also be more damaging because it doesn't last as long and requires more maintenance, meaning more dying and processing."
As for specific colors that work best on naturally dark hair, Scaffo says it really depends on what the client is looking for and how many colors they want to incorporate. "There are so many color combinations to choose from, but you want to select colors that will blend nicely. Pink makes a good base color. Then you can melt pink into lavender then lavender into turquoise. You can also leave parts blonde and color the rest, but if you're looking for a true mermaid look, you really want to color the whole head. It is also an option to lighten just a part of your hair, leaving some dark, such as the bottom/underneath to color. Color fusion is really important when getting the mermaid/pastel look; you want to have the colors melt together–you do not want to create harsh lines."
Color Maintenance
After you've lightened and colored your hair, you'll need to invest in a top-of-the-line color safe shampoo. "At Suede, we love Label.M and Davines hair care products," Scaffo says. You should also avoid washing your hair as often–every other day or longer if you can. When you do wash your hair, use cool-lukewarm water, but you should always finish your shower with a cool water rinse. "Pastel is a high maintenance color–it has less pigment so the color will fade faster–so in addition to at-home care, you may also need to go back to the salon for a touch up every three weeks," Scaffo says. The summer sun can make the color fade faster, so wear a hat if you're in direct sun. Chlorine and salt water can also wash the color out faster.
Hair Dye Alternatives
Good news: there are pastel hair color options that require zero commitment. Nelson Bray of Indigo Bliss Hairapy suggests using colored hair extensions to avoid the damage that can occur when bringing black or dark brown hair down enough to take a pastel hue. "No bleach needed and the colors never fade," Bray says. "The extensions can be washed, styled, and blow dried like your normal hair. You get the same effect with no harsh chemicals."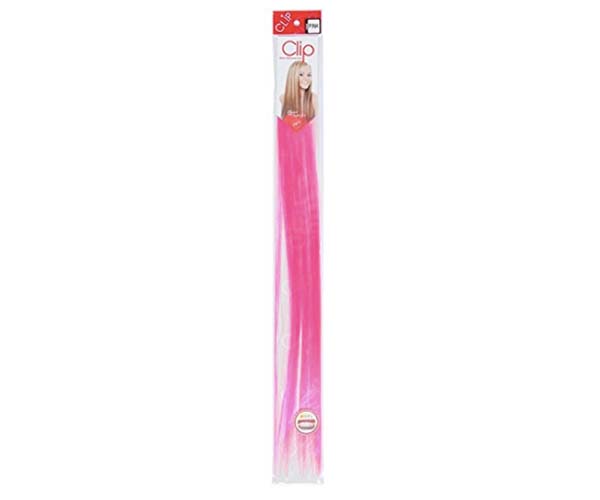 Point Hair Iron Single Clip Mink Hair Extension ($5) 
You can also try Kristin Ess' Rose Gold Temporary Tint Spray. It adds a temporary rose gold tone to the hair. Just apply to your hair when it's wet and get mermaid hair instantly!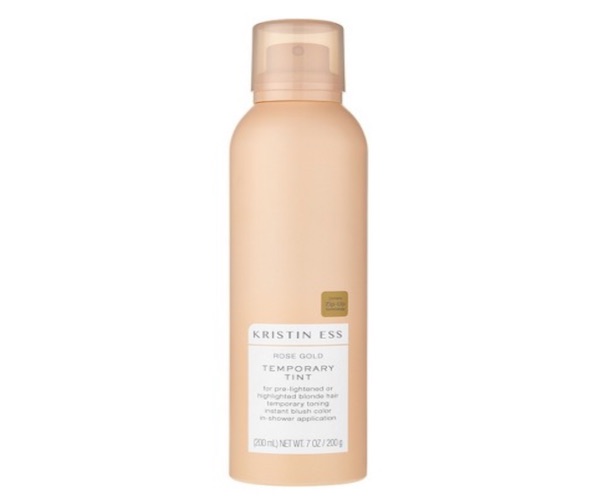 Kristin Ess Rose Gold Temporary Tint ($12) 
"I'm always looking for ways to play with pastel tones in the hair. This is the first ever in-shower watercolor that creates a temporary tone when sprayed on wet hair and then rinsed out. The intensity is up to you. When you spray it on damp, towel-dried hair it will soak up more color and last longer. If you spray it on wet hair it will give you a more subtle tone and will rinse out faster. The pink tone is most visible on pre-lightened/highlighted or blonde hair and washes out in 1-3 shampoos depending on the porosity of your hair. Rosé all day weekend," says brand founder Kristin Ess.
For more beauty tips, check out 11 Nail polish colors that will complement your summer tan and From mascara to concealer, find out when you should replace your beauty products at SheFinds.com!
SheFinds receives commissions for purchases made through the links in this post.