What's better than receiving chocolate and flowers on Valentine's Day?! Spending time with your special someone tucked away in the beautiful hills of Tuscany, Italy. If this is the year you finally decide to treat yourself (and your loved one!) to a romantic Valentine's Day getaway you'll never forget, then I have the perfect place for you.
Monteverdi Tuscany is a renowned luxury boutique hotel in Val d'Orcia, Italy. It's a one-of-kind property that you'll fall in love with the moment you arrive. From room accommodations to amenities, here's everything you need to know about planning the perfect trip to Monteverdi:
Rooms & Villas:
Monteverdi offers guests the option to book a luxury room, a village suite, a luxury view suite or even a restored villa. No matter what you choose, you won't be disappointed; each room is uniquely designed to evoke an authentic Tuscan experience.
Restaurants & Bars:
With a fine dining restaurant on-site and three bars, authentic food and exceptional wine are always just a few steps away.
Amenities:
Your trip isn't complete without an appointment at this state-of-the-art spa that offers services such as Hammam treatments, facials, massages and more.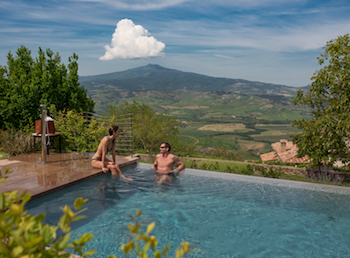 Want to cool off? Take a dip in the infinity pool while basking in the breathtaking scenic views.
When you're ready for some culture, check out the Monteverdi Art Gallery for the latest exhibit or see if there is a live musical performance scheduled during your stay.
Want to learn how to make classic Tuscan dishes at home? Sign up for a cooking class with Executive Chef Giancarla Bodoni, where you'll learn how to prepare the dishes with the freshest ingredients from the countryside. You'll also take home an apron and recipe book!
Ready to pack your bags and head to Italy? Then head over to Monteverdi Tuscany's site to book your perfect getaway.