The Dickie Bra, featured in a 1975 Sears Catalog

Until about a month ago, I had absolutely no idea what a "dickie" was. But after a hilarious bout of gchatting, Googling, and Wikipedia-ing, I learned that a dickie is a type of false shirt front, made to be worn under sweaters, blazers, and jackets. All in all, it's weird. In fact the concept actually makes me physically uncomfortable. Even if I ignore the Madonna-esque conical bra look, the looks on the models' faces alone makes me uneasy–it's as if they're hiding something. OH WAIT, they are: it's that they're not actually wearing a shirt. In fact, what they're wearing is actually the anti-push up bra, disguised as a shirt. Don't itchy materials like tweed and wool cause stomach chafing?! What's worse, is we dug up a modern day version—which means that people are still wearing these things: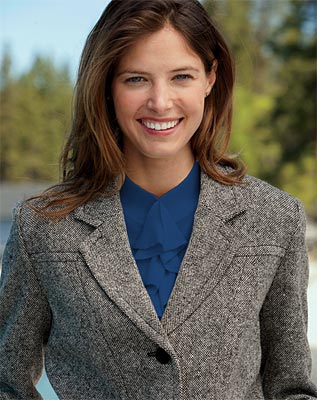 "Create a festive arrangement with our ladies silk dickey shirt," says the tagline for this $14 (down from $39!) dickie from Orvis. Yup: "festive arrangement." They went there.
For more news on designers on crack, be sure to sign up for our newsletter.