If you're like me, the last thing you do before running out the house is straighten (or curl) your hair. Your clothes and makeup are on, your hair is dry–all you need to do is some last minute styling. But the problem is that I never quite know what to do with hot electrical styling tools when I run out the door. Should I leave it flat? Should I try to prop it up so it doesn't burn or melt the countertop? Should I put it on a towel–or could that catch on fire? Does leaving it open make it cool down faster, or should I wrap it up? Can hair tools even start fires?? Oh my god, guys, the uncertainty is killing me!
I dig some digging and thank you, internet, for the exact right answer to the age-old question–what should you do with your straightener when it cools down?
The safest option–which is what the pros do–is to get a heat-resistant silicon mat and place your straightener (or any hair tool really) on it after you're done. Amazon has them:
Heat Resistant Station Mat For Hot Styling Tools ($15.95)
Ooh, speaking of heat-resistant silicon tools–the internet seems to be obsessed with this holster which you can stick your tools in while you section hair: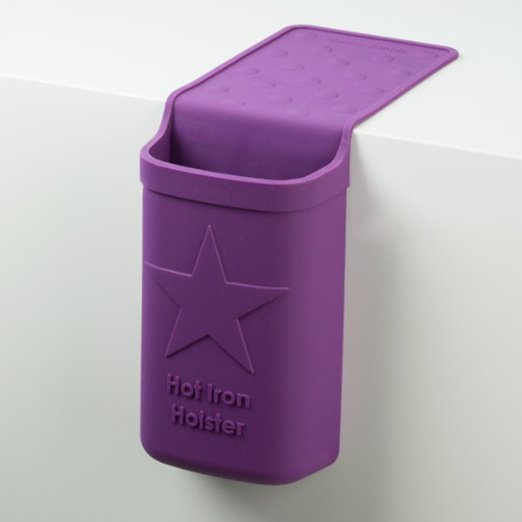 The Hot Iron Holster, available on Amazon
Another option is to buy or make a curling iron cover: Amazon sells a variety of curling iron covers from $9.99. Or you can make your own using an oven mitt (see this DIY project or this one).
Conair Heat Resistant Storage Pouch ($9.99)
And then I found this… OK BYE!