SHEfinds receives commissions for purchases made through the links in this post.
I have a serious obsession with Urban Decay eyeshadow. Like, I cannot get enough. The colors are so pigmented and go on beautifully. Even though UD has some crazy eyeshadow colors, I typically go for the ones that I can wear on an everyday basis. One of my all-time favorites is Urban Decay Smog Eyeshadow ($19) because it is the best gold color…ever.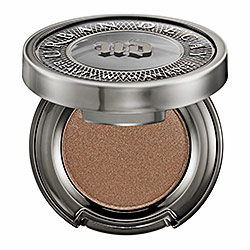 Urban Decay Smog Eyeshadow ($19)
Smog is technically described as "deep coppery bronze" but when it's on, it looks more gold than bronze. This color matches any outfit and would look great on any skin tone. It's a shimmer eyeshadow so it's perfect to wear during the day because it's not too glittery, and you can easily build on it for a bolder nighttime look.
If you enjoy receiving compliments, I would go with Smog. Almost every time I wear it, someone compliments my eye makeup. I have brown eyes and I think this color lightens them up a bit, which is nice.
Don't miss the one thing you should never do when applying eyeshadow and shop the best makeup primer!
[Photo: Urban Decay]