SHEfinds receives commissions for purchases made through the links in this post.
If Karlie Kloss says "Embryolisse is where it's at" then I believe her. I mean, it's her JOB to look good, so she definitely knows what's up when it comes to skincare.
Embryolisse Lait Crème Concentre ($28) comes by way of France. It is the moisturizer/primer/makeup remover of choice for every makeup artist and model. You can't go backstage during fashion week and not see a tube of the Lait-Crème Concentré (that's milk-cream concentrate for fancy folk).
I actually was recommended the moisturizer by a friend about a year ago and have been using it ever since. This "24-hour miracle cream" definitely lives up to the hype. I use it once daily at night, after washing my face, and apply once I pat my face dry. It leaves my skin so silky smooth, which is kind of amazing considering the cream itself feels pretty heavy, but not once it's on your face–it rubs in so easily. Another bonus is that it can be used on all skin types. No wonder Karlie, Jane Birkin, Rumi Neely and Caroline Issa are all fans.
But the best part about Embryolisse is that you can buy it at Targét, that fancy French pharmacy. JK we mean legit Target that you know and love! The moisturizer, which used to be hard to find stateside until recently, just became available at the Bullseye. Hallelujah!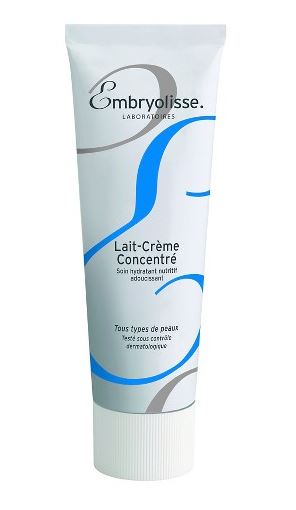 Embryolisse Lait Crème Concentre ($28)
Don't forget to check out: Chrissy Teigen's makeup-free selfie and the one thing you should never do when ordering wine
[Photo: Target]