We'll admit it: DIY elements at a wedding really add a personal touch to the event. And of course, they can save you a lot of money. Regardless of how naturally crafty you are, there are still certain elements of the big day that are simply too much to take on and shouldn't be DIY'd–especially when you have so many other things to do.
Not only can they be difficult to pull off if you're not a pro, but trying to do so can result in a full-scale bridal meltdown. When it comes to these 8 things on your to-do list, you're better off spending the money and saving yourself a whole lot of stress. Take a look and ask yourself if the stress is really worth the savings.
1. The Flowers
"One bride of mine ordered flowers online and they sent her the completely wrong colors three days before her wedding and she ended up spending more money in the long run, plus the added stress of that mistake," says Brie Owens, Chancey Charm Atlanta Wedding Planner. "Flowers can be so tricky because you can't arrange them until 1-2 days before your wedding and that's the time you should be welcoming your family to town and celebrating with a rehearsal dinner and drinks."
2. The Cake 
"Keep in mind that to keep a cake fresh and beautiful, it needs to be crafted and done the day before, or the day of your event, which is exactly when you don't have a lot of time to do anything but get ready to say 'I do,'" says Jyl Deering, Chancey Charm Boston Wedding Planner. "Also, many brides don't factor in how to deliver a cake to a venue (pros have special boxes and refrigerated cars). It's too much stress too close to the event to try to do it yourself."
3. The Music 
"I have had multiple brides who think having their iPhone plugged into a speaker is the perfect way to save roughly $1,500 on DJ services–many brides don't realize the added impact of nixing a DJ from your reception," says Katie Kernozek of Ocean Blue Catering. "Guests don't make their way to the dance floor, there are no formal introductions of the wedding party and there is no emcee to help move the reception from one phase to the next. Guests sense this disorganization and it really does cheapen the event." My tip would be to find the most affordable DJ service or even a local band and cut your budget somewhere else.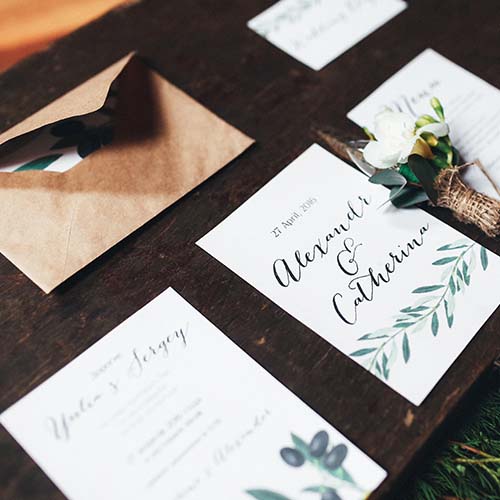 4. The Invites 
Don't take on addressing the wedding invitations on your own, says Sarah Duckworth, Chancey Charm Charlotte Wedding Planner. "Between already addressing lots and lots of thank you cards from your shower and then later, thank you cards for the wedding, leave it to a printer or a calligrapher to do the painful task of addressing each envelope and making sure they still look cute," she explains.
5. The Food 
It's just a disaster waiting to happen, says Lisa Mark & Rebecca Lozer, co-hosts of The Secret Life of Weddings Podcast. "Not only would you be massively distracted from the whole point of your wedding day, but your friends and family would need to also be recruited to help with DIY wedding catering," they suggest. "Put your money into your food, photographer, and DJ. Don't ever skimp on these and never attempt to DIY your wedding food. Hire a caterer – you won't regret it!"
6. Your Wedding Dress
A wedding dress is very different from a regular dress, there are multiple parts and layers, higher quality materials, and very intricate workmanship involved in order to make everything look perfect for the bride, says Nicky Barua of Nidel Dresses. "Choose a custom wedding dress professional if you want to design your own dress- you'll be surprised at how easy and affordable it is," she says.
7. Your Wedding Album 
This is an item that you will treasure for years to come, so you want it done right. While throwing together an album on Shutterfly is a cost-effective way of getting your photo album, spending the extra money on something put together by a pro is well worth the extra cash.
8. Your Hair & Makeup 
Of course, you can do these yourself, but having a professional ensures that you'll look your best for pictures. Plus, when else do you get an excuse to be pampered like a movie star, says Skylar Caitlin, Chancey Charm Houston Wedding Planner.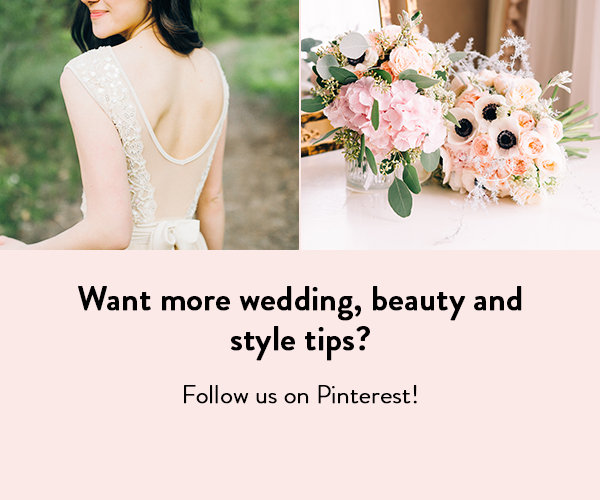 Want more wedding tips and advice? Follow SheFinds on Pinterest!
[Photos: Shutterstock]