Most of us aren't blessed with natural, full brows, so we have to refer to beauty products to make up for it. From sparse hairs to uneven shapes, it's difficult to rock our natural "woke up like this" brows. Thankfully, there are an endless number of beauty products that cater to us. The Anastasia Beverly Hills Dipbrow is an award-winning brow pomade that can literally change lives. It effortlessly fills in brows, but at $18, it might not be in the budget for everyone. It's true that a perfectly shaped brow can make your day, so here are 5 Dipbrow dupes under $10 that will live up to your standards…
1) NYX Tame & Frame Brow Pomade
NYX Tame & Frame Brow Pomade ($7)
This easy to use pomade comes in 5 colors. It's waterproof and humidity proof…is there anything better than that? With NYX's Tame & Frame, your perfectly shaped brows will look great. One user said, "I just bought this just a couple of days ago and it is already my favorite brow product. I love the formula and I love how a little goes a long way." The creamy formula is just right for creating a brow that shapes your face. If you're not looking to splurge on brow pomade, this is the product for you. It's quality, without the expensive price tag.
2) Milani Stay Put Brow Pomade
Milani Stay Put Brow Pomade ($8) 
Milani's Stay Put Brow Pomade will do just that – stay put. With up to 16 hours of wear time, you won't be worrying about if and when your brows will come off. The dual-ended brush is essential for framing your brows and making sure they keep their color. A recent buyer said, "I have used this swimming in the pool, while dancing the night away at the club, and even sweating like crazy in the gym/sauna and it didn't budge or even fade a bit!!!" The pomade pot delivers enviable color that will have your brows being what everyone is jealous of.
3) Ardell Brow Pomade 
Ardell Brow Pomade ($6.99) 
Ardell's Brow Pomade will give you a great tint without drying out your brows. A little goes a long way with this one. The formula for the pomade is more gel-like, so you won't have to worry about heavy feeling brows. The easy-to-blend pomade will give your brows a color that lasts all day and will set them to perfection. This is a worthy and super cheap alternative to Anastasia's Beverly Hills Dipbrows! One Ardell lover said, "Ahh if you're looking for an Anastasia Beverly Hills eyebrow pomade for a fraction of the price. Here is it!!"
4) ColourPop Precision Brow Colour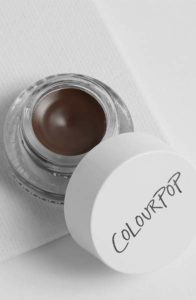 ColourPop Precision Brow Colour ($6)
If you're looking for bold brows, the ColourPop Precision Brow Colour is for you. This pot delivers all day wear and fierce color. The smooth and precise application will have your brows being the center of attention — in a good way! With this pot, your brows will be sculpted to perfection and you won't have to worry about anything rubbing off during the day. One ColourPop user said, "Love how easy applying this product, very pigmented and long wearing effect ! Best product in my experience!"
5) E.L.F. Lock On Liner & Brow Cream   
E.L.F. Lock On Liner & Brow Cream ($4)  
One of the cheapest brow pomades on the market is E.L.F.'s Lock on Liner & Brow Cream. It comes in four colors and features a smooth cream that will make your brows feel hydrated and locked in place. At only $4, you can't go wrong with E.L.F. And E.L.F. user said, "This brow cream is AMAZING! Like no joke, this product is easy to use, it does not dry out, it is true to color and is dependable. It glides onto the brows and looks amazing on all skin tones." This cream can also be used as an eyeshadow or eyeliner! A 3-in-1 product for a great price.
Check out more affordable brow dupes here at SHEfinds.com.
[Photo: Shutterstock]