The 12 Best Places To Buy Your Wedding Dress Online
We're all so used to shopping online these days that the thought of entering a bridal store and spending hours in a cramped dressing room is too much to bear. When you're months away from celebrating one of the most important days of your life and the gown you wear will be the talk of the night, you can suck it up and slip on organza, lace, and tulle in a hot, stuffy dressing room — or visit one of the 12 best places to buy your wedding dress online and get beautiful in the comfort of your own home. Many reputable wedding sites ship your dress to you (in perfect condition) for free. And, you know how bridal shops usually only carry gowns and, when it comes time to buy shoes, a veil, and other accessories, you're forced to take photos of your dress and hope they help with your other shopping needs? Well, that's not the case when you shop for a wedding gown online — so many sites also offer reception dresses, jewelry, shoes, and more — making sure everything complements your gown becomes a lot easier. Since you buy everything else online, why not pick up your wedding dress virtually, too? We've vetted the 12 best places to buy your dress online -- whether they have generous return policies (unlike bridal salons), free return shipping, or amazing designer sales, these are the most reliable, and highest customer-rated dress sites on the web. p.s. Please don't just google "wedding dresses" - unless your aim is to buy a designer knock-off from China. Trust us. (more…)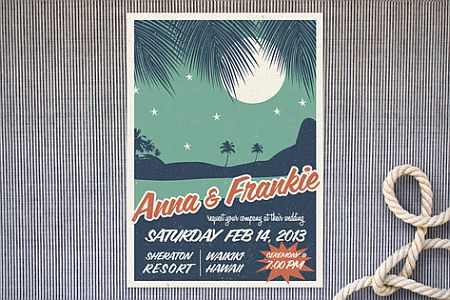 8 Destination Wedding Invitations That Make Me Want To Take A Second Honeymoon
If you're getting married under a palm tree, with your bare feet sinking in the sand, and the sound of ocean waves lapping away close by - we're totally jealous. Take us with you. Also, you have a very specific set of wedding stationery requirements. You need save-the-dates and invites that totally set the tone for your  unique destination wedding experience. Overly formal typeface and little floral flourishes just won't do. We've found 8 designs that that will have your wedding guests jones-ing for gentle ocean breezes and unlimited Mai-Tais. (more…)
25 Escort Board Ideas: Regular Seating Charts Are A Thing Of The Ancient, Distant Past
If you haven't discovered this yet - creating a seating chart can be hellish. After vexing over seating arrangements for several hours (and possibly shedding a few tears), you'll definitely want to display your finished product with some finesse. We've scoured Pinterest and all of our favorite wedding blogs for inspired escort board ideas, and we've rounded them up for you right here! (more…)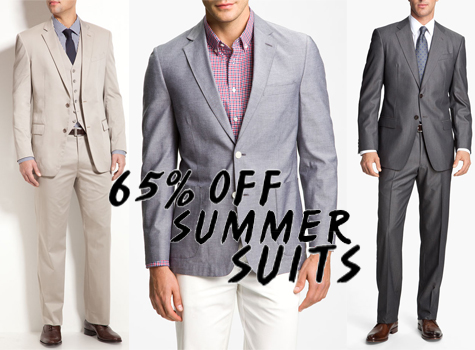 Shop Nordstrom's Half-Yearly Sale For 65% Off Men's Summer Suits, Shirts & Ties
Right now you can get steep discounts on swanky summer duds for your groom during Nordstrom's Half-Yearly Sale. Breezy, fitted cotton blazers, fashionable Armani suits, dress shirts, Brooks Brothers ties - anything and everything he might need to look smashing on your big day has been marked down 30-65% off! (more…)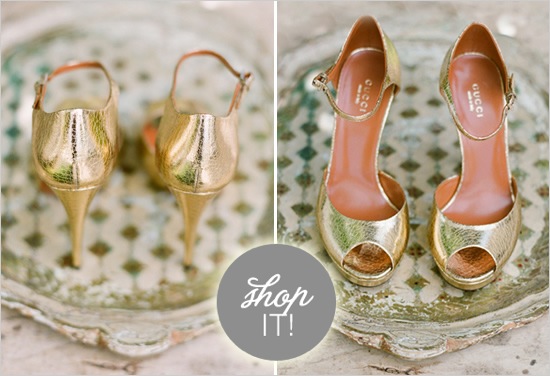 You'd Rather Have Something Gold Than Something Blue, Right? Get These Pumps Now
As you know, we like to stalk for wedding blogs and Pinterest for gorgeous items you can actually shop now - and our latest find is this pair of gilded Gucci peep toe pumps from Wedding Chicks. Want to copy this rather regal wedding look? Right this way. (more…)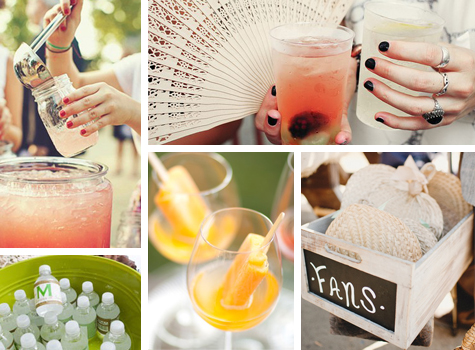 10 Ways To Beat The Heat At Your Outdoor Summer Wedding
Brides, it's officially summer, and wedding season is in full swing! While we understand having the perfect wedding is currently your No. 1 prerogative, helping your guests beat the heat should be a very close No. 2. Here are 10 creative tips for preventing the heat index from totally upstaging you on your wedding day. (more…)
All The Details On Pamela Love's "Hippie Summer Camp"-Themed Wedding
CFDA finalist and jewelry designer Pamela Love's wedding may have happened back in May, but no photos of the low-key Montauk wedding have surfaced -- until now. Turns out Vogue had the exclusive, and just published a stunning photo and intimate details from the affair in the July issue. And we must say, we're smitten. Love wed illustrator Matthew Nelson under a birch and Appalachian quilt chuppah at Ruschmeyer's, a 1950's summer camp-turned-resort. Friends and family helped Love with all the crafty details - from a cute little on-site tepee to her gorgeous floral head wreath. (more…)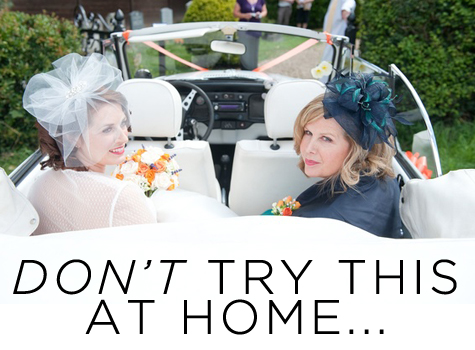 10 Trends You Should NEVER Try On Your Wedding Day: Don't Be A Bride #Fail
Now, let's get something straight - we love trends. From colorful skinny jeans to nail art, we love covering all the hot-hot-hot seasonal trends on SHEfinds. But there's a time and a place to try an extreme new look - like neon eyeshadow, or heel-less pumps (you know, like the ones Lady Gaga put on the map) - and it's definitely not on your wedding day. Here are 10 fleeting, fashion-ey trends brides should avoid at all costs. (more…)
How To Plan An Awesome Surprise Wedding Like Jessa's From "Girls"
If you've been following HBO's first season of "Girls", you were probably blown away by the season finale's surprise wedding. Over-sexed, bohemian Brit Jessa decides to make it official with a guy she's known for exactly 2 weeks (played by Chris O'Dowd). It was by far one of our favorite TV weddings of all time - from the mysterious text message invites, to Jessa's hippied out wedding outfit, to the explicit wedding soundtrack. If you saw this and thought "Yes! that's exactly how I want my wedding to go down" - here's how to make it happen. (more…)
Totally Awesome Geometric-Themed Wedding Decor: Patterned Invites, Geo Jewelry & More
We love when couples take a totally abstract idea and turn into a full-blown wedding theme. We've been enamoured with geometric wedding invitations and chevron invitations for some time - and then we saw this fabulous geometric wedding on Ruffled, and our minds were thoroughly blown. If you want to angle your way to the perfect themed wedding by creating a similar look, try these choice geometric invitations, bridesmaid dresses, and decor items! (more…)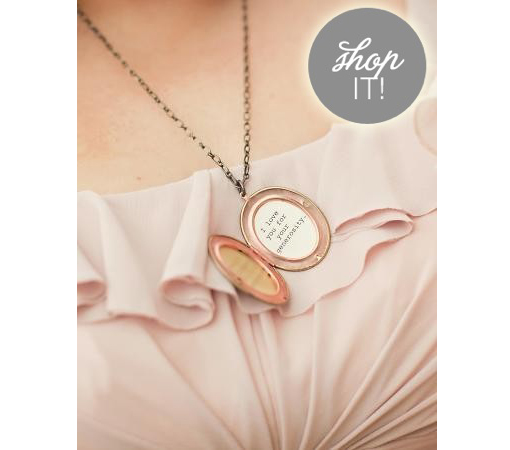 SHOP: Engraved Lockets Your Bridesmaids Can Wear On The Day-Of, Or Long After Your Wedding
We spotted this adorbs bridal party gift idea on Pinterest (originally from Martha Stewart Weddings) - engravable lockets! This bride put a few sweet words inside each little locket gift - precious. If you want to steal this idea, we've got a few suggestions for you... (more…)
Shop Wedding Headbands: They're Not Just For Whimsical, Hippie Brides Anymore
As celeb bride Camila Alves proved earlier this month, bridal headbands don't necessarily have to be worn with a vintage 1970's crochet wedding dress and flip flops. They can also be super glam. Camila donned an exquisite Neil Lane diamond bridal headband to wed Matthew McConaughey, and even if your budget isn't $100K like hers, there are some gorgeous crystal and embellished wedding headbands you can shop now. (more…)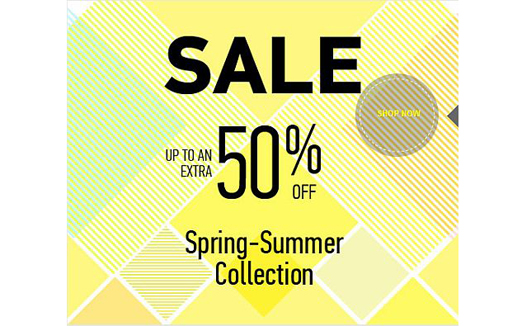 BRIDEfinds Exclusive: Get 60% Off Designer Wedding Dresses At YOOX With Our Code
Yes, it's awesome that YOOX is offering 50% off select designer wedding dresses from Valentino, Lanvin, and more, but what's even more rad is that the folks at the upscale e-tailer are offering an additional 10% off -- just for BRIDEfinds readers. (more…)
30 Celebrity Brides Who Wore Vera Wang To Their Weddings
FACT: When you think of weddings, you think of Vera Wang. Which is all the more impressive when you realize that Vera has only been designing for brides since the early 1990's. Now that she's doing red and black wedding dresses only, it seems like the era of white Vera Wang wedding gowns is coming to an end. So let's take a walk down memory lane, shall we? Here are 30 A-listers, First Daughters, pop stars, heiresses and reality stars who've chosen Vera when it mattered most. From Kim Kardashian's 3 custom Vera gowns, to Posh Spice's timeless champagne satin dress for her wedding to David Beckham (blast from the past, much?) Vera's reach is wide and non-discriminating. Get inspired by her decades of work now. (more…)
You'll "Love Me" Some Charlotte Olympia Heart-Appliqued Bridal Pumps, I Promise
It's no secret that we go crazy for a good pair of designer pumps. We've been drooling over Christian Louboutin's 20th Anniversary capsule collection all week, and we're ecstatic for Manolo Blahnik's upcoming collaboration with Monique Lhullier. But these ridiculously amazing new Charlotte Olympia Love Me Heart-Appliqued Suede Pumps ($1450) are our latest object of adoration. From Charlotte's "Runaway Bride" collection, these colorblocked red heart pumps are seriously sexy, and worth the splurge. (more…)
Shop Now: Preppy & Parisian Striped Dresses For Your Bridesmaids
We seriously heart the classic look of bold, french stripes - and we love the idea of summery striped frocks on bridesmaids. This pretty, polished look is perfect for a charming little wedding by the sea. (If you want even more striped wedding inspiration, click here!) Here are a few of our favorite stripey dress picks. (more…)
7 Things To Know Before You Start Shopping For Wedding Bands
Photo: Style Me Pretty.  In the throes of wedding planning, buying your bands may seem like just another item to check off your epic to-do list - but don't rush this decision! You'll be wearing these bands for the rest of your life (though Kim Kardashian's 15 carat "eternity band" certainly isn't getting much wear these days), so this should be a very informed decision. For a quick, but thorough education on buying bands, we consulted 2 industry experts, Zaven "Zee" Ghanimian from Simon G., and Kate Peterson from Palladium. These industry insiders have agreed to share expert tips on what the savvy or less-than-savvy consumer should know before even starting to shop for wedding bands. (more…)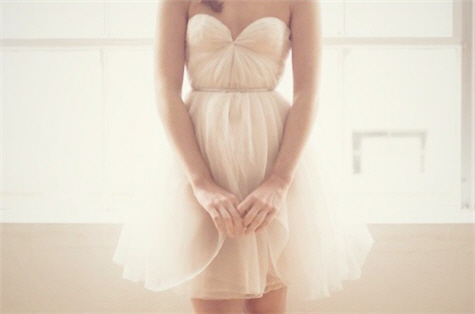 You Can't Go Wrong With A Strapless LWD (Little White Dress) For Your Reception
You cannot go wrong with a strapless or sweetheart neckline LWD (little white dress) for your reception. Case in point: this pretty Powdered Sugar Dress ($455) from indie bridal designer Sarah Seven, which is getting crazy traction on the Pinterest. Strapless is anything but boring; Sarah's dress is ethereal and whimsical, while J.Crew makes a sophisticated lace one, and Jill Stuart a structural dress that's perfect for the modern bride. The possibilities are endless... (more…)
You Don't Have To Get Married On A Deserted Island To Have A Starfish-Themed Wedding
If you're a summer bride trawling for truly original ideas for your upcoming beach wedding - consider the humble starfish! Simple shells are a little played out, but strangely enough, the wedding world is rife with adorable starfish wedding inspiration. Take a gander at this attractive selection of wedding invitations, sandals, favors, decor, and wedding accessories. (more…)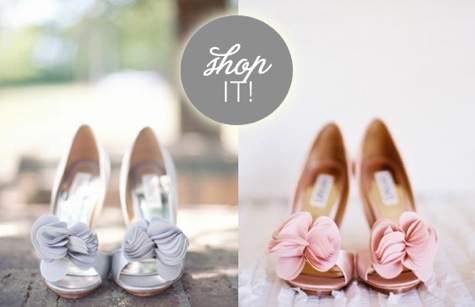 Pinterest Loves These Badgley Mischka Ruffled Pumps — And So Will You
We keep bumping into these sexy pumps all over Pinterest - in pink, gray, blue... so it's about time we gave them their due. The Badgley Mischka's Randall d'Orsay Pumps ($200) are apparently one of the most photo-ready pairs of heels a bride can own (according to extensive market research, aka Pinterest stalking). They've been featured on Style Me Pretty, Lover.ly, and more gorgeous bridal blogs. And we know exactly where to find 'em... (more…)
9 Pre-Packaged Wedding Day Survival Kits (So You Don't Have To Make Your Own)
If you're prepping for the big day, don't forget to pack a bag (for your maid of honor to carry) with all the necessities you might need for any wardrobe malfunction or beauty mishap. And in case you don't even know what those necessities might be, there is a whole market of pre-packaged, giftable "wedding survival kits." There are kits for brides, grooms, bridesmaids, maids of honor -- and even mother-of-the-brides. If you're a crafty over-achiever, you could try and take on this wedding emergency kit DIY from Oh Happy Day (above) -- or you could just buy them pre-made. (more…)
The 10 Most Stressful Wedding Situations — And How To Deal With Them
Wedding planning is like running a marathon. Occasionally, you hit a wall and you just don't think you can go any further. Here's when thoughts of eloping start to creep in. Take a deep breath, dry your tears (unlike baseball, there is lots of crying in weddings) and stay the course. It's not a sprint, so you'll need endurance and steadfastness. Hey, the pay-off is a beautiful, romantic wedding with your soul mate. The bumps in the road are just that; they will be under your tires and behind you just as quickly as they came. We already told you about the 10 most stressful parts of wedding planning (that no mag will ever tell you!), and now we have some solutions for each. You will survive, we promise! (more…)
It's The Last Day To Get 25% Off Your Invitations At Wedding Paper Diva's Summer Sale
There's only 1 day left to save (substantially!) on your wedding invitations and save-the-dates at Wedding Paper Diva's summer sale. We'd suggest you act fast if you want to get in on the sweet sale action; not only is WPD one of the top 5 places to buy wedding stationery online, but they've just introduced a new line of "Custom Type" invitations that will blow you away. These new exclusive designs, like this Fresh Embellishment invitation (above), are customizable down to the last letter; a WPD designer works one-on-one with you until the font, color and text treatment are perfect. If only every aspect of planning were that easy! #wishfulthinking (more…)
Saks' Salon Z Has Plus-Size Designer Dresses For Every Occasion, In Every Size #Jackpot
If you're an XL bride like me, you're probably frequently dismayed by the lack of designer names in the plus size department (and often, the way snotty sales girls handle your dress requests). Fret no more, fellow plus-size brides: Saks Fifth Avenue's Salon Z has more than a great selection of cocktail and formal dresses. The sleek plus-size section also includes a seriously impressive list of designer names -- Tadashi Shoji, David Meister, more. Shop for reception, rehearsal and even bridesmaid and MOB dresses in your size (14 - 24) now: (more…)
50 Celebrity First Dance Songs
If you're racking your brain for THE perfect first dance song, stop polling your friends on Facebook, and consult our epic list of celebrity first dance songs. Your first dance song says a ridiculous amount about you as a couple (please make sure it's not one of the cheesiest choices of all time), so take a cue from one of your favorite celebs - or 50! Count the star couples who have chosen "At Last" by Etta James for their first dance song (spoiler alert: it's a lot), see which singers chose and/or performed one of their own songs for their own first dance (there's more than one offender), assess whether D-Listers have better musical taste than A-listers, and find out which tunes have been forever hexed by the doomed romances of Brad Pitt and Jennifer Aniston, Ashton Kutcher and Demi Moore, Kim Kardashian and Kris Humphries, and many, many more... Still didn't find what you're looking for? Check out our fave selections for alternative first dance songs, and if you're looking for major crowd pleasers that will get your guests on the dance floor, check out  the 20 most popular wedding jams, as determined by Spotify!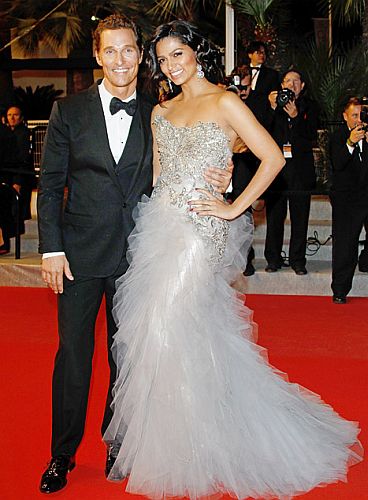 Matthew McConaughey & Camila Alves Are Married! Details On Their Intimate Austin Wedding
Matthew McConaughey and Camila Alves made it official this weekend in a private ceremony at their Austin, TX estate. Matthew and Camila (who's rep has confirmed she's officially changing her surname to McConaughey) have been together for six years, and have two children - Levi and Vida. Matthew proposed to Camila on Christmas Day, 2011, tweeting this sweet pic out to his followers. The couple met in 2007. (more…)
Tarte's New 'Blushing Bride' Site Has More Than Just Makeup Tips For Brides
We're big fans of Tarte's natural beauty products, and it turns out, they're big fans of us brides, too - they've just launched a cute new site, Blushing Bride, (not to be confused with Topshop's new bridal line, of the same name). The for-brides-only site is filled with day-of makeup tips, a personal makeup concierge, and even song suggestions and other fun planning tips. (more…)
Throw A Picnic-Themed Wedding With Sweet Gingham Decor: Linens, Bow-Ties, Invites, More
Summer brides have all the hottest weddings (pun intended). There are some things a July bride can do that winter brides, and even spring brides just can't get away with - like gingham, for example. Summer brides can put their entire wedding party in gingham, wrap their bouquets in gingham ribbon, adorn their wedding tables with it - whatever they fancy! It'll look far less fetching in February. The fashion world is currently obsessed with gingham, so of course, the wedding world is quickly following suit. We've found a picnic basket full of gingham dresses, linens, and wedding invites that are perfect for brides! (For even more gingham inspiration, check out our Pinterest board!) (more…)
BREAKING: See The First Official Photos Of Drew Barrymore's Wedding
Drew Barrymore and Will Kopelman did an ace job of concealing their big event -- until today. All weekend, the only photos we had of the blushing bride in her Chanel dress were from paparazzi helicopters. Thankfully, the couple did let a single press photographer from People document the event (no word yet on how much THAT cost). Drew's celeb wedding planners Yifat Oren and Stefanie Cove (who also rocked Reese Witherspoon's celeb nuptials last year) told People that Drew and Will "just wanted a backyard wedding," so Oren and Cove created an event with a "vintage romantic" vibe in Drew's actual backyard,  with pink flowers, vintage lace, and green garlands galore. (more…)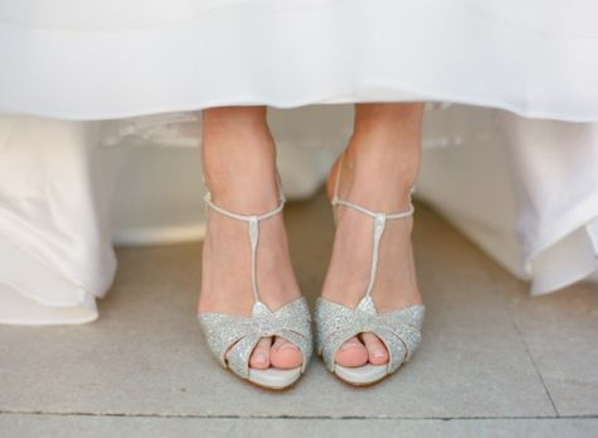 T-Strap Pumps Are What Every Bride Wants (That And A Perfect Wedding Day)
T-straps are a timeless style for fashion savvy gals of every ilk - but they're especially perfect for a vintage-inspired bride! We've found a sweet selection of glittery designer T-strap pumps and budget-friendly T-strap sandals for brides who are drawing their wedding inspiration from a more refined era - and best of all, there's an option for every price point. (more…)
13 Things You're Probably Forgetting — But Your Wedding Can't Live Without
You may think you have all the bases covered -- the dress, the venue, the menu, the church -- but what surprises most brides in the final months and weeks of planning is how many of the "little things" they've completely forgotten about. When it gets down to the wire, you're likely to space one thing or another -- this is completely normal, so don't beat yourself up. Hopefully, it's not something major like your wedding bands, or ordering the cake. (Hey, it's happened.) What you CAN do is refer to our handy list of the 13 things you're probably forgetting. We're not using scare tactics here, just trying to help a sister out. So let's make sure you don't forget the little essentials that'll take you & your guests' experience to the next level... (more…)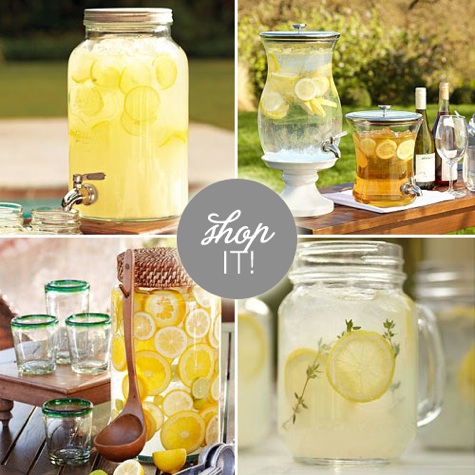 Serve Your Signature Cocktails In These Glass Drink Dispensers From $14
The wedding world has seen many a mason jar trend in the last few years - mason jars as barware, mason jars as centerpiece decor - but here's a fresh new take on mason jar-dom that we think is particularly fabulous - the mason jar drink dispenser! Fill these bad boys up with iced tea, lemonade, or a delish mixed drink, and let your guests serve themselves. (Bonus: You don't need to hire a bartender!) (more…)
10 Awesomely Hilarious Bachelorette Favors: Here's How To Throw The Best Party EVER
A while back, we told you that this bitchin' banner was the only bachelorette party decor you'd ever need. But sadly, that shizz is sold out. A moment of silence, please. Fortunately for bachelorettes everywhere, we've found it's replacement - this fabulous glittery "Cheers Bitches" banner should go over quite nicely at your totally outta control bachelorette party/drink-off. If you're planning a raucous "hen party" for your BFF, we've assembled an unrivaled assortment of bachelorette party-themed knick-knacks. And not one of them is shaped like a penis! #WIN? (more…)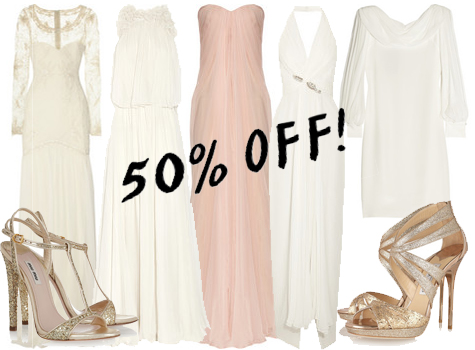 Net-A-Porter's Semi-Annual Sale Is Here! 50% Off Temperley, Jimmy Choo, Miu Miu & More
Don't ever rule out your designer dream dress - because mine is currently 50% off at Net-A-Porter's Semi-Annual Sale. I got married 4 months ago, but if I could turn back time (late 1980's Cher-style), I would buy this now-in-my-dress-budget lace Temperley gown and wear it. But since time travel is currently unavailable, I recommend that you plan your wedding date around Net-A-Porter's epic end-of-season sale. It's just that good. Right now, all the glittery Jimmy Choo pumps and ethereal Marchesa gowns a girl could ever need, want or dream of are 30-50% off. Get in there before your size sells out! (more…)
PHOTOS: Drew Barrymore Weds Will Kopelman In Private, "Garden-Inspired" Ceremony
You know someone is a true A-lister when not a single one of their 300 wedding guests leaks a cell phone pic of their wedding dress or ceremony! Drew Barrymore's got great friends; this adorable shot of her and brand-new hubby Will Kopelman, taken by a paparrazo as the newlyweds left Drew's Montecito home at 2 AM, is one of our first glimpses in to her glamorous weekend wedding. Details about the nuptials are just starting to emerge - but as we told you last week, Drew walked down the aisle in a custom Chanel gown with intricate skirt detail and a black satin belt (to conceal that baby bump!). The pleated muslin and organza gown was designed exclusively for her by Karl Lagerfeld (lucky!), and also featured an embroidered skirt and train with muslin, organza, tulle, and feather flowers. She wore her hair up with a floral comb on the side, and large diamond earrings. (more…)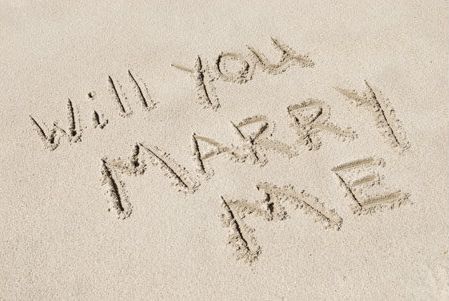 How To Get A Proposal By Labor Day: 10 Tried & True Tips For Getting That Ring
Wedding season is officially in full swing, and with all those June and July weddings popping up on your calendar, you may find yourself thinking for the first (or possibly the thousandth time) about getting hitched yourself. If you'd like to be on the fast track to wedding town, here are 10 things you can do to get that engagement ring by summer's end. 1. Use all those summer weddings as conversation starters. If you start thinking about cake, you go to a bakery. If you start thinking about marriage, you go to a wedding. Take advantage of all those friggin' summer weddings you have to attend or be in; a friend's wedding is the perfect place to casually mention that you'd love to get married one day, or, specifically, what you're dream day would be like ("I want a big band at my wedding!" "Those calla lilies make the perfect bouquet." "I look GREAT in white." You get the idea.) 2. Learn to cook.  Or better yet, roast an "engagement chicken." The way to a man's heart is through his stomach, and the editors at Glamour swear by this Engagement Chicken recipe, which has resulted in numerous engagements for Glamour readers and employees alike. (more…)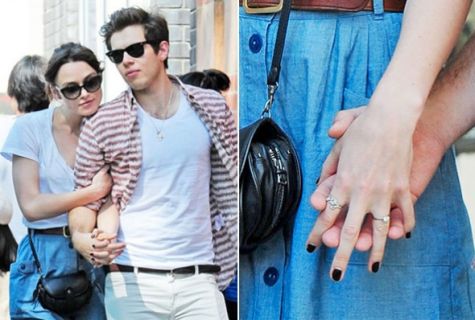 Shop Look-Alikes Of Keira Knightley's $40K Round Diamond Engagement Ring
Keira Knightley just got engaged last week, and now we're catching the first glimpse of what is reportedly a $40,000 engagement ring. Here she is flashing it for the London paparazzi while out and about with her new fiance, Klaxons keyboardist James Righton. From what we can tell, the ring is a round, 2-carat, brilliant cut solitaire diamond on a platinum band. We love this sublimely simple, classic style! (more…)
A Warm Summer Night Is The Perfect Time To Throw A Great Gatsby-Themed Wedding
The trailer for Baz Luhrmann's Great Gatsby, which stars Leonardo DiCaprio and recent bride Carey Mulligan, just hit online and boy, oh, boy are we excited to see it. You can always count on Luhrmann for a visual spectacle -- amazing costumes, sweeping scenery and amazing cinemetography, and from the teaser it looks like his version of the F. Scott Fitzgerald classic has all of the above.  So it's no wonder that brides everywhere are longing for a rip roarin' 20s-themed wedding -- filled with gold fringe, art deco and art nouveau decor, intricate beaded gowns, embellished headpieces, classic black tuxes... silver, black and gold everything! (more…)
Yee-Haw: Summer Brides & Bridesmaids Can't Get Enough Of Cool Cowboy Boots
After reporting that celebrity bride Miranda Lambert put her bridesmaids in cowboy boots last May, BRIDEfinds readers have been snatching up similar Old Gringo pairs like wild fire (and Bachelorette Deanna Pappas followed suit in October, which didn't hurt the cause either). Our brides just seem to love the idea of rockin' cowboy boots themselves, too, a la Reese Witherspoon, who switched out her Jimmy Choos for a pair at her March 2011 reception. (more…)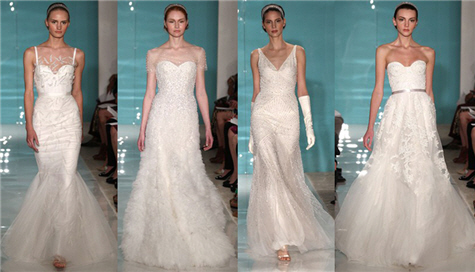 JUST IN: Reem Acra Is Releasing A Lower-Priced Line For Nordstrom In June
According to WWD, high-end bridal designer Reem Acra is launching a "contemporary" (read: lower-priced) line of made-to-order wedding gowns at Nordstrom's Wedding Shop in June. (more…)
DIY Mini Fresh Flower Bouquet Favors With Help From Michaels®!
I'll be honest – I'm not especially handy with a glue gun. Like most of you, I love all things handmade, and I love shopping at Michaels, but I'm not super confident in my ability to undertake complicated craft projects. These little bad boys, however, were shamefully simple. I grabbed a few favors and embellishments from Michaels Wedding Department, and whipped it all together in minutes – no glue gun, no mess. My inspiration was this succulent wedding favor project – I made my own interpretation using fresh flowers. Here are the other things you'll need: (more…)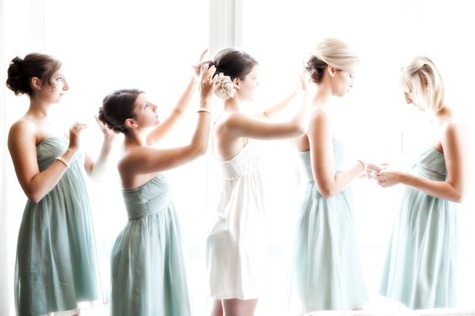 10 Things To Do On The Day Of Your Wedding
When I started planning my wedding, I had these romantic notions that I would begin my wedding day leisurely picking out flowers with my bridesmaids at a local farmer's market, and then we would arrange all of our centerpieces and bouquets ourselves while sipping mimosas and lounging in matching bathrobes at the hotel. Then we would be transported to our hair salon on a fluffy cloud carriage pulled by miniature unicorns...you get the idea. These ideas were all just slightly insane. Thankfully, I hired a professional florist to do the flower picking for me. We at the BRIDEfinds office have been down the aisle a time or two -- trust us, your wedding day will be crazy and borderline chaotic. You won't have a lot of time to stop and smell the roses. Here are the DO's and DON'Ts of getting ready for your big day: (more…)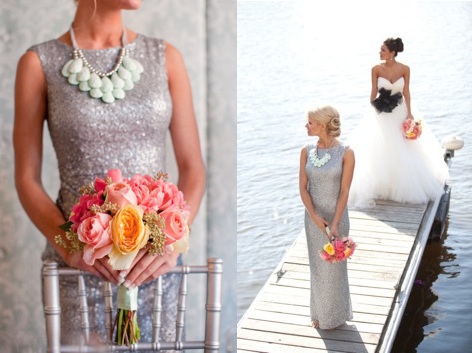 This David Meister Gown Is The Perfect Black-Tie Or Formal Mother Of The Bride Dress
We were probably perusing our Pinterest feed for a few hours before the sight of this gorgeous silver David Meister gown from Style Me Pretty -- which caught our eye as the perfect mother-of-the-bride dress for a formal or black-tie wedding. The gowns' silver sequins, slight cap sleeves and ankle length make it the ideal MOB dress - or a gorgeous bridesmaid option. It obviously looks fab when styled with a beautiful statement necklace, but you could also try it with an eye-catching strand of colorful beads. We found out where you can buy this David Meister gown - AND where you can rent it for a fraction of the cost. (more…)
"Sex & The City" Star Cynthia Nixon Weds Partner Christine Marinoni in NYC
Talk about staying power - Cynthia Nixon tied the knot Sunday with her partner of 8 years, Christine Marinoni. The couple have been dating since 2004, and engaged for the last 3 years! Congrats! Details about their private Big Apple affair are just starting to emerge, but Cynthia Nixon's rep confirmed that she wore a custom, pale green Carolina Herrera gown (pictured), and Christine wore a suit with a coordinating green tie.  Gay marriage has only been legal in New York since June of 2011, and the couple stated that they only wanted to wed in their home city of Manhattan. (more…)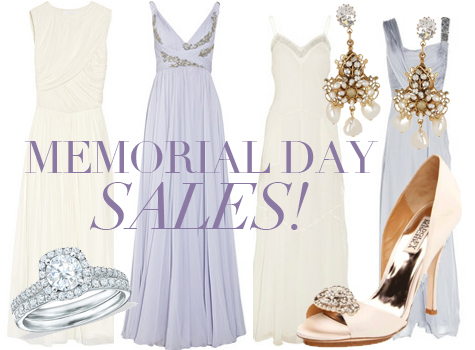 50 Memorial Day Sales Brides Can Shop NOW!
Brides, if you're going to stick to that carefully itemized wedding budget, you really have to squeeze the most out of big sale weekends. If you're on the hunt for your dream dress, your ideal wedding pumps, or the perfect wedding programs - then prepare for some serious savings. We've rounded up the best Memorial Day sales for brides right here. Rather than hit the malls, just grab a comfy chair and get clickin'. (more…)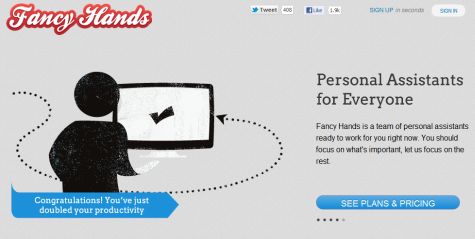 What Bride Doesn't Need A Personal Assistant? Get One For $1/Day On FancyHands.com
Wedding planners are an indispensable part of the wedding industry - but that extra set of helpful hands can come at a steep hourly rate. If you don't need a wedding planner as much as you need a magical little wedding elf that magically appears whenever you need him most, check out Fancy Hands. Fancy Hands is a team of highly professional, US-based personal assistants waiting to do your beck and call. For as little as $25 a month, you can turn over tedious and time-consuming tasks to the pros at Fancy Hands. Here's a few of the requests Fancy Hands has recently fulfilled for busy brides... (more…)
Grab A Cold One (Popsicle Or Beer), Sit Back, And Let Your Summer Wedding Be A Sweet One
Remember the simple charms of summer vacation? Popsicles, ice cold lemonade, slip 'n' slides & water guns... Well now, those charms include more sophisticated pleasures - like vodka lemonade! - but there's no reason you can't bring all of the above, and more, to the table for your summer wedding. We've found some sweet summer wedding decor -- from popsicle-themed invitations, pink flamingos, flip flop favors, monogrammed mason jars, beer koozies, sunscreen favors and much, much more: (more…)
10 Things You Need To Know About Drew Barrymore's Upcoming Wedding
We were totally caught off guard when Drew Barrymore and non-actor boyfriend Will Kopelman announced their engagement right after the New Year. Their news came during a flurry of celeb engagement announcements (Britney Spears, Jessica Biel & more), but it was Drew, who's been married twice before and is a bit of an American sweetheart, who we were most delighted for. It doesn't hurt that Drew's future hubby is adorable and the actress, 37, is already pregnant with her first child. So, here's what we already know (and you should too!) about the couple's upcoming big day: 1. Her wedding date is June 2nd. That's exactly 9 days from today. Drew and Will have had a relatively short engagement -  Will proposed with a colorless, 4 carat, radiant cut diamond engagement ring over the holidays - that's only 6 months from popping the question to walking down the aisle! (more…)
Net-A-Porter's Wedding Outfit Creator Is Like Having A Personal Bridal Stylist — Score
When you're the bride, the pressure to create the perfect wedding outfit--aka the best outfit ever--is extremely  high. (Have you seen "Say Yes To The Dress"? Talk about drama!) Not to mention the fact that you've often got to approve the looks your bridesmaids and mother are going to wear, too. Succeed, and the camera loves you. Fail, and there will be incriminating photographic evidence forever. If you suffer from "Outfit Paralysis," like millions of brides before you, we've finally found the cure. Net-A-Porter's Outfit Creator - think of it as the high fashion equivalent of a Magic 8 ball-aka your secret weapon to getting styling advice from Net-A-Porter stylists, for free. Here's how it works Go to Net-a-Porter's Outfit Creator, hit "spin", and instantly, get options. Forget heading to the department store--this is for the no-fuss bride with money to burn. Click "hold" to save what you like, and then keep spinning until you've found the perfect dress-shoes-accessories combo. Once you're finished, click hold on all items, and it'll instantly tally your total for you. Buy 'em all at once or pick and choose your faves. Here goes: (more…)
Get 10% Off Wedding Stationery From Minted: Shop Our Fave Summer Invitations Now
Fiesta Folk Art Invitations ($210.60, down from $234, for 100) Minted is one of a bride's best sources for fabulous wedding stationery, hands down. (To see the rest of the list, click here.) They roll out trendy new invite and save-the-date designs more quickly and consistently than anyone else in the biz. Right now, brides can get 10% off of all wedding stationery at Minted, including their most popular designs! (more…)