CFDA finalist and jewelry designer Pamela Love's wedding may have happened back in May, but no photos of the low-key Montauk wedding have surfaced — until now. Turns out Vogue had the exclusive, and just published a stunning photo and intimate details from the affair in the July issue. And we must say, we're smitten. Love wed illustrator Matthew Nelson under a birch and Appalachian quilt chuppah at Ruschmeyer's, a 1950's summer camp-turned-resort. Friends and family helped Love with all the crafty details – from a cute little on-site tepee to her gorgeous floral head wreath.
In keeping with this season's hippie wedding trend (as seen on HBO's Girls, for one), the theme of the wedding was "Hippie Summer Camp," according to the bride. Love's close friend, designer Mara Hoffman, created a custom off-white chiffon wedding dress, which featured a barely-there mauve print and latticework detailing.
Get the look: Mara Hoffman Long Crochet Dress ($385)
The bride paired her dress with Chloe heels. If you want a similar hippie-tastic wedding look, we suggest this ready-to-wear wedding dress style from Mara Hoffman (seen above) and these amazing Chloe cut-out wedges (below).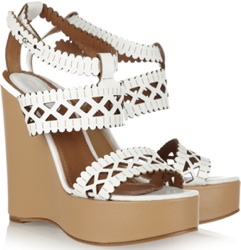 Get the look: Chloe Cutout Leather Wedges ($297.50, down from $595)
Love completed her own wedding day look with an one-of-a-kind amethyst pendant and silver peacock ring, both of her own design. The bride also designed special blue lapis and silver cufflinks for her groom to wear with his bespoke Billy Reid suit on their wedding day. (Precious!) Love also made their white gold wedding bands, which she gave a lovely turquoise inlay. If you'd like a Pamela Love piece of your very own, here are our two faves from Shopbop: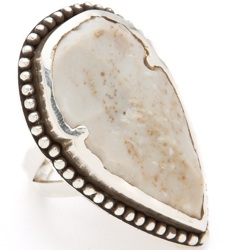 Get the look: Pamela Love Arrowhead Ring ($575).
Get the look: Pamela Love Window Pendant Necklace ($552)
Pamela and Matthew spent the day before the wedding potting flowers into mason jars for their wedding centerpieces. If you've got similar DIY gumption, you can start with these half gallon Ball jars:
Half Gallon Wide Mouth Canning Jars ($12.49)
Want more Vogue-worthy wedding inspiration? Shop our guides to the best simple wedding dresses, bridal hair accessories, and designer wedding shoes!