Drew Barrymore and Will Kopelman did an ace job of concealing their big event — until today. All weekend, the only photos we had of the blushing bride in her Chanel dress were from paparazzi helicopters. Thankfully, the couple did let a single press photographer from People document the event (no word yet on how much THAT cost).
Drew's celeb wedding planners Yifat Oren and Stefanie Cove (who also rocked Reese Witherspoon's celeb nuptials last year) told People that Drew and Will "just wanted a backyard wedding," so Oren and Cove created an event with a "vintage romantic" vibe in Drew's actual backyard,  with pink flowers, vintage lace, and green garlands galore.
Photo: People
Drew herself gushed to People: "The day was perfect. Everyone we love and care about was there. It was as fun and meaningful as we ever could have hoped."
Apparently, they "love and care" about a lot of A-lister: Cameron Diaz, Busy Phillips, Reese Witherspoon and husband Jim Toth, Scarlett Johansson, Steven Spielberg, and Jimmy Fallon and his wife Nancy Juvonen, who was Drew's matron of honor were all there. Drew and Will were married under a chuppah, in a Jewish ceremony presided over by the Kopelmans' family rabbi Peter Rubinstein. Since Barrymore's father passed away in 2004, Will's father walked her down the aisle. Aw.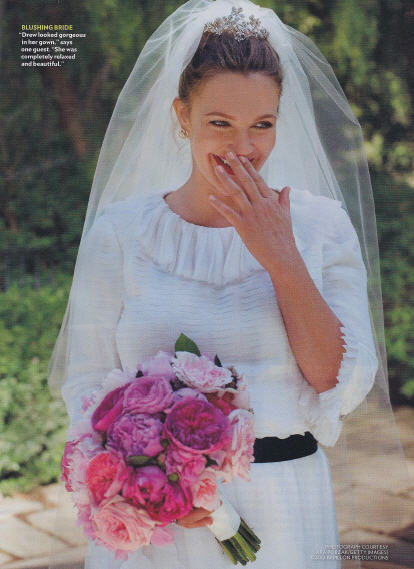 Photo: People
The bride carried a bouquet of pink peonies, pink garden roses, and pink spray roses. She wore a Chanel gown, that was custom designed by Karl Lagerfeld himself, with an embellished high collar, three quarter-length sleeves, pleated muslin and organza. The gown was accented with a black satin belt, and embroidered with tulle and feather flowers on the skirt and train. Drew paired her Chanel gown with Chanel fine jewelry – wearing the 1.42 carat Fil de Camelia diamond earrings, and a stunning vintage Eventail cuff from Chanel's "Plume" collection, which boasted 14 carats worth of white and black diamonds.
Will's sister, author Jill Kargman, did a reading from The Velveteen Rabbit, and Cameron Diaz read from the E.E. Cummings poem, "I Carry Your Heart With Me" – the same poem she read in the movie In Her Shoes. The couple exited to The Beatles' "I Will."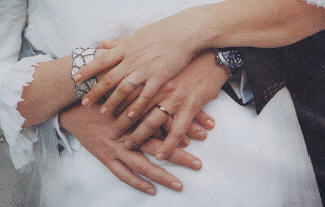 Photo: People
The wedding reception was by all accounts, a foodie extravaganza – the couple's favorite chefs from LA, Portland (including Top Chef Masters Naomi Palmeroy, a personal friend of Drew's) were ferried in to serve up delicious dishes like lobster rolls, foie gras on pink peppercorn shortbread, and steak tartare with quail egg, during an extensive cocktail hour. Drew's own Barrymore wines were served throughout the evening. Drew had a special tepee play area set up (just like Kate Moss had at her wedding) where her large ensemble of flower girls and ring bearers could kick  back and watch movies.
After the cocktail hour concluded, L.A. restaurant Lucques provided a family style reception dinner of fried chicken and steak while Drew's bridesmaids gave her a little wedding roast.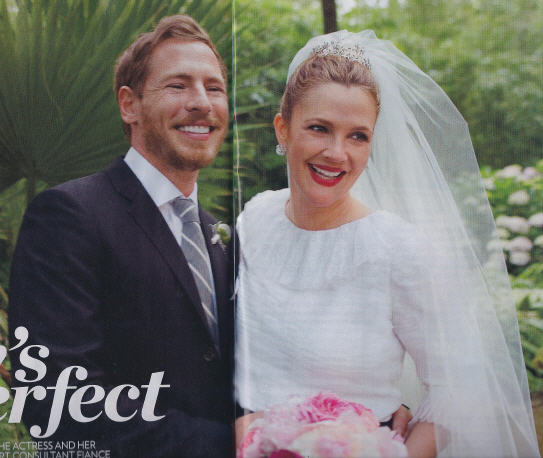 Photo: People
After dinner,  the couple danced their first dance to "No One's Gonna Love You" by Band of Horses, and then 1980's cover band The Spazmatics took the stage and rocked until the wee hours of the morning, when even MORE late night nibbles were provided via food truck. The couple left around 2 AM to spend their honeymoon night at the local San Ysidro Ranch.
For more celebrity wedding news, check out Miley Cyrus' engagement ring, Brandon Jenner's wedding and Ashley Biden's wedding.