You may think you have all the bases covered — the dress, the venue, the menu, the church — but what surprises most brides in the final months and weeks of planning is how many of the "little things" they've completely forgotten about. When it gets down to the wire, you're likely to space one thing or another — this is completely normal, so don't beat yourself up. Hopefully, it's not something major like your wedding bands, or ordering the cake. (Hey, it's happened.)
What you CAN do is refer to our handy list of the 13 things you're probably forgetting. We're not using scare tactics here, just trying to help a sister out. So let's make sure you don't forget the little essentials that'll take you & your guests' experience to the next level…
1. Guest Transportation.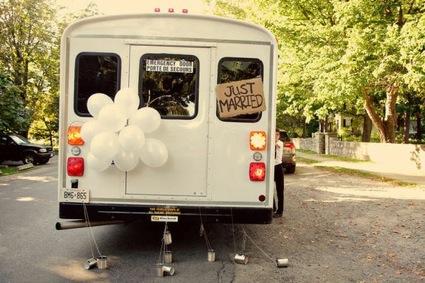 Source: Style Me Pretty
Make sure your guests have a way to get to and from the venue, especially if the parking situation is tricky or you're having an open bar. If you don't have the budget to transport everyone, consider just busing the under-30 crowd which is more likely to be drinking heavily (and shouldn't be on the roads). Call your local taxi company, they should have larger vehicles available (and the rates should be hourly, with a minimum of 3 hours). If you booked a block of rooms at a local hotel, see if they can provide a shuttle. Arrange for the bus to arrive at your reception at least 15 minutes before the ceremony is set to start — this prevents stragglers.
2. Hotel Welcome Bags. 
Source: Style Me Pretty
Don't over think this one — welcome bags can be simple (and super cheap). You can even pack them in simple paper bags! The purpose is to thoughtfully and warmly welcome your guests — and to equip out-of-towners with any information they may need to know about the area, transportation, where to eat, etc. Include local treats, a map of the area, and cute, cheap, seasonable favors. If it's an outdoor wedding, provide sunscreen, fans or pashminas (for the cold). If it's a destination wedding, flips flops for the beach are fun. For more ideas, we love this beach-themed welcome bag from Martha Stewart, or this Nashville-themed one from Style Me Pretty.
3. Cash For Tipping Vendors. Remember, tips are not always included in your vendor contracts, so plan to have plenty of cash handy on the day-of of the wedding to tip your hair and makeup stylists, wait staff, musicians, etc. Ideally, your planner will handle the cash and tipping, but if you don't have one, see if a close (and trusted) family member can do it for you.
4. Flats For The Reception. 
(Source: Style Me Pretty)
Those designer heels you obsessed over for months are gorgeous (and great for photos!), but you probably haven't even thought about another important pair of shoes for the night: some embellished, yet comfortable flats for the reception, dancing, etc. After several hours on your feet, you'll want to slip into something more comfortable. We found some gorgeous flat wedding shoes — hey, you may even end up wearing them down the aisle.
5. Signage. 
(Source: Once Wed)
Don't forget a "Just Married" sign for the getaway car, arrow signs to guide your guests to your ceremony, reception, or the bathrooms, and a "Mr." and "Mrs." sign for your seats (especially if you're not doing a head table). Signage is not only great for photos, but helpful for guests.
6. Cake Cutters & Toasting Flutes.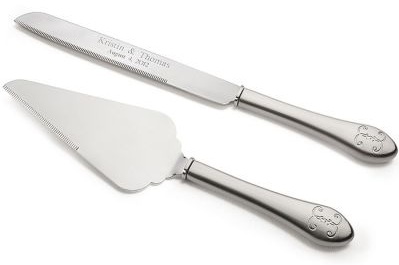 Editors' Pick: Silver Parisian Romance Cake Knife and Server Set ($49.99)
Your venue or caterer may provide these things – but check beforehand. You can't "cut the cake" without a cake cutter, and you can't toast to your love without a proper champagne flute. An engraved pair is also a nice keepsake — like this Cake Knife and Server Set from The Knot's Wedding Shop, which also happens to be on sale. You're welcome.
7. Corsages For Parents & Grandparents. It is customary (and just nice!) to adorn parents and grandparents with a floral corsage or boutonnière. Coordinate the flowers with your bouquets and centerpieces. Your florist should be able to make these as for under $50.
8. Bridal Party Gifts. 
(Source: Style Me Pretty)
Being a bridesmaid or groomsmen is a major financial and time commitment — thank them for all those bridal showers, engagement parties, travel costs and the honor of being in your ceremony with a sweet and thoughtful bridal party gifts. Get your girls something sweet (and practical), like Kate Spade's Bridesmaid cosmetic bags, or something they can wear the day-of, like these pretty beaded necklaces or silk floral robes. For groomsmen, we like a bottle of top shelf booze, engraved flasks, something sports or hobby-related, or fancy cuff links they'll wear forever.
9. Sexy Lingerie Or Bridal Shapewear. Don't get caught with unsightly lines and seams poking out from under your gown! Also, don't forget about the wedding night; sexy lingerie will ensure that THIS marriage gets consummated in record time. Need a little inspiration? Shop our best picks for the boudoir, and check out our shopping guide to wedding shapewear.
10. A Clutch Filled With Day-Of Essentials.
(Source: 100 Layer Cake)
Make sure you have something to hold your pre and post wedding necessities – a debit card, a lipstick, etc. Shop gorgeous clutches for every budget here, and check out our top picks for sparkly clutches to bring a little more bling to your bridal ensemble here.
11. Bathroom Toiletries. If the venue does not provide them, you need to stock the bathrooms with hand towels, tissues, soap and baby wipes, a mini sewing kit – anything a gal might need for emergency fashion/beauty maintenance.
12. The Getaway Car.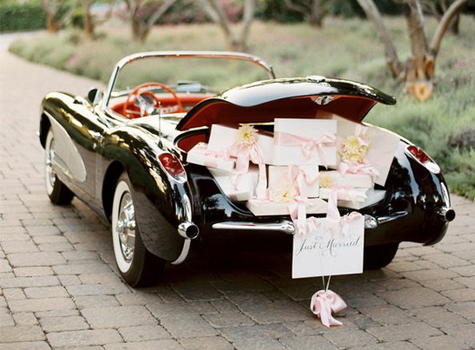 (Source: Pinterest)
Whether you're renting a classic car to drive off into the sunset, hiring a limo, or just hailing a taxi, make sure you know how and approximately when you'll be leaving the reception. If a taxi is your mode of transportation, make sure you get a friendly cabby's business card a few days before (and promise them a handsome tip).
13. Thank You Notes.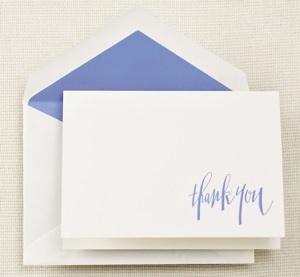 Editors' Pick: these Hand Engraved Hyacinth Thank You Notes ($19 for 10)
Trust us, post-wedding, getting all those thank yous done seems like a monstrously epic task. Do yourself a favor and order them before the wedding (and if you're extra smart, pen your notes as gifts come in, then send them after your honeymoon.)
Got everything locked down? Be sure to check out "10 Things To Do On The Day Of Your Wedding." Shop our guides to the best wedding jewelry, simple wedding dresses, and bridal hair accessories!