There's a reason summer is the most popular time to say I do: The weather is (usually) sunny and couples can opt to have most or all of their event outside. But, like any other time of the year, there are certain mistakes brides can make that will put a damper on their big day. Check out these 10 common missteps and make a mental note so you can avoid them if you're getting hitched during the summer.
Choosing The Wrong Hair Style
"The biggest mistake that summer brides make is not taking the heat and humidity into account when choosing their hair & makeup styles," says Lindsay Bishop of Lindsay Bishop Events. "Wearing your hair up during hot summer months will not only result in a hairstyle that will remain polished until the end of the night, but will also help keep you cooler throughout the day. You could also wear your hair in two styles, opting for long, loose curls during your ceremony, that can then be pulled up into a simple up-do so that you can dance the night away with perfect locks!"
Not Keeping Everyone Hydrated
Everyone needs to stay hydrated throughout the day, especially if the temperature is high on your big day. "Ensure your ceremony has a water station or tray of waters for guests to cool down with before the ceremony and during," says Angelica McDonnell of Green Orchid Events.
Sitting In the Sun
Make your guest comfortable by knowing the exact position of the sun if you are going to have them seated outside, says Sarah Duckworth, Chancey Charm Charlotte Wedding Planner. "Pushing back the ceremony to just 30 minutes or even an hour later can drastically improve your guests' overall experience," she explains.
Selecting Delicate Flowers
Choose flowers that will be in season in your wedding locale on your date, says Fabiana Scott of Florescer NY. For the summer, think sunflowers, orchids, calla lilies, succulent, specific types of hydrangeas (usually Holland products), and hardy blooms.
Skipping Sunscreen
Everyone should be wearing sunscreen in the summer--even the bride. You don't want to risk anyone getting burned during the day, so have some bottles on hand in the restrooms so guests can apply whenever they feel the need. Personalized sunscreens could also make for a cute wedding favor, too!
Opting For A Clear Top Tent
Skip the clear top tent, says Jyl Deering from Chancey Charm Boston Wedding Planner. "Brides think they are wonderful and pretty, but the clear plastic acts like a bubble in the sun, making the guests underneath it extra warm," she warns. "If you're using clear top, consider fans or draping the ceiling to block out the sunshine."
Making it Black Tie
Don't plan tuxedo or black-tie attire without taking into consideration the outside ceremony and summer heat, says Scott. "Always remember, while it's your day, your guest experience is what will make this event a more memorable one. If it is a beach wedding or a destination wedding, remember people tend to act and be more casual during summer time."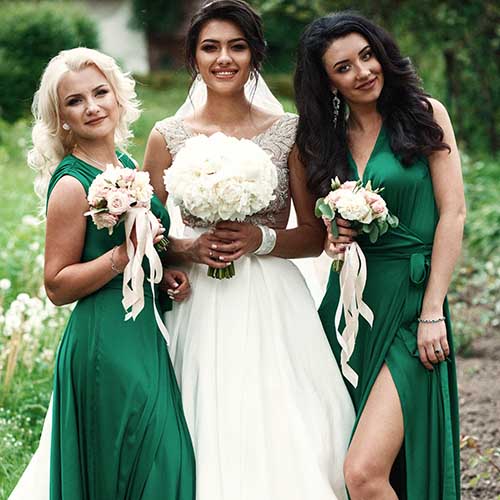 Dressing Your Maids In Dark Colors
Not only are darker colors better for cooler months, but you also have to worry about those shades showing off sweat, says Alana Futcher of Chancey Charm Washington DC Wedding Planner. "No bridesmaid wants their sweat to show through their dress," she says. "Be cautious of this when picking out a color. Even if the dress doesn't have sleeves, sweat stains can still show through!"
Wearing A Heavy Gown
Even if that six-layer princess gown is "the one," it's always best to stay away from layered dresses made of synthetic fibers if you're planning a summer wedding, says Tiffany Grace Munro of Bride Savvy. "Try to incorporate more airy fabrics like silk chiffon, charmeuse, organza & lace in your gown search," she suggests.
Leaving The Cake Outside
Never leave your cake outside in the heat--or else it will fall down, says Lisa Mark & Rebecca Lozer of The Secret Life of Weddings Podcast. "Even professional grade icing--although more stable than a standard cake--needs to be kept in a cool environment," she says. "A summer wedding can wreak havoc on your wedding cake, so don't bring it out until the last minute if you're having a hot outdoor summer wedding. Or you can use a fake tier to add stability and use a sheet cake for extra slices to serve."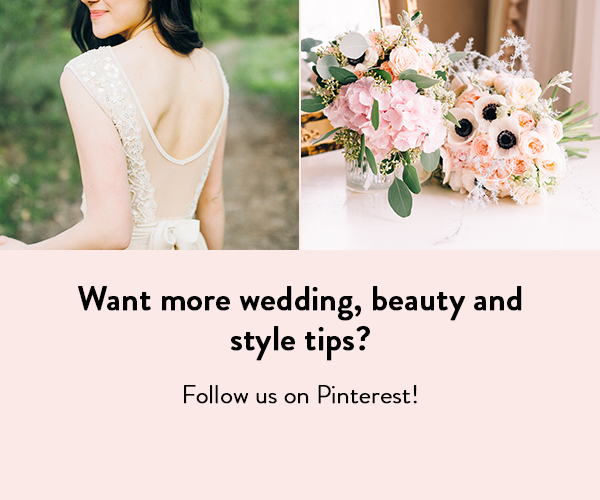 Want more wedding tips and advice? Follow SheFinds on Pinterest!
[Photos: Shutterstock]