No matter how careful you are about sticking to a budget, weddings are expensive. While it might be tempting to buy everything brand-new for your big day, there are simple ways to save without sacrificing on style. In fact, you can either skip purchasing certain items altogether, or find a way to cut costs significantly. Here, some top wedding planners and vendors share their tips for things you should try not to pay for when planning your vows.
Shutterstock
1. Wedding Dress
Believe it or not, when it comes to your wedding dress, renting is totally an option, says Leah Weinberg, owner/creative director of Color Pop Events.
Don't want to rent? Think about buing secondhand. "There are so many amazing resale websites that focus on higher-end designers - you can find your Monique Lhuillier, Vera Wang or other dreamy designer dress for a fraction of the price with little to no wear or tear.," she says.
Shutterstock
2. Multi-Tier Wedding Cake
While they look gorgeous, Tony Schwartz of Tony Schwartz Productions reveals that most of that cake is usually thrown out at the end of the night. "Opt for a one-tier for the couple, and then offer several smaller deserts like cupcakes, mini-pies, cookies, etc. These can always double up as an end-of-the-night parting gift/wedding favor for your guests - and will be much appreciated!" he says.
Shutterstock
3. Welcome Bags
The time and resources that welcome bags consume--not to mention the added cost--far outweighs their necessity or the happiness it brings to a guest. Instead, Catherine Bachelier of CB StyleMaker recommends using those funds to give guests an extra dessert or a midnight snack at the reception.
Shutterstock
4. Transportation
"Unless your venue is so far out that it's no man's land for Uber/Lyft, providing shuttles for your guests is not something that you must do," says Meredith Zeller of Sage Nines Event Production. "While a free ride is always appreciated, it's just as easy these days for your guests to call a ride share to get themselves safely home (or to the after party!)"
5. Card Box
This is an item that you have no use for ever again, explains Lauren Schaefer, founder of Your Wedding by Lauren. "Instead, get a basket from your home, a jewelry box, a serving tray, and use that instead. It brings in personal touches to the wedding as well."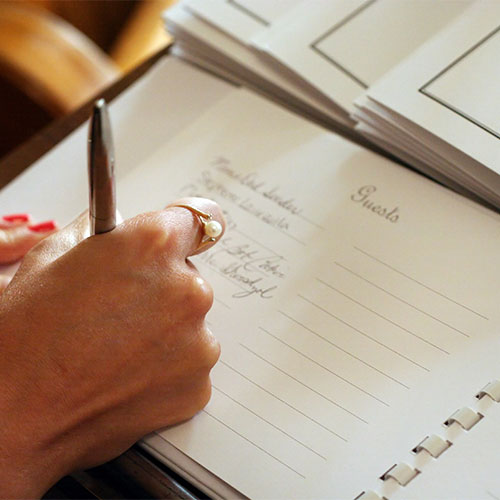 Shutterstock
6. Guest Book
"About two of the 50 pages of a traditional guest book get used, and then it goes to sit on a shelf and collect dust for the rest of your life," says Schaefer. "If you want a 'guestbook element' I recommend a photo album of your engagement photos or something interactive like polaroid photos for guests to then sign instead of a standard book."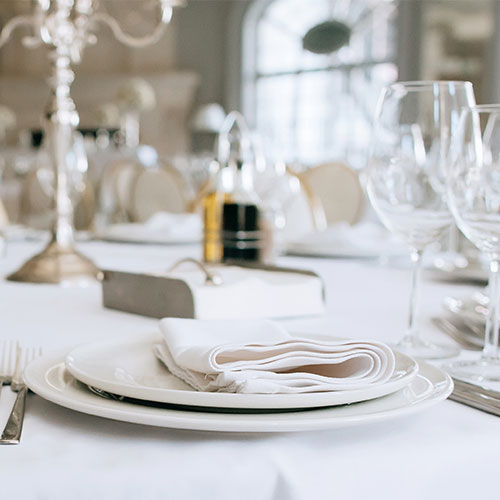 Shutterstock
7. Table Linens/Napkins
"We've had some clients who thought it made more sense to buy table linens and napkins to use at their wedding and then take them home to wash and re use." notes Zeller. "Washing 100+ dirty napkins and stained tablecloths that you'll likely never use again is not worth it. There are some fantastic linen rental options that will ship them to you pressed and ready to go. And the best part? At the end of the night, the dirty linens get packed up into canvas bags and shipped back to where they came from!"
Shutterstock
8. Champagne
"The idea that you have to provide champagne to guests for your wedding toasts during the reception is a misconception," explains Heather Jones, catering sales director of Wente Vineyards, who adds that it can turn into a pricey gesture. "Instead, encourage guests to toast whatever what they have in hand."
Shutterstock
9. Candles
Schaefer recommends that you get your candles through your florist since whatever you find online for cheaper won't last a full 8 hours.
Shutterstock
10. Favors
"As a venue manager, the worst thing at the end of the night is throwing away the left behind favors," says Shannon Tarrant, Founder of WeddingVenueMap.com. After all, what are they going to do with one coaster or a wine stopper that doesn't match their home decor? If you're going to spend your budget on favors, consider a delicious treat or a frame for your photobooth .printout."
Shutterstock
11. Wedding Decor
Items such as wedding favor signs, welcome to the wedding signs and bride and groom chair decor are all items you should try to buy secondhand, says Lindsey Nickel of Lovely Day Strategy.