The hotel ballroom is one of the most popular wedding venues, and for good reason. It's large enough to fit any vision and guest list, and everyone can cut down on travel time by staying right on the premises. But there are things to watch out for, so be sure to take a look at these 11 mistakes before planning your own ballroom wedding.
[Photo:
Style Me Pretty
]
Trying to fill the room.
"A big mistake that couples make when planning their ballroom wedding is filling it to total capacity,: says Danielle Rothweiler of Rothweiler Event Design. "If your guest count is 300 and the ballroom fits 300, it's going to be too tight. The answer is not putting the maximum number of people at the tables, it's reducing your guest count."
Forgetting about other weddings.
Ask whether they host more than one wedding a day and how the transition would occur from yours to the other wedding and vice versa, says Michelle Perez of Michelle Perez Events.
Signing before reading.
For many people it's just a formality, but it does have a lot of important information, says Vivian Perez of La Bonne Cuisine. "Also share it with other vendors. Many people don't do this, and they get slapped with penalty fees the day after the wedding for things like leaving items behind or doing things they were not supposed to like using confetti, balloons and even candles. Not the best way to start the honeymoon!"
Not asking about vendors.
A lot of venues--especially hotel ballrooms--have preferred vendor lists, which means that the costs depend a lot on who these vendors are. "Their fees can vary a lot," says Perez. "Don't contract with a venue without estimating the cost for that specific venue."
Assuming you can make decor changes.
If you are planning to transform the space with draping, hanging flowers etc. make sure the ballroom allows this upfront.
Spending too much on flowers.
Ordering too many flowers to try and make the room seem decorated and full. You'll have to spend a lot of money to fill a ballroom venue with flowers. Instead, go light on the flowers and heavy on candles, drapery and even centerpiece vases that are larger and have more height to them, says Jen Glantz of Bridesmaid for Hire.
Passing on a professional photographer.
"The thing with ballrooms is that they have few windows and high ceilings," says Peter Greeno a destination wedding photographer located in Boston and Portland. "The lack of windows means that there won't be any sunlight coming in. High ceilings, means that her photographer won't be able to bounce their flash and get the beautiful diffused light that makes her guests look amazing. The only remaining option is to find a photographer that uses off camera lighting, which takes more skill and equipment."
Forgetting about older guests.
Many ballrooms are grandfathered in to pre-ADA accessibility requirements. Oftentimes, couples forget all about the mobility challenges of their friends and family members until after the contract is signed. While that romantic stair case is beautiful, it does often mean that grandma or grandpa cannot attend, says Kimberly Morrill of Your Perfect Bridesmaid.

[Photo: Ryan Ray Photo]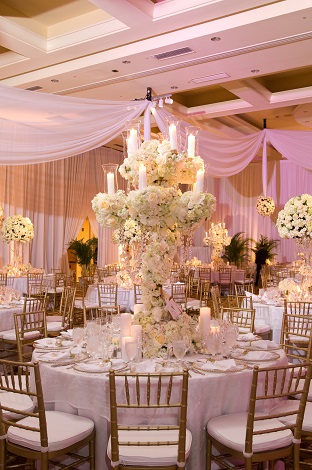 Having a monotonous look.
A ballroom can look monotonous with a sea of round tables—change it a bit and mix round tables with square tables, says Melisa Imberman of The Event of a Lifetime. "If it's a more causal or rustic style wedding add in a few farm tables." The same goes with centerpieces: Alternate between high and low centerpieces so everything isn't as uniform.
Making the dance floor too big.
You want the dance floor to be large enough for everyone who wants to dance to dance, but you don't want it to be so big that it seems empty, says Imberman.
Just going with the set menu.
If the ballroom has its own catering, don't take the menu they give you at face value, says Perez. "Many have pre-set wedding packages, and don't present other options, but you can ask for their corporate menu or the regular menu. A lot of times the cost can be lower on these, or at least allow you to be more creative. Guests are tired of chicken cordon bleu!"