Couples are always looking for ways to make their wedding stand out, but when it comes to photos, you don't always want to stray too far from the traditional. Here are 11 shots that will never be cheesy or go out of style.
[Photo:
indiaearl.com
]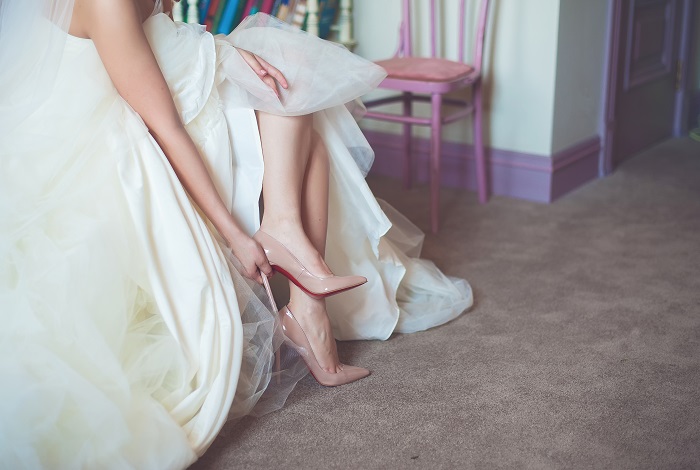 Getting ready.
No matter how hectic that time of getting ready will be and no matter how much a bride and everyone else involved will not feel like pictures, it's worth documenting the hassle, nerves and the excited anticipation, says Yana Shellman of Yana Shellman Photography. "And looking at those photos you will remember how excited you were at those brief moments and what wonderful things were happening just minutes after this."
The bride's look.
Debi Buckley of Southern California Wedding Resources says that a photo of the bride's dress hanging up, as well as a shot of the dressed and ready bride looking at her reflection in the mirror, are pictures that will be treasured for years to come.

[Photo: Ryan Ray Photo]
The first look.
Many couples are choosing to have "first look" portrait sessions before the wedding for a variety of reasons--and the results are usually gorgeous and always-emotional, says Kim Forrest of WeddingWire.

[Photo: Ryan Ray Photo]
Walking down the aisle.
It is done at every wedding, but it's a photo that never goes out of style, says Shellman. "It's a treasured representation of your parents or a dear person in your life, giving you away into the arms of this new person."

[Photo: Ryan Ray Photo]
The groom's reaction.
CJ Thomas of CJ Thomas Photography enjoys capturing the raw emotion between the couple, like when the groom is watching his beautiful bride walk down the aisle.

[Photo: Ryan Ray Photo]
The first kiss.
The first kiss as husband and wife signifies the beginning of a new life together as couple, says Antonio Crutchley of White House Wedding Photography."It is generally a good idea for the Officiant or the Minister to step aside to allow the photographer to get an unobstructed shot of the couple as they kiss."

[Photo: Ryan Ray Photo]
Exiting the ceremony.
"My favorite is the sweet moment right after the couple exit the ceremony," says Shannon Menary of Shaun Menary Photography. "In their first few moments as husband-and-wife, the couple are brimming with joy, and with the ceremony behind them, they are finally fully relaxed and soaking in the moment."

[Photo: Shaun Menary Photography]
Traditional family portraits.
Some people think they are a boring waste of time and it would be so much for fun to go and hang out at the cocktail hour. "Family is the most treasured group of people in your life," says Shellman. "Everyone must have a simple photo of your closest people standing by your side on a very important day of your life."

[Photo: Ryan Ray Photo]
Traditional photos of the couple.
Yes, candids are super fun, but you want some shots of the two of you looking at the camera. "There is a reason classic poses never go out of style," says Ashley Sue Braswell of Ashley Sue Photography. "Being trendy is fantastic and can be fun but make sure you have a photographer that will capture the traditional poses that you'll cherish for a lifetime as well."

[Photo: Ryan Ray Photo]
Guest candids.
You planned with care so everyone would have a great time at the wedding, so you'll want to document people on the dance floor, making toasts and laughing with one another, says Shellman.

[Photo: Ryan Ray Photo]
The exit.
This photo is a classic because it shows the happy couple going off to start their new lives together. Many couples give guests sparklers to hold while the newlyweds walk past, which gives the pictures a special look.

[Photo: Ryan Ray Photo]