I'm one of those people who gets really hot during the night while I'm sleeping. Because of this, I like to sleep in an oversized t-shirt and shorts–always. Even in the middle of winter, I very rarely sleep in pants. However, I've never been the type of person to just wear a pair of underwear to sleep–not that there's anything wrong with that, it's just not my style. That's when I discovered boxers for women.
In the summer when it's really warm at night, I usually opt to sleep in a pair of boxer shorts, but sometimes I still get too hot. So, I'm always on the hunt for the perfect pair of sleeping bottoms. When I discovered boxer briefs specifically for women, and I was super happy.
Yes, they're a thing–brands make boxer briefs (the kind of underwear men wear), but specifically with women in mind. These briefs designed for women were never meant as menswear, despite their same name. Boxers for women are the perfect type of shorts to sleep in. They're made of super soft materials, often cotton, are easy to move in (ideal if you toss and turn in your sleep like I do), and will keep you cool all night long.
Women's boxers cover like a pair of tight shorts but feel light to wear like a pair of underwear. If you're someone like me who wants more coverage than sleeping in a pair of women's underwear, women's boxer briefs may be the perfect solution for you.
Popular clothing brands like Aerie, Hanes, Victoria's Secret, and more, make some of the most comfortable boxer briefs for women. Not to mention, some of them are actually pretty cute. From feminine colors to fun patterns, you definitely won't feel like you're wearing your boyfriend's or husband's underwear when you have these on.
Shop 6 pairs of the most comfortable boxer for women below. You won't regret buying these shorts to sleep in–I guarantee it.
Hanes® Women's Premium Vintage Cotton Stretch Boxer Briefs ($9.99)
This Hanes cotton stretch boxer brief shorts boast their feminine fit. They feature a ComfortSoft® Waistband and full coverage. Whether you're actually sleeping or just lounging around the house, these boxers will make you super comfortable. They come in a variety of prints, colors, and heathers.
TomboyX Boy Short Underwear ($23)
If you're looking for ample options, these boy short underwear by Tomboy X are perfect. They feature their signature stay-put silky waistband that feels soft against your skin. The material is 95% cotton and 5% spandex to give you a great amount of stretch. They're available in sizes XS through 4X, in a large variety of colors.
Aerie Cotton Logo Boyshort ($3.99, originally $9.50)
These low-rising cotton undies are ultra stretchy and comfortable. The brand says, "Get your Aerie on! Logo undies with no cheek peek & a lot of WOW."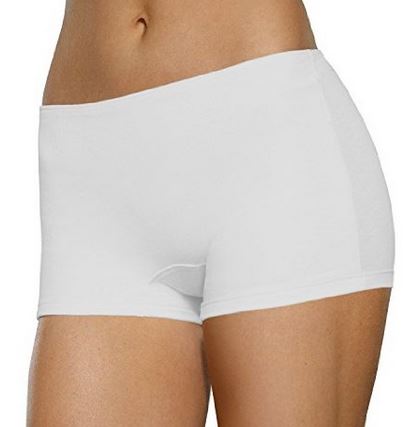 Fruit of the Loom Ladies' 6 Pack Cotton Boyshorts ($11.49)
These boyshort briefs are made of soft cotton that stretches and moves with you in your sleep. The comfort waistband doesn't pinch or bind, ensuring that you'll sleep soundly all night long.
Ruxia Women's Seamless Boxer Briefs ($18.99)
These women's boxers are designed for maximum softness. Whether you just wear them to bed or under your loungewear during the day, these briefs will give you great comfort. These are made from a blend of nylon and spandex, making them pretty durable.
SheFinds receives commissions for purchases made through the links in this post.