We're not gonna lie, putting together the seating chart is not fun. You want to make sure you place your guests are the right table--in the best location--so everyone has a great time. Not to mention some family members (like your parents) might feel very strongly about where certain guests are seated. Make the process less stressful by avoiding these seven mistakes.
[Photo: Erich McVey]
Seating older guests near the dance floor.
Generally, older guests are not the biggest fans of loud music and would probably prefer to be seated away from the dance floor and speakers so they can carry on a conversation, yet still watch the action, says Julia Pavlovski of Wedding Wise. "Seat your friends near the dance floor instead so they won't have far to go to get their groove on, or take a seat when they need to catch their breath!"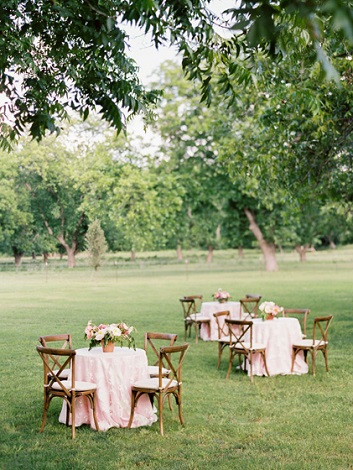 Separating guests.
Some brides try to separate their guests to encourage interaction and discourage cliques, but this can often have the opposite effect and make people feel super awkward. "Brides need to make sure that there is at least one person at the table that the guest knows," says Apryl D. Roberts of Memorable Events by Apryl.
[Photo: Ryan Ray Photo]
Not having a children's table.
If there are children at the wedding within the same age group, its best to seat them together, says Roberts. "This allows the parents to enjoy themselves while the kids are with their peers. It's also easier for wait staff if there are separate children's meals. Activities can then be placed at the table to keep the young ones engaged while the adults are having fun."
Setting a singles table.
A lot of brides will create a table at their wedding reception where they can seat all of their single guests. "While a bride's best intentions may be behind this move, this can be seen as making your single friends an afterthought," says Kim Forrest of Wedding Wire. "Instead mingle them into various tables so they can converse with couples, children and other single people."
Putting non-family members in the back.
Many couples will put family members at all tables in the front and put those less than close to the couple in the back. According to Greg Jenkins of Bravo Productions, it's an obvious slap in the face for those guests seated in the back. "Especially if food service is not coordinated properly, the guests in the back to be fed last. It's better to mix family with friends and when either summoning guests for the buffet or serving sit-down meals, it's all done sporadically and not done in an order that would make one feel like a 'second class citizen.'"
Forgetting about bridal party dates.
Brides tend to overlook the dates of their wedding party, seating them at tables with other guests they may not know. "If you're set on featuring a head table, consider this: Have your wedding party sit in the traditional location beside the bride and groom while having their dates across the table. Or, surround a sweetheart table with two round tables; one for the bridesmaids and their dates, the other for groomsmen and theirs," says Katie Crowley of Ocean Blue Catering.
Waiting until the last minute.
Like we said, this isn't a fun task, but leaving it until the very last minute will only make it more stressful. "Have an idea of where people will sit and then adjust as the RSVPs come in," says Jennifer Taylor of Taylor'd Event Group.