An experienced planner can make sure your wedding is the magical day you've been dreaming of since the groom got down on one knee. But even with the help of a professional, many brides still insist on taking on much of the work on their own, which can add stress in the months leading up to the big day. If you're lucky enough to have a wedding planner on hand, don't be afraid to ask for as much help as you can afford. Simply start with these seven to-dos that most brides regret not having their planners take on.
Shutterstock
1. Booking the Venue
"One regret I see time and time again is that the brides should have had their planner in place before booking these spaces," says Oleta Collins of Flourishing Art Design Studio. "When booking sites, there are so many logistical questions to ask. Couples are caught up in the emotions and moment and can quickly book their location without the proper assistance and knowledge of a wedding professional. A planner will ask important questions about when space is available for setup, how long they will have for breakdown, the maximum capacity, the potential of other events on the same day, and so much more."
2. Welcome Bags
In order to stay within budget, couples will sometimes take on elements or events that are a little outside the wedding day, such as putting together and delivering the welcome bags for guests, but can be time consuming, says Jamie Chang, owner and Destination Wedding Planner at Mango Muse Events.
Shutterstock
3. Finding Vendors
Planners do business with a variety of vendors, and can point you in the right direction to find the best professionals in terms of your vision and--most importantly--your budget.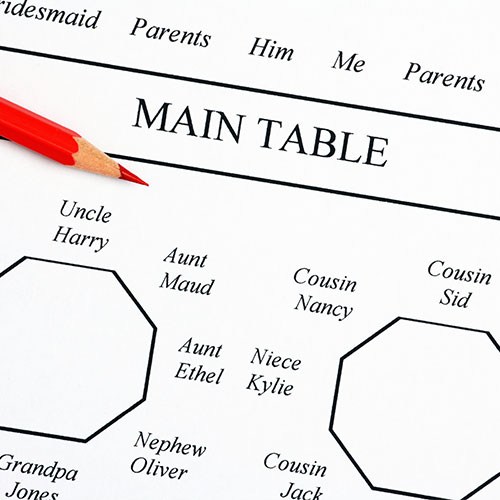 Shutterstock
4. Seating Chart
The seating chart is one of those wedding to-dos that all couples dread. "Figuring out what a good layout for their venue is and who is going to sit where--not to mention deciding the family dynamics to keep the peace--sometimes you are just too close to easily tackle this off your wedding planning checklist, but your planner can!" explains Mary Angelini, co-owner of Key Moment Films.
5. Rehearsal Dinner
Couples will also take on the planning of other wedding-related events, including the welcome dinner, rehearsal dinner, brunch and other activities. "But, it ends up taking more time than they imagined and in the days leading up to the festivities they're finalizing the last details instead of just enjoying time with family and friends," says Chang.
6. RSVPs
"The couple's RSVPs can go directly to the planners office address and they can keep track and give updates to the couple," says Angelini. "The best part is the planner can also reach out to those who have not responded and take the weight off the couple of having to finalize the most important part of the wedding - who is attending!"
7. Organize the Bridal Party
Bridal parties are usually made up of family and friends--and a lot of different personalities. A skilled wedding planner can keep everyone on time and on task, as well as make sure everyone is on their best behavior at the wedding.