While the bride is definitely the star of the show, don't forget about those special people standing next to you as you say your vows. You'll definitely want to make sure they look (and feel) their best on the big day. After all, they will be your emotional support system not only at the wedding, but in the months leading up to it. So before you start looking at dresses and making final decisions on colors and hairstyles, take a look at these nine trends that are saying goodbye in 2020.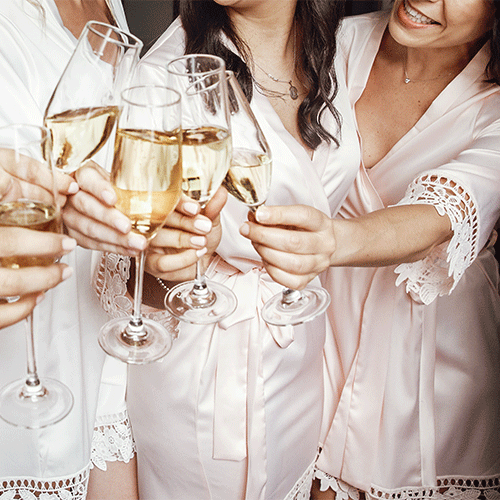 Shutterstock
1. Matching Robes
Photographer Jenny DeMarco says that bridesmaids are done with wearing matching floral robes or pajamas when getting ready for the big deal. Instead, they're opting for "a clean and classic look of satin with piping."
Shutterstock
2. All-Female Bridal Party
Expect a rise in mixed-gender wedding parties, says Renee Dalo, owner, Moxie Bright Events. "Our couples are realizing that tradition can really be thrown out the window and it's okay to have your very favorite people, no matter the gender."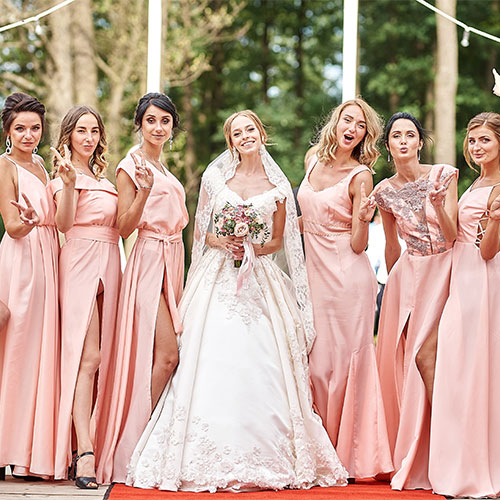 Shutterstock
3. Large Bridal Parties
Gone are the days of huge bridal parties. In fact, wedding parties are getting smaller and smaller as the years go on, according to Jen Avey of Destination Weddings Travel Group. "Nowadays, brides are choosing one or maybe two special people to stand with them at the altar, as opposed to the traditional 5-10."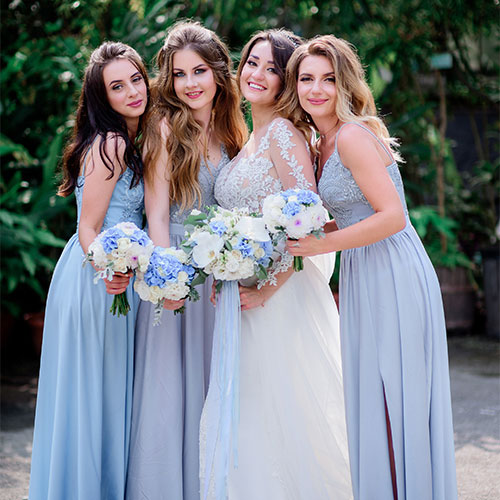 Shutterstock
4. Matching Dresses
Katharine Phillips of Katharine Phillips Design points out that the idea of putting all your bridesmaids in the same dress is just a bit dated. "More brides are opting to allow their bridal party members to pick their own dress styles. Plus, bridesmaids that feel confident and comfortable photograph much better than ones who aren't feeling their best due to a dress that is not in their comfort zone."
Shutterstock
4. Elaborate Hairstyles
Say bye-bye to ornate up-do's and over-styled tendrils, says Avery. Bridesmaids are now going for a more natural "messy" look by wearing their hair down for a 'do that is more aligned with their everyday hairstyle.
Shutterstock
5. Floral Crowns
"Floral crowns will be a thing of the past as we see the move towards hair clips donned with florals or small blooms tucked into braids and chic chignons," predicts Joan Wyndrum, Blooms by the Box.
Shutterstock
6. Jumpsuits
Bridesmaid jumpsuits made a quick hit, but will be less popular in 2020, says Sarah Stefanski of Big Apple Bride. "It's a risky style that is not always flattering for different shapes and sizes."
Shutterstock
7. Traditional Bouquets
Bridesmaid bouquets are expensive, so many brides are loking into bouquet alternatives, explains Avery. "We've seen everything from puppies and large balloons to candles and light sabers go down the aisle. Even trading a full bouquet for a simple corsage is a great way to cut back florist costs."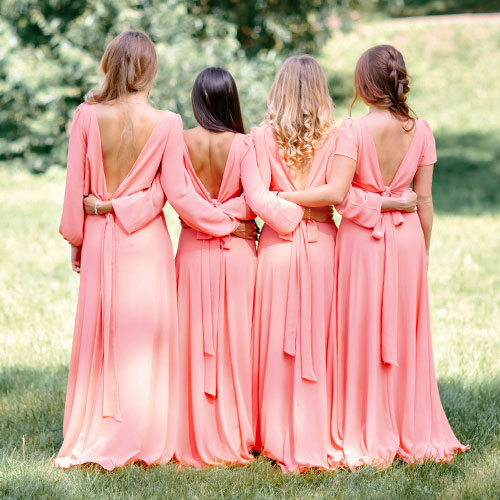 Shutterstock
9. Single Color Schemes
Avery is predicting that next year brides will include multiple colors throughout their bridesmaid's palette. Some examples include mixing golds with emeralds, greys with blues, patterns with solids, etc.