The fashion scene changes so rapidly sometimes, it can be hard to keep up. From year to year and even month to month, trends seem to come and go quicker than your online shopping orders arrive!
With the new year looming over our heads, we're already thinking about 2019's biggest fashion trends and which ones won't make the cut past January 1st. Now don't get us wrong, if there's anything we've learned from 2018 it's that everything will most likely come back into style eventually. That's just the way the fashion world works. But if you're wondering what to buy and what to leave behind (aka move to the back of your closet) when the ball drops, we've rounded up 9 trends that are going out of style in 2019 and what to try instead!
2019 Fashion Trends: What's In & What's Out
ImaxTree
1. Leave Behind: Furry Backless Loafers
Instead Shop: Backless Loafers Sans Fur
Loafers are still very in for 2019, don't get us wrong, just ditch the furry detailing. The furry shoe style just isn't practical, especially if you plan on walking on the streets in them. Yuck.
ImaxTree
2. Leave Behind: Cold-Shoulder Tops
Instead Shop: Chunky Knit Sweaters
It's safe to say chunky knit sweaters will never not be in style. The trendy tops are just so versatile we can't ever imagine ourselves not wearing them in the fall and winter.
ImaxTree
3. Leave Behind: Chokers
Instead Shop: Layered Necklaces
Choker necklaces had a moment, but they're quickly getting replaced with dainty longer styles like layered chain necklaces.
ImaxTree
4. Leave Behind: Flared Jeans
Instead Shop: Cropped Wide-Leg Denim
Wide-leg denim jeans are still giving our beloved skinny jeans a run for their money. The cropped style looks flattering on everyone and can be worn all year long.
ImaxTree
5. Leave Behind: Real Fur Anything
Instead Shop: Faux Fur Everything
It's going to be 2019, it's time to nix the animal fur. There's no reason for it when so many amazing faux fur alternatives are available!
ImaxTree
6. Leave Behind: Stilettos
Instead Shop: Chunky Heels
Don't take this the wrong way -- stilettos will never be out of style, but we highly recommend adding a chunky heel into your rotation.
ImaxTree
7. Leave Behind: Mirrored Sunglasses
Instead Shop: Cat-Eye Sunglasses
We're still living for this retro eyewear trend. Nothing adds the finishing touches to a look like a pair of chic blacked-out cat-eye sunglasses.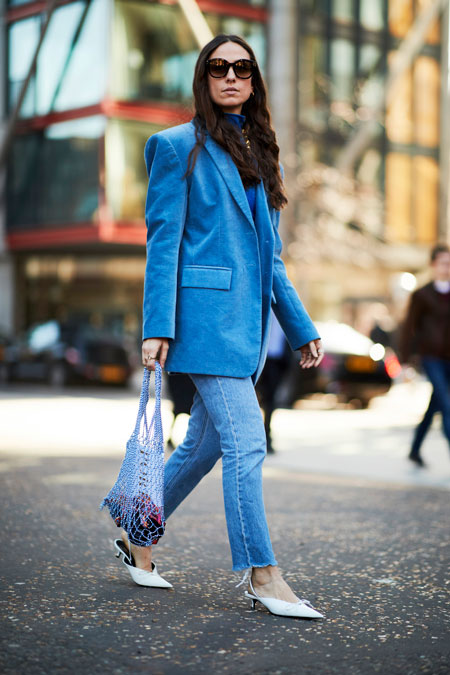 ImaxTree
8. Leave Behind: Ballet Flats
Instead Shop: Low Heeled Mules
Tired of regular, old flats? Same here. Low heeled kitten or block heeled mules will still be trending in 2019 so stock up on the latest styles now.
ImaxTree
9. Leave Behind: Millennial Pink
Instead Shop: Lilac
Millennial pink is so last year. Instead, street style stars are loving on a new color trend and it's equally as chic: Lilac.