blacktie
Black tie weddings are perfect for the bride who wants an elegant and sophisticated affair. If this is your style, make sure you don't make these nine common mistakes.
Assuming everyone is on the same page.
When it comes to black tie weddings, the first mistake many brides make is operating under the assumption that all of their guests truly understand what black tie means, says Mystique Latese, founder of Coordinator for a Day. "By definition, black tie falls within certain attire constraints. However, some brides may have a more relaxed approach in their interpretation, so by taking the time to clearly convey their wardrobe expectations to their guests via their wedding website, brides will save themselves the unwanted stress of becoming the wardrobe police on their wedding day."
Not making your wishes clear.
Some brides feel guilty implementing a black tie dress code because they don't want their guests to feel like they need to spend a lot of money to attend. As a result, they opt for "black tie optional" on the invites. "This decision ends up being a big mistake for the bride and doesn't help the weddings guests either," says Brittany Lo, founder & CEO of Beautini. "By putting 'optional,' this often leads to a few couples showing up a lot more casual than the rest of the attendees and makes them feel uncomfortable and disrupts the overall vibe the bride wanted."
Serving the wrong cuisine.
"I've attended black-tie functions where it was buffet stations, including a pasta station with red sauces—and not enough seating for all guests," says Greg Jenkins of Bravo Productions. "Eating pasta, juggling a glass of champagne and standing up eating doesn't work. Brides should be really careful in planning the cuisine and working through the wedding reception logistics."
It doesn't fit your personality.
While it may work well for the parents of the bride, who may be paying for the wedding, black tie weddings can also be a "stuffy" affair. "When a function loses the personality of the wedding couple, it tends to have a domino effect for the couple's guests,"says Jenkins. "And as a result, many attendees will not have the best time at the wedding or reception. While black-tie in attire, make sure elements of the wedding and reception still fit characteristics and captures the personality of the bride and groom."
Hosting outdoors.
Brides who plan black-tie weddings that take place outdoors in the summer should re-think the plan, says Jenkins. Hot, humid conditions and formal attire for your guests can create a miserable situation before your guests arrive to celebrate the couple's occasion. If black-tie in the summer, it's best to have your occasion indoors under climate-controlled and comfortable conditions.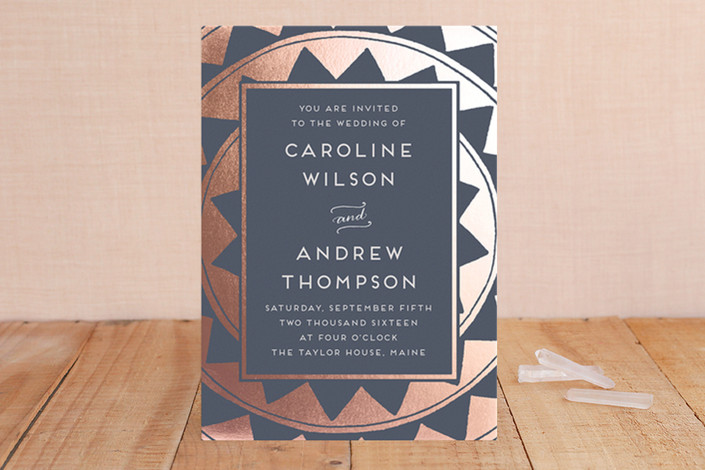 Forgetting all of the other elements.
A black tie wedding means that everything from your save the dates to invitations, party favors, menu, entertainment and even the venue must match the level of formality that your setting because of the dress code, says Dorian Smith-Garcia, founder and editor-in-chief of The Anti Bridezilla. "And typically that means a more classic or sleek contemporary style."

[Photo: Minted]
Choosing the wrong venue.
A black tie wedding is a formal affair and the venue needs to set the ambiance for the event, says Alana Futcher, Chancey Charm Richmond Wedding Planner and Coordinator. "You want your venue and style of your wedding to flow together. Brides will often assume that you can turn any venue into a black tie affair and guests will end up feeling over dressed for that specific venue."
Not Putting Enough Thought or Budget into Floral.
If your venue screams "elegance" than be sure to choose decor that echoes that, says Aviva Samuels of Kiss the Planner. "While the arrangements don't necessarily need to be tall, they do need to be dressy. The key is to make sure that the look fits in with the elegance of the venue. Consider opulent containers that sparkle or cut crystal for a sophisticated look. The blossoms you choose can be either minimal or lush, but sophisticated in nature either way and lots of candlelight is always called for in an elegance space.
Having Rustic Wedding Signage.
While wooden wedding signage is a popular option, it wouldn't necessarily be appropriate at a black tie theme wedding," says Samuels. "While you can still choose to have wedding signage created it should be elegant in style, rather than rustic. If you have your heart set on incorporating rustic elements into your black-tie theme it is suggested that you hire a designer to pull off a mix-and-match look with homemade elements successfully."