If you want a wedding venue that guests haven't been to before, then choosing a rural location is definitely the way to go. Before you start scouting possible places, take into account these nine mistakes couples make when planning a rural wedding.
[Photo:
sammblakeweddings.com
]
Planning everything for outside.
Taking the chance and thinking it won't rain, some people choose to not have any tents. That's a big mistake, says Anne Sarno-Mcilwrath, florist on BloomNation, and lead designer at Crickets Flowers. "People also assume small tents will work, but if the tent is too small, the whole wedding party won't be able to fit in it. You have to count in the bar, dance floor, heaters and more."
Not factoring in extra costs.
Vendors and resources are typically very scarce in the area, and oftentimes the nearest major city to acquire chairs, tables, tenting and equipment rentals may be a 2-3 hour drive from the destination, resulting in higher cost for basic event elements, says Greg Jenkins of Bravo Productions.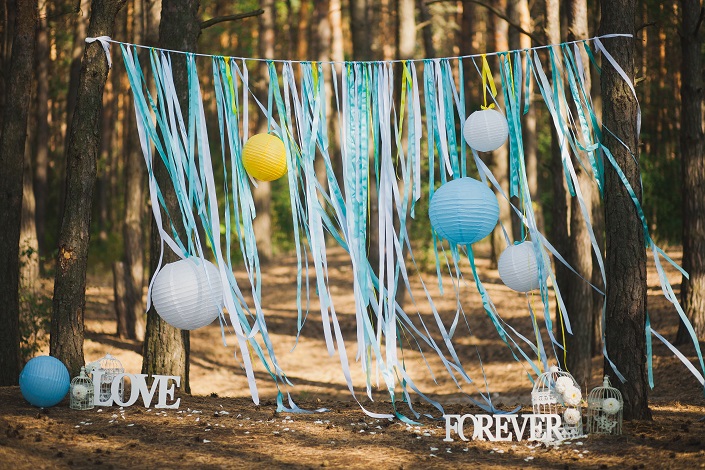 Ignoring the bug and critter issue.
No one wants to spend a day getting eaten by mosquitoes, so check if the location sprays for bugs before booking. The same goes for critters, says Taryn Blake of Taryn Blake Events. It goes without saying that it's a health hazard to have bat droppings or rodents in the space.
Forgetting about comfort.
Rustic does not have to mean uncomfortable, so spruce it up a bit, says Kevin Mignone, owner of KM Productions. "Put out some pillows, and lounge sections. Everyone will love your touch of the wild outdoors, but also will seek comfort in the shade of a tree, or the opening of the meadow. Give them somewhere comfy to plant their buns for a few minutes while enjoying a cocktail."
Failing to factor in travel time.
Some sites are so remote that they may require guests to drive hours to get to the event site, says Jenkins. In addition, the distance could conceivably be a four-hour drive to the major airport. So be sure to factor in that consideration before deciding on a location--especially if you're worried that some guests won't attend because of the travel.
Going too remote.
Getting married in the middle of nowhere seems romantic, you really need to think about the logistics.  Measure entrances, exits and bridges if needed, says Blake. "Catering trucks are large and may not fit down a restricted drive."
Thinking lighting is all about candles.
Lighting is important, more than you may know, says Mignone. "Lighting can convey emotion, set the mood, and change the mood throughout the entire event. It also will make your photos look beautiful. Highlight the big oak tree out front, or uplight the old wood beams. If you can afford to, hire a lighting designer to work with your planner to ensure all of your elements are lit properly while still maintaining your rustic look."
Relying solely on nature for decor.
While you can revel in nature at a rural location, that doesn't mean you can simply show up and let Mother Nature do all the work, says Jenkins. In fact, you may need to be prepared to clear out brush, and do some 'sprucing' up of the area to make it attractive for their wedding needs. And unless there is an overabundance of flowers in the area, you'll still need centerpieces and other decorative elements to capture your complete wedding look.
Keeping guests in the dark.
The invites need to make it clear what guests will be dealing with at this location. Is it on rough or grassy terrain? Then they don't want to show up in stiletto heels. Is cell service spotty? That could pose a problem for parents who want to stay in touch with the babysitter. And is the location difficult to drive to? Then let them know you'll be providing shuttle buses from a nearby hotel.