Don't get left out in the cold when putting the finishing touches on your winter wedding. A few trends that have been around for a while are going to make way for fresh ideas. From naked cakes to floral crowns, here are nine trends that planners and vendors agree are out for winter 2019 weddings.
Shutterstock
1. Cathedral Veils
Cathedral veils are taking a break in favor of interesting headpieces and especially headbands in luxe fabrics that are embellished with bows and pearls instead of crystals, says Genevieve Foddy, Designer & Founder of Genevieve Rose Atelier. "I have seen an increase in orders for headbands with bows and birdcage veils."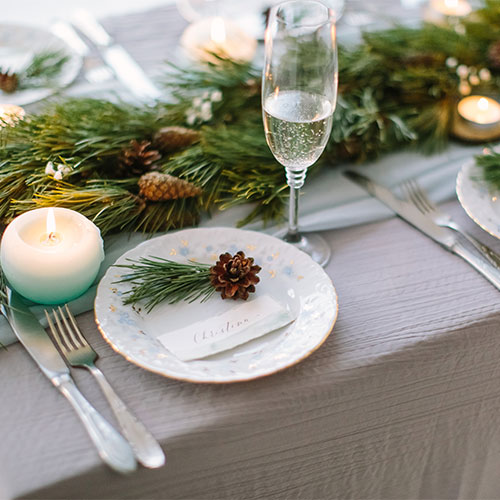 Shutterstock
2. Long Garland Centerpieces
The long-running garland strand dotted with flowers and pine cones is a thing of the past, reveals Shelley Grieshop of Totally Promotional. "Replace the garland with a gorgeous table runner in colors that match your theme. Brides can choose a simple centerpiece on the table runner, such as a basket of breath mints or lip balm. And customized table runners with an imprinted design give a unique touch to any wedding!"
Shutterstock
3. Wedding Signs
"Couples are cutting back on a sign for everything," says Lindsey Nickel ot Lovely Day Strategy. "Instead they are opting for a few essential signs like 'welcome to our wedding' or a large menu sign. Couples are less interested in directional signs."
Shutterstock
4. Flower Crowns
Large floral crowns will be out for the season. Instead there will be florals in the hair, but it will be subtle with a bloom or two, says Joan Wyndrum, Blooms by the Box.
Shutterstock
4. Late Night Snacks
Couples are more interested in making the dinner an experience for guests, which means they are opting not to serve more food later in the night, says Nickel.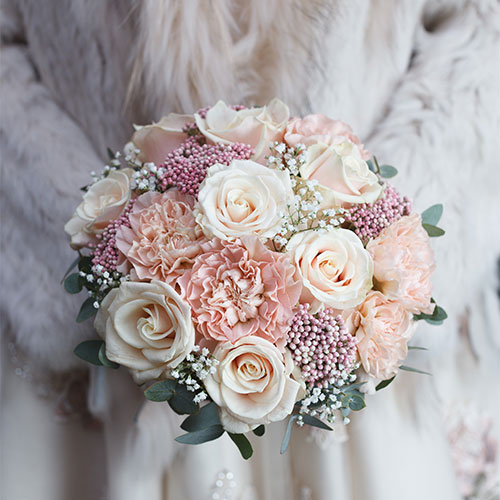 Shutterstock
6. Structured Bouquets
Structured, perfect arrangements for bouquets and decor will be out as cascading and organic florals will be ushered in for 2020, explains Oleta Collins, Flourishing Art Design Studio.
7. Naked Cakes
Naked cakes have been on the decline for most of this year, says Anthony Cuellar, Catering Chef de Cuisine, Wente Vineyards. He added that the upside down wedding cakes and chandelier cakes are also having less of an impact with brides.
Shutterstock
8. Velvet
"Velvet has been a favorite of winter weddings, but expect the look to officially be put on the backburner after being popular for several seasons," says Kevin Dennis, Fantasy Sound Event Services. "Linens will still have the ability to make an impact on the overall look of the celebration, but couples are gravitating toward other fabrics."
Shutterstock
9. All White Venue
Long-gone are the completely white winter wonderland weddings, says Kylie Carlson, The Wedding Academy. "Many couples are instead opting for more pops of color and are pulling out all the stops with rich textures in jewel-toned hues in place of traditional linens."