Eating your way to better health is the best idea — but drinking your way to good health is also a viable option. There are plenty of anti-inflammatory drinks that will curb inflammation in the body and prevent illnesses and diseases, while just helping to make you feel like your best self. Some are complicated and involve a blender — but sometimes simple options are the best options.
And here's one amazing option that falls under that category: the one anti-inflammatory drink that basically flushes out belly fat, according to nutritionists.
Shutterstock
Before we dive into the best drink for inflammation, it's important to get a handle on why we all want to combat inflammation in the first place. Inflammation is actually a good thing when it comes to the body's immune system responding to an injury like a cut or wound. The five symptoms of inflammation include redness, heat, swelling, pain, and loss of function. In most cases, the body will help heal something like a wound or an inflamed joint before returning to its original state.

Unless we're talking about chronic inflammation.
Shutterstock
Chronic inflammation is when inflammation gets completely out of control and can create the opposite effect of inflammation — instead of healing, it makes matters worse and can lead to sickness and disease.

According to the National Center for Biotechnology Information:

"Inflammations don't always help the body. In some diseases the immune system fights against the body's own cells by mistake, causing harmful inflammations. These include, for example:
Rheumatoid arthritis, where many joints throughout the body are permanently inflamed
Psoriasis – a chronic skin disease
Inflammatory bowel diseases like Crohn's disease or ulcerative colitis
Collectively known as chronic inflammatory diseases, these diseases can last for years or even a lifetime. Their severity and level of activity varies."

So, which drink can help? It's one that will soothe your body.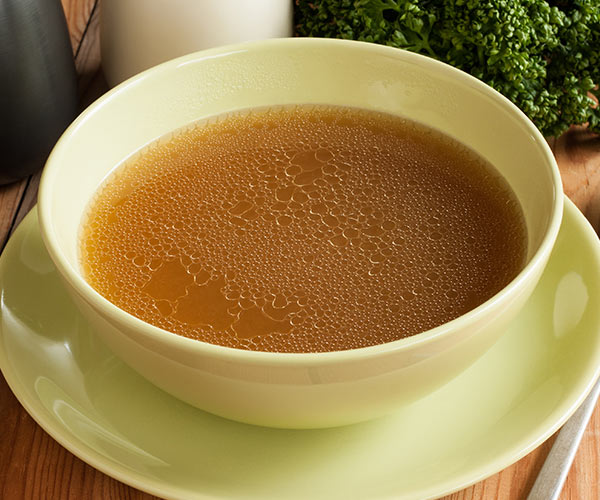 Shutterstock
Bone Broth

The next time you make chicken soup, remember: as great as the actual chicken and veggies are, all of the best anti-inflammatory benefits are found right in the bones.

"Bone broth from chickens specifically, not beef or pork or fish, supports joint health through the chondroitin sulfate and glucosamine found in the cartilage, and it's a good source of anti-inflammatory amino acids like proline, glycine, and arginine," Michelle Simon, a licensed naturopathic doctor and president of the Institute for Natural Medicine, told Healthline.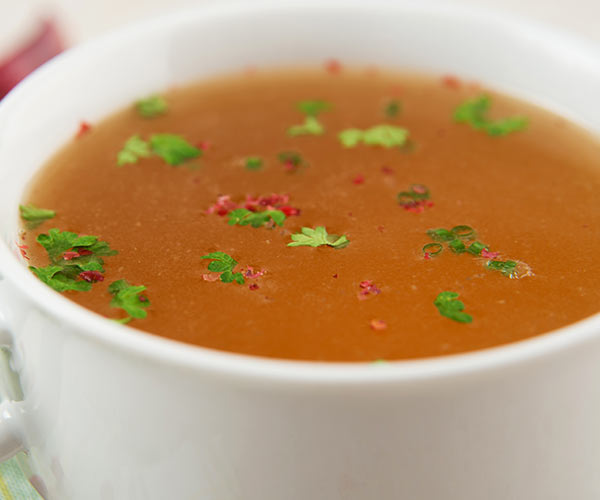 Shutterstock
Three major benefits you'll get from drinking bone broth include fighting inflammation in the body, supporting better joint health (thanks to collagen found in bones), and promoting better sleep, memory, and brain function, according to Healthline.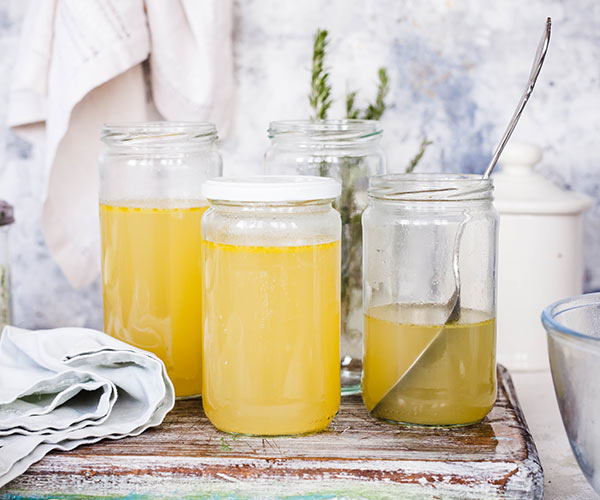 Shutterstock
As a weight loss food, bone broth is amazing — and provides nutritional support if you are fasting, according to Mindbodygreen.com.

In addition to healing your gut, helping to heal your joints, and fighting inflammation, bone broth makes you feel full and satisfied, without a lot of calories.

"Bone broth is rich, complex, hearty, and soul satisfying," Kellyann Petrucci, M.S., N.D. told Mindbodygreen.com. "It has virtually zero carbs and very few calories, so it's sin-free and you can indulge in as much as you want. Translation: no hunger, even when you're fasting."
Searching for a bone broth recipe you can make at home? This bone broth recipe is, admittedly, a commitment to make and can take several hours. But if you whip up a big batch of it, you can freeze the broth and drink it anytime. Here's what you'll need:

Beef bones
Carrot
Celery stalks
Extra-virgin olive oil
Apple cider vinegar
Onion
Garlic
Black peppercorns
Thyme