If there's one nutrient that can make a world of difference in your weight loss and fat burning efforts it's protein.
Protein fills you up, provides you with the energy you need to power your way through a workout (or through your day), and, when combined with strength training, helps build muscle, which in turn helps burn more fat.
Many high-protein foods are healthy and good for weight loss. But if you're searching for just one to add to your grocery list, this is the one anti-inflammatory protein that basically flushes belly fat, according to nutritionists.
Shutterstock
Whey Protein

Whey protein is the most popular ingredient you'll find in protein powders that are used to whip up delicious, healthy smoothies and shakes. Whey protein can prevent blood sugar spikes and even reduce inflammatory markers that are linked to diseases like cardiovascular disease and type 2 diabetes.
Shutterstock
If you're wondering what the best time of day is to take whey protein supplements, the answer is: after your workouts.

According to Live Strong: "Consuming 20 to 25 grams of fast-digesting protein after exercise can speed up muscle growth. When consumed before bedtime, whey protein helps reduce muscle loss and maximizes hypertrophy."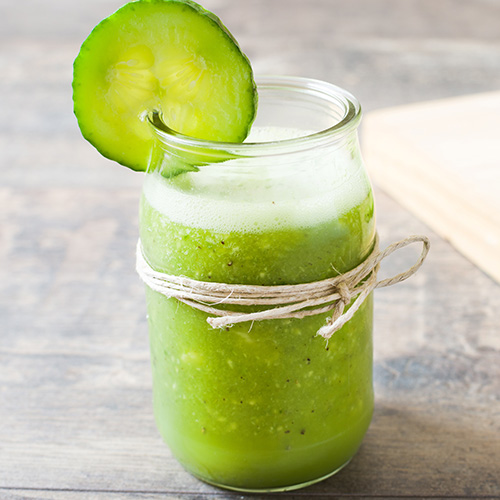 Shutterstock
When it comes to tackling belly fat, it takes more than just a routine of sit-ups to do the trick. Visceral fat surrounds your organs and can contribute to health problems and diseases. It's also linked to inflammation and one key way to reduce belly fat is by reducing inflammation — whey protein can help.

"Lactoferrin and immunoglobulin, two milk proteins in whey, protect against obesity and inflammation," reports Live Strong. "These compounds help balance the friendly bacteria living in your gut, reduce intestinal permeability and promote visceral fat loss. Strength training can maximize the benefits of whey protein and make it easier to lose belly fat."
Shutterstock
Chocolate, Banana, Peanut Butter Protein Shake

Need a protein-rich smoothie recipe to kickstart your efforts to lose more weight? Try this delicious, creamy, and nutritious option, which is also low in sugar and requires just 5 ingredients:

Peanut butter
Banana
Ground cinnamon
Chocolate whey protein powder
Ice cubes