Every woman needs a good concealer. This essential product has the ability to mask imperfections, brighten and lift the skin, and even your complexion for a flawless glam look. There are a lot of concealers out there and most women with dark spots and wrinkles have a hard time finding a formula that effectively hides their concerns. Need help finding a long-lasting, full-coverage concealer that will make things like dark spots, fine lines, and wrinkles things of the past? Target shoppers have been raving about e.l.f. Cosmetics' new 16hr Camo Concealer–some are even saying that it's the best concealer at Target in their reviews.
Keep scrolling to learn more about this best-selling concealer and find makeup artist-approved tips on how to conceal eye wrinkles, dark spots, and more!
Shop The Best Concealer At Target:
TRY IT: e.l.f. Cosmetics' new 16hr Camo Concealer ($5)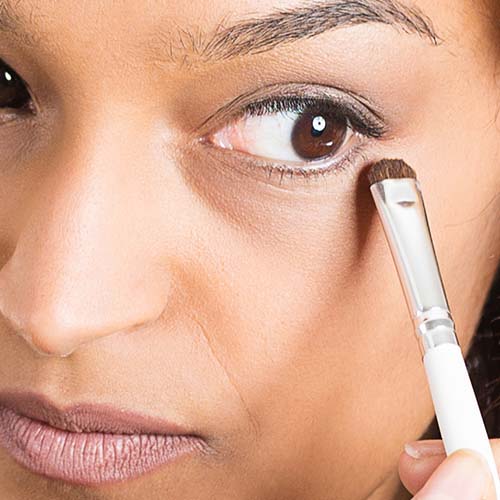 Shutterstock
Key Benefits Of Using The e.l.f. 16hr Camo Concealer:
-High coverage, crease resistant, and offers 16-hour wear.
-Features a large doe foot applicator to conceal, correct, contour and highlight for flawless skin.
-Highly-pigmented formula is lightweight and dries matte to hide fine lines and wrinkles.
Shutterstock
Promising e.l.f. Cosmetics 16hr Camo Concealer Reviews:
"This concealer has amazing coverage and gives a matte finish without looking dry under the eyes. I am obsessed!!" - minibarbiee
"This is the best concealer that they've ever come out with. It doesn't crease, cake up, or wear off on me during the entire time that I wear it. And, I don't always set it with powder either, and it still stays matte and doesn't budge or crease at all. Plus, I love that it truly gives me full coverage without me having to apply a whole lot, just go achieve such. It doesn't have an offensive snell to it, and I love that even though it is of super quality, it doesn't come with an outrageous price tag. It's super affordable, and it does with a really decent amount of product in it too. Definitely be sure to give it a try!" - Reservechic
"I tried this and love the consistency of the concealer. Made my skin feel soft and smooth and not cakey. The applicator was a little bigger than I am used to but for the price this is great coverage! I have horrible under eye bags and purple circles. With a little color corrector and this concealer it worked magic!" - herolda13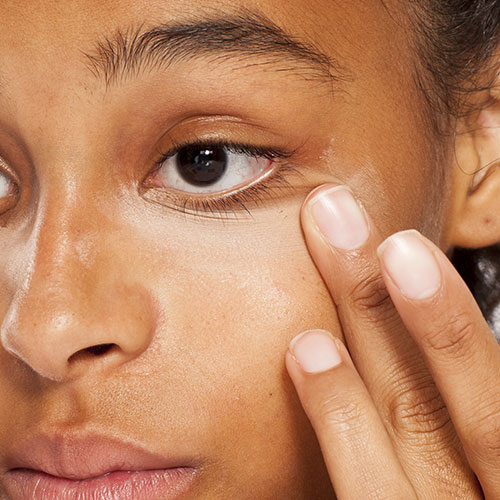 Shutterstock
How To Conceal Eye Wrinkles
1. Prep the skin with moisturizer and eye cream.
2. Apply a chiffon color corrector.
3. Use a hydrating concealer.
4. Follow up with a powder and a mist for added coverage and glow.
Dry skin is not ideal for makeup application, especially if you're trying to conceal fine lines and wrinkles. That's why it's recommended to prep your skin beforehand with hydrating skincare products like serums, moisturizers, and eye creams to prevent caking and creasing. "The difference between a raisin and a grape is hydration," says Connie Elder, founder and CEO of PEAK 10 SKIN. "The best way to disguise wrinkles is to hydrate them."
Shara Strand, a makeup artist and owner of SHARA Makeup Studio in The Pierre Hotel in New York City, says color-correcting your wrinkles using the color chiffon can help brighten and disguise under-eye wrinkles. "A color corrector in chiffon is brightening, which helps disguise wrinkles by lifting darkness from the area," she says. "Add the color chiffon sparingly in the deepest part of the wrinkle, then blend by tapping with your ring finger."
Makeup artists say that it's best to apply your concealer in a downwards triangle formation when concealing under-eye wrinkles. Celebrity MUA Mario Dedivanovic recommends using a hydrating concealer to prevent dryness and applies it in "light, thin layers." He also suggests blending the product over your foundation.
Now that your concealer is in place, it's time to make sure it stays in place. Dedivanovic likes to use a translucent loose powder and add a spritz of face mist to boost the skin's glow.
Shutterstock
How To Conceal Dark Spots
1. Begin with clean, moisturized skin.
2. Apply a concealer that matches your skin tone.
3. Layer the concealer onto the dark spot using a gentle dabbing motion
4. Lock the concealer in place with a powder.
Just like with under-eye wrinkles, it's important that your skin is properly prepped and hydrated before trying to conceal your dark spots. Makeup, especially concealer, loves to settle into scars and ridges, so it's important that you apply a moisturizer and a hydrating primer first.
Makeup artists say it's best to conceal your dark spots before applying foundation. To do this, use a fine brush to apply the concealer directly to the problem area. The experts at Frends Beauty recommend layering the concealer using a gentle dabbing motion.
Once your concealer is in place, add a sweep of translucent powder to lock it in.
SheFinds receives commissions for purchases made through the links in this post.