Women with mature skin think that they need to cake on layers of foundation and concealer to hide fine lines and wrinkles, when really, all you need is a good primer and tinted moisturizer."Applying primer as a makeup base is the key to softening wrinkles," Jaclyn Peresetsky, a makeup artist and co-owner of Skin Perfect Clinic in Ohio, tells WebMD. Makeup artists recommend using tinted moisturizers because of their hydrating formulas that often contain anti-aging ingredients. Not sure where to find the best drugstore tinted moisturizer for wrinkles? Neutrogena's Healthy Skin Enhancer is always selling out at Target for its skin-perfecting and wrinkle-smoothing formula. Keep scrolling to get all the details on this best-selling Target tinted moisturizer: 
Shop The Best Tinted Moisturizer For Wrinkles:
TRY IT: Neutrogena Healthy Skin Enhancer ($8.89)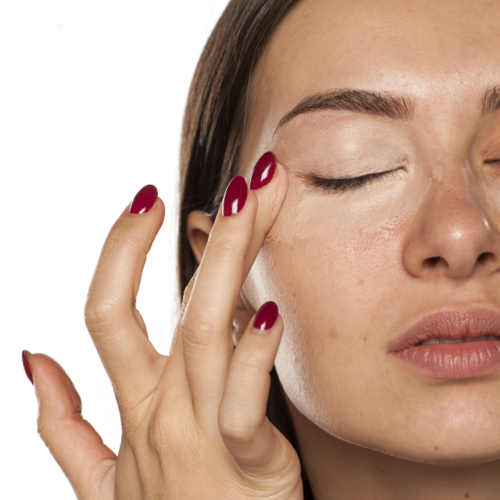 Shutterstock
Key Tinted Moisturizer Benefits
-Provides a sheer, natural tint to the skin to help blur pores and reduce the appearance of fine lines, wrinkles, dark spots, and more.
-Formulated with a vitamin-rich retinol treatment to visibly smooth fine lines and reduce signs of aging.
-Nourishes skin and protects against future sun damage with a weightless, broad spectrum SPF 20 moisturizer.
Shutterstock
Promising Neutrogena Healthy Skin Enhancer Reviews
"Ever since I found this product I fell in love with it. It makes my face look smooth and even. I love how lightweight it is too." - Belle37
"Great coverage- doesn't cake up or streak when applied. Blends well & does what I want it to do - provide just enough coverage." - dbe
"I have been using Healthy Skin Enhancer for 6 years or more. I will occasionally try a different brand after a makeover or recommendations by friends but NOTHING is better and I always go back. Sunscreen, light retinol treatment, and natural color all in one. It does not stain towels from silicone residue, it is affordable and it works. I get many compliments on my skin." - PattyCham
"I love this makeup. I have greasy skin even at 75 years old and this make keeps my skin soft and looking nice." - cramerdal
SheFinds receives commissions for purchases made through the links in this post.