Finding the perfect foundation is a struggle for most women over 40, but experts say it's because they're not using the right formulas. That's where tinted moisturizers come into play. These hydrating face products contain skin-healthy ingredients like humectants and antioxidants, giving mature skin the nutrients and moisture it needs to look radiant and even. Looking for the best full coverage tinted moisturizer to help reduce the appearance of wrinkles? We recommend giving Laura Mercier's Oil-Free Tinted Moisturizer Broad Spectrum SPF 20 a try. Not only is it a tinted moisturizer with SPF, but it's also renowned for its glow-enhancing formula. Keep scrolling to find reviews of the Laura Mercier Oil-Free Tinted Moisturizer and learn the best way to apply tinted moisturizer!
Shop The Best Full Coverage Tinted Moisturizer:
TRY IT: Laura Mercier's Oil-Free Tinted Moisturizer Broad Spectrum SPF 20 ($46)
Shutterstock
Benefits Of Using A Tinted Moisturizer With SPF
-Provides ideal protection from the sun's harmful, damaging rays with broad spectrum SPF 20 UVB/UVA sunscreen.
-Uses an antioxidant complex of vitamins C and E to defend skin against free radical damage and environmental stressors.
-Delivers lasting hydration to prevent dryness and soften and ease fine, dry lines.
"I created this product because I wanted to give skin a fresh, healthy, no-makeup look with a soft hint of color that evens and enhances without hiding the skin," brand founder Laura Mercier says of the Oil-Free Tinted Moisturizer.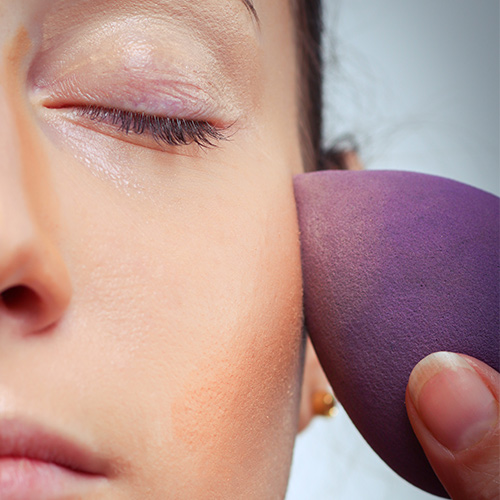 Shutterstock
Promising Reviews from Sephora Shoppers:
"This tinted moisturizer is wonderful! One thing that is a deal breaker for me with any face product is the smell. This has a light, lovely (sunscreen) scent. The coverage isn't amazing, but after all, it isn't a foundation, just a tinted moisturizer. It leaves the skin feeling hydrated and glowing and is perfect for holiday. The only complaints I have is that I find myself needing to use quite a bit of product to get the result I like, and that the "glow" can easily turn into oil if you don't set it with a nice powder. I will definitely repurchase this product :-)" - Luxington
"This is going on the 3rd tube I just re-purchased since I have ran out. Laura Mercier products are amazing. It feels like you have hardly any make-up on and the shade blends right in with my skin giving it a finished smooth look. I would recommend this to everyone! There are plenty of shades to choose from and it doesn't dry out your skin. I also recommend the Laura Mercier skin primer for before you put the tinted moisturizer on." - elyse625
"This gives me a very natural, beautiful glow and enough coverage when I don't need or feel like wearing a lot of makeup. Not as oil free as I would like, but overall very good." - BlaqueBella

Shutterstock
The Best Way To Apply Tinted Moisturizer
Beauty junkies prefer tinted moisturizers over traditional foundation formulas because of their easy application. Here are four easy tips to ensure you'll get the most out of your new tinted moisturizer:
1. Prep the Skin
Celebrity makeup artist Sir John recommends applying your tinted moisturizer directly after you've put on moisturizer to prevent any "disconnect" between the product and your complexion.
2. Use a Makeup Sponge
"Take a wet Beautyblender and while your skin is damp from your moisturizer apply your foundation," Sir John explains. Not only will this help add some extra hydration, but celebrity makeup artist Tim Quinn says that it will also help ensure even application.
3. Only Apply Where You Need Coverage
"Take a small amount and blend from the center of the face out, much like you would apply a daytime moisturizer," Quinn says.
4. Don't Set with a Powder
"Powder is definitely a no-no," Quinn warns, who recommends finishing up with a hydrating mist for an extra radiance boost. "It's all about the glowing skin."
SheFinds receives commissions for purchases made through the links in this post.