Your skin is subject to countless changes as you age including fine lines and wrinkles, dark spots, and loss of firmness and elasticity. But you already knew that, right? Well, did you know that most of these skincare conditions are the result of a loss of collagen production? Collagen synthesis naturally declines in our 20s, leaving the skin weaker and more prone to damage. "Collagen is the most abundant protein in our bodies," Alyssa R. Golas, MD, plastic surgeon at NYU Langone Health, told HuffPost. "Collagen also gives structure and strength to our skin." Thankfully, there are products that can help restore our skin's collagen–like the new Dr. Jart+ Peptidin™ Firming Serum with Energy Peptides. This skin-firming serum, which is being called the best face-firming serum by Sephora shoppers, is fortified with eight-peptide complex and borage flower extract to plump, firm, and rejuvenate skin.
Shop The Best Face-Firming Serum: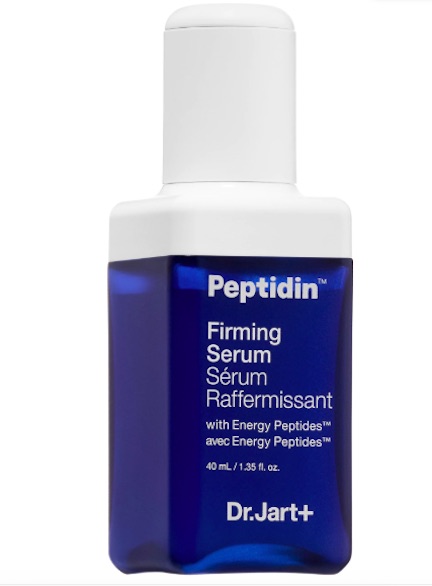 TRY IT: Dr. Jart+ Peptidin™ Firming Serum with Energy Peptides ($48)
Shutterstock
Key Skin-Firming Serum Benefits
Dr. Jart+ Peptidin Serum Highlights:
-Power-packed with eight-peptide complex and borage flower extract to firm, plump, smooth, and restore skin's radiance.
-Effective solution for a rough, depleted, and fatigued complexion.
-Improves dullness and uneven texture by replenishing and recharging skin.
Shutterstock
Promising Reviews From Sephora Shoppers:
"I really enjoyed this product. After only a couple of days I noticed a difference in my skin. It was smoother and firmer. And I love the pump top. It makes it so easy to apply. I received this product complimentary for testing purposes." - MrsShropshire
"I have been giving this product a whirl twice a day since I got it in the mail. While it does make my skin more firm I noticed it also moisturizes and keep my skin looking healthy as well! I do love additional benefits! I received this product complimentary for testing purposes." - Prosechoe
"I'm a big fan of most Dr. Jart products. First thing I want to comment on is the packaging & the bottle that serum comes in. It is fantastic & looks sleek. The bottle that it comes in is great for getting the product out as well! After using for a little over a week I see a noticeable difference. My skin feels great. I have applied both in the morning & night before my moisturer. It feels firmer & softer. I got this product complementary for testing purposes from Influenster! I would definitely purchase again!!!" - StephKay523
Shutterstock
What Do Peptides Do For The Skin?
-Promote Collagen Synthesis
-Firm Skin
-Soften Fine Lines
-Smoother Texture
-Diminish Pores
So, what are peptides exactly? They're fragmented portions of proteins that boast countless skin benefits. "when they're used in skincare, the objective is for those fragments of collagen to stimulate collagen growth," explains Nancy Samolitis, MD, FAAD, co-founder of Facile Dermatology + Boutique.
By promoting collagen production in the skin, peptides can help improve firmness and elasticity and make concerns like fine lines and wrinkles problems of the past. "By acting as messengers, signal peptides can trigger collagen synthesis, which then increases skin firmness," says Jennifer Herrmann, MD, FAAD, at Moy Fincher Chips Facial Plastic Surgery and Dermatology in Beverly Hills. "Finally, peptides that inhibit nerve signals have the potential to soften fine lines caused by muscle movement—in theory, it's like topical Botox."
Dr. Samolitis also notes that those using skincare products fortified with peptides "can lead to healthier skin with smoother texture, fewer wrinkles, and decreased pore size."
SheFinds receives commissions for purchases made through the links in this post.