Using a facial oil regularly is just one of the many ways that you can improve the overall health and appearance of your skin. "The versatility of face oils is twofold; depending on the composition of the oil, it can address a particular skin issue, like dryness, aging, structural damage from UV [exposure], or skin infections, including acne," New York City-based dermatologist Francesca Fusco, of Wexler Dermatology, tells Allure. This is especially the case for those over 30, who require preventative products in their skincare routine to ward off the formation of wrinkles, dark spots, and more. Need help finding the best facial oil for in your 30s? Dermatologists say that antioxidant-rich products like KORA Organics' Noni Glow Facial Oil should be featured in your permanent skincare routine for its restorative and nourishing formula.
Shop The Best Facial Oil In Your 30s
TRY IT: KORA Organics Noni Glow Face Oil ($68)
Shutterstock
Noni Glow Facial Oil At A Glance:
-Acts a rich source of antioxidants and essential fatty acids to promote healthier skin.
-Designed to smooth, nourish, and brighten dehydrated skin while making the visible effects of sun damage and scarring appear diminished.
-Works as a solution for dullness and uneven skin tone and texture.
Ingredient Breakdown:
Rosehip Oil: Provides nutrients and essential fatty acids. Helps soften the visual effects of sun damage and scarring.
Noni Fruit Extract: Softens and replenishes skin's appearance and supports skin's natural radiance. Rich source of over 100 vitamins, minerals, and antioxidants
Pomegranate Oil: Delivers rich moisture to the skin. Supports natural skin cell rejuvenation.
Sea Buckthorn Oil: Assists in boosting skin's clarity with vitamins C, A, and Omega-7 fatty acids.
Promising Review:
"This is by far the best face oil I've used. I received it as a sample and it did not disappoint. My skin has been dull, red, and oily lately and I am always hesitant to put more oil on my face but it gives me an instant glow and absorbs dry so my face isn't oily. This will be a must-have in my makeup bag forever!" - MicheCam
Shutterstock
What Do Antioxidants Do For Skin
Antioxidants in skincare play an important role in promoting healthy skin. They are naturally occurring vitamins and minerals and can do everything from brighten the complexion to prevent the premature aging effects of the sun.
"Think of antioxidants like vitamins for the complexion," Mollie Jensen, Biossance's Senior Sustainability & Compliance Manager, tells SheFinds. "If you replenish your skin with antioxidants every day, they nourish and help keep it healthy looking and glowing."
Those over 30 should invest in antioxidant-rich products because of their ability to neutralize the effects of free radical damage in the skin, which have been found to negatively impact the skin's collagen production and can cause fine lines, wrinkles, dark spots, dullness, uneven texture and tone, loss of firmness and elasticity, and sunspots due to the lack of cellular turnover in the skin.
"They come from things like air pollutants, chemicals, and cigarette smoke, and they basically suck the life out of your face," says dermatologist Mona Gohara, M.D., associate clinical professor at Yale University.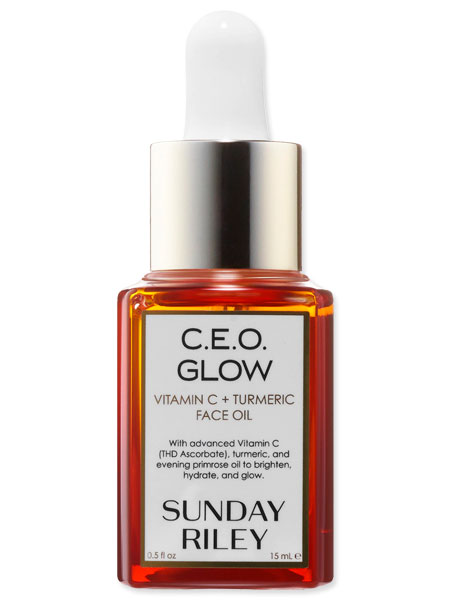 Find More Facial Oils With Antioxidants
Sunday Riley C.E.O Glow Vitamin C + Turmeric Face Oil ($40)
-Infused with advanced vitamin C (THD ascorbate), turmeric, and evening primrose oil, to brighten, hydrate, and leave skin glowing.
-Works as a solution for dark spots, uneven tone and texture, and dryness.
-Rich in antioxidants and helps fight the signs of aging caused by time, stress, lifestyle, and pollution.
Promising Review:
"This oil is one of the best skincare products I've tried in the past few years, or possibly ever. I have sensitive, acne-prone skin—basically anything can inflame it—so always worry about ending up with a breakout after trying a new product, especially an oil. This oil does the opposite—it visibly calms down any inflammation on my face overnight, and works miracles with scarring and redness in a very short time. It absorbs pretty fast, so I am not left with a shiny face for the entire day, and feels hydrating. I've used both in the morning and in the evening and works fine under make-up as well. Would hands down recommend to anyone who has trouble with breakouts or redness." - LyssaFace
Pai Skincare Rosehip BioRegenerate Oil ($44)
-Works to moisturize, nourish, and brighten skin using Andean rosehip oil and other antioxidant-rich ingredients.
-Rich in omegas to help regenerate skin without irritation, and restores balance and confidence to unpredictable skin.
-Helps repair and protect the skin against environmental stresses and visible damage.
Promising Review:
"I've used a lot of oils. This is probably the highest quality rosehip oil I've found yet. It's very moisturizing but doesn't clog. (and I'm very clog-prone) My skin loves it. It makes my face feel so soft and healthy. My melasma is extremely stubborn, nothing lightens it besides the laser, so I can't say that it has improved my brown spots by itself, but I wasn't expecting it to. This oil does improve the general texture and clarity of my skin though. I will repurchase." - Sarah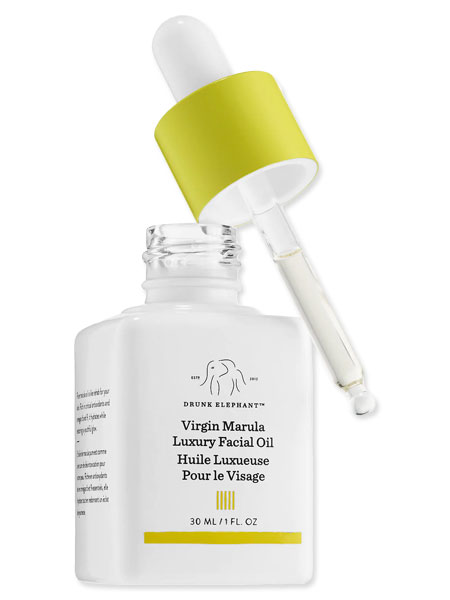 Drunk Elephant Virgin Marula Antioxidant Face Oil ($72)
-Deeply moisturizes, nourishes, soothes, and rejuvenates skin.
-Formulated with virgin marula oil and contains critical antioxidants and omegas 6 and 9.
-Restores skin's brightness and delivers a youthful glow.
Promising Review:
"Guys this product is so amazing !!! It did wonders on my skin, I use it alongside the Water Drench Hyaluronic Cloud Cream & it hydrates so amazing & makes my skin glow, even my mom has noticed & she herself would get some if it wasn't so pricey. Also, I had a lot of breakouts & acne scarring in my cheeks & as soon as I started using this about a week or two I started seeing them disappear !" - MermaidLesly
Biossance Squalane + Vitamin C Rose Oil ($72)
-Delivers exceptionally soft, smooth, and radiantly healthy-looking skin.
-Keeps skin moisturized and neutralizes damage caused by free radicals.
-Reduces the appearance of fine lines and wrinkles while evening skin tone and texture.
Promising Review:
"I've been using this product since January and it has improved texture, dark spots and overall appearance of my 40-year-old skin. I need only two drops morning and night to press into my skin. This bottle is still going strong and we are in May... Definitely worth the price point!" - nikkimuahtx
Herbivore Phoenix Cell Regenerating Facial Oil ($88)
-Contains moisture, vitamins, fatty acids, and antioxidants.
-Leaves skin with a soft, silky, and renewed appearance.
-Supports skin's natural lipid barrier to lock moisture in and protect against dryness and heat in the environment.
Promising Review:
"This facial oil is my holy grail! and I finished just finished the bottle! I'll put my review as bullet points -literally lasted me 8 months, you only need 3 drops a day - I would use this only for night time just so that your skin doesn't get used to it and you'll wake up with glowing skin every time (that same rule goes for the shampoos you use!) -use the dropper directly on your face, don't waste the product in your fingers -use a toner after you cleanse and before you use this oil and make sure it is fully dry before you do so -you'll feel like a rich housewife when using this oil btw -dark spots are gone! And I had a lot of them from picking at my acne! -You can use a moisturizer over this oil as well -overall a great product that I will be repurchasing:)
- Kristenpeeler
SheFinds receives commissions for purchases made through the links in this post.