Having trouble finding an eyelash and eyebrow enhancing serum that actually delivers results? There are plenty of formulas on the market that promise thicker, fuller lashes and brows, but often fall short once put to the test. Debra Jaliman, M.D., a dermatologist based in New York City, says that your go-to product could be missing some vital ingredients. She lists biotin, lipids, and peptides as essential lash and brow growth serum ingredients as they help hair "grow longer and thicker" and "condition and moisturize" the hair while providing a "healthier foundation and boost volume."
If you're still on the hunt for the best lash and brow growth serum, then you definitely need to give Milk Makeup's new KUSH Growhouse Lash + Brow Serum a try. The latest addition to its cult-favorite KUSH collection, this daily serum nurtures hair for longer and fuller lashes and brows using hemp-derived cannabis seed extract and other hair-healthy nutrients. We're not the only ones that are loving this new lash and brow serum; it's already got 10,000 Sephora loves and has a near-perfect rating. No wonder why it's flying off the shelves…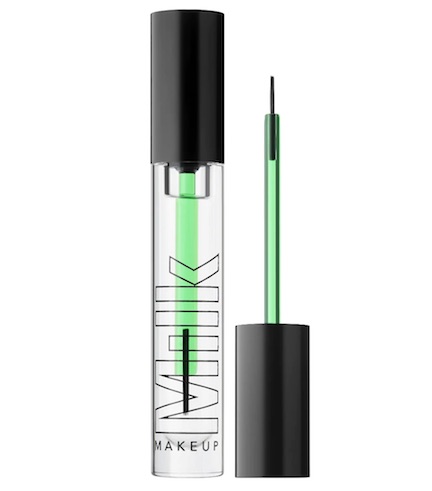 MILK Makeup KUSH Growhouse Lash + Brow Serum ($48)
Shutterstock
How The Best Lash And Brow Growth Serum Works:
Hemp-derived cannabis seed extract, which is non-psychoactive, conditions to strengthen hair for healthier-looking lashes and brows, while the KUSH Growhouse™ peptide blend improves the appearance of lash and brow thickness. Aloe, B5, and quinoa combine to support healthy hair follicles for longer-looking lashes and brows.
Promising Reviews:
"Been using it for about a week! I have sensitive eyes and no stinging or tearing! So far the results are sort of softer brow hairs and lashes they definitely feel conditioned! Would recommend if you're looking for a product like this!" - meryld518
"I received this product complementary through Influenster, for my honest review. I have used another lash serum for a while now, and have switched to this one. I already see an improvement in lash strength, and my lashes are naturally curling. I'm hoping it continues to work well and I see longer fuller lashes!! I do have to say though, It burns a tad if it gets in your eyes. Good product!" - elliann
"My second attempt at a lash serum...this one shows improvement after 16 days! I've tried the Rodan and fields on with no luck. My lashes are a little longer and definitely fuller and stronger! As an asian woman, I have a hard time with my lashes, and this one I can see a difference after using it. I've also been using it on my brows and it definitely is filling in some spots I wish to grow to even then out! If it's burning your eye, you're not applying it carefully enough. You have to wipe some of the product back into the bottom from the brush in order to not have it drippy when applying." - hueym
Shutterstock
How Cannabis Seed Extract Promotes Healthy Hair
Cannabis seed extract has been popping up in countless beauty and wellness products lately, and you're probably wondering how this buzzworthy ingredient can help improve the thickness and strength of your lashes and brows, right? Well, cannabis sativa, CBD, and hemp are all rich in the minerals and nutrients that your strands need and acts as a nourishing dose of vitamins and moisture for your hair.
"It's also high in essential fatty acids such as Omegas 3, 6 and 9, so it helps to prevent moisture loss and keep hair well hydrated," Kevin Wachs, founder and CEO of Earthly Body, says, who notes that CBD contains all 21 known amino acids that make up the building blocks of protein. "Because of that, it helps to build up collagen and elastin, which are essential to hair strength."
Alli George, the marketing manager at Daintri, explains that daily usage of a CBD-infused product can also help promote a healthy scalp, as well. "It's regenerative for the skin, so it helps the scalp maintain necessary things to keep it healthy, like good blood circulation and quelling dandruff and sore or irritated hair follicles," she says.
SheFinds receives commissions for purchases made through the links in this post.