Pop culture fans, do you know what you're being for Halloween this year? We've got an excellent costume idea for all of the film junkies out there–you should try a "Black Panther" Halloween Costume!
A DIY Black Panther Halloween Costume Will Be The Most Popular Costume This Year
So much has already been said about the brilliance that is the "Black Panther" film that it's difficult to add anything more and do it justice, which is why it makes sense that everyone will be making a DIY "Black Panther" Halloween Costume this year. The Marvel comic film has broken several records, including Bestselling Marvel Cinematic Universe Movie for selling the most advance ticket sales before its release. The movie and its talented cast of actors and actresses have won countless awards and they're up for countless more, including "Movie of the Year" at this year's People's Choice Awards.
Making A DIY "Black Panther" Female Warrior Halloween Costume
And, speaking of that cast of gorgeous people, the folks who gave their all in these roles have become household names and total icons. If that's not enough, the cast of female actresses is one of the strongest (and, arguably, the strongest) we've seen in any superhero movie to date. And, on that note, it makes total sense that you'd want to create a DIY "Black Panther" Halloween costume to honor these amazing cinematic heroines. The quartet of now infamous female characters you'll meet in "Black Panther" include Lupita Nyong'o's Nakia, Ramonda (played by Angela Bassett), Shuri, played by Letitia Wright, and General Okoye, played by Danai Gurira.
You can't go wrong portraying any of these strong women, but if you're itching to recreate a "Black Panther" female warrior Halloween costume like the ones that were worn by Nakia and General Okoye, who make up a team of female bodyguards called the Dora Milaje, we think you'll have an easier time nailing the look because their costumes can be created in 6 items or less.
What You Need To Make Black Panther Halloween Costume
Ready to start putting together your DIY "Black Panther" Halloween costume? Thankfully, a "Black Panther" General Okoye Halloween costume and a "Black Panther" Nakia Halloween costume can be made using affordable pieces from Amazon and Etsy. Start with these six pieces and you'll feel like you've entered the world of Wakanda: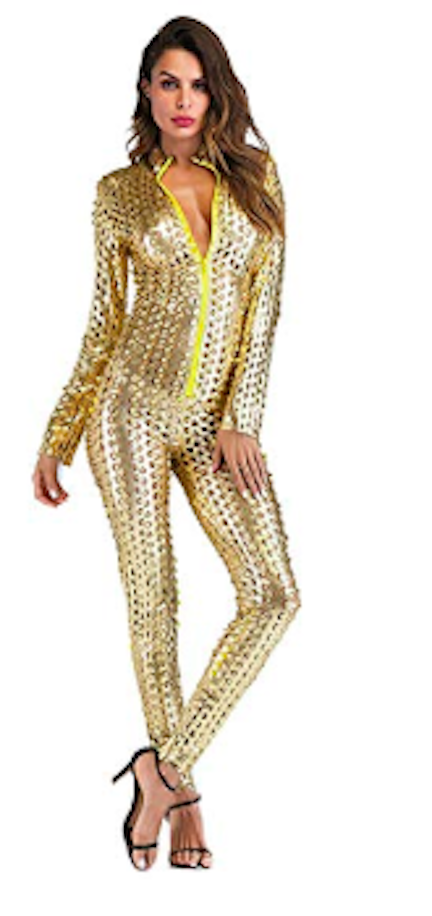 1. A Gold Bodysuit
Wonder Pretty Jumpsuit ($24)
To make the perfect DIY "Black Panther" female warrior Halloween costume, we recommend starting with a basic piece that you can build on, like a solid-gold full-body bodysuit.
This shiny catsuit has a front zipper and a hallowed out design. Don't worry about the fact that it isn't representative of what the "Black Panther" female warriors wear; its one job is to provide peeks of strong metallic under the costume we will continue to create.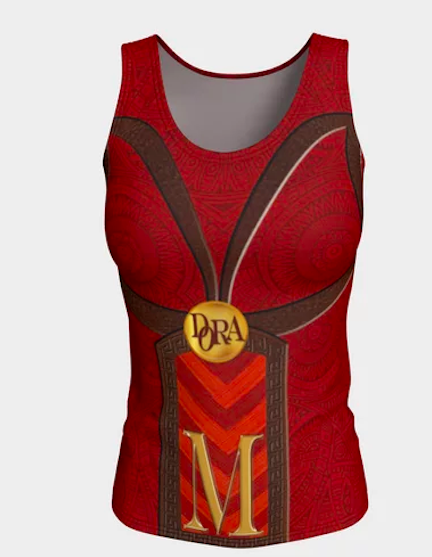 2. A Fitted Red Tank Top That Resembles Armor
Dora Milaje Fitted Tank ($28)

Wear this red fitted tank over your gold bodysuit. Its design resembles armor and you get to choose whether you want the handmade sleeveless piece crafted from soft peach skin jersey fabric or sustainable bamboo fabric. It enjoys almost 200 amazing reviews (perfect five-star rating) and most rave about how well it fits.
3. A Warrior Harness Bra
Dora Milaje Warrior Harness Bra ($12.50)
This warrior harness bra is so particular to General Okoye's character that it's difficult to pull one together using pieces. And that's why this handmade Etsy piece is so perfect--it's almost an exact replica of the bra worn in the film for less than $15.
4. A Silver Choker
Dora Milaje Character Choker ($22)
In addition to being skilled warriors and excellent allies, Nakia, Okoye, and the rest of the "Black Panther" female cast have gorgeous accessories. Each piece embodies a unique combination of fashion-forward and slightly antiquated elements, which bridge together Wakanda's rich history and modern technological achievements.
This art nouveau style choker has a toggle clasp and is handmade from Yaya Han fabric and linen. It's so unique and interesting the you'll probably want to wear it long after Halloween is over.
5. Silver Gauntlets For Your Arms
HZMAN Silver Studded Gauntlet ($18)
There's one superhero accessory that every strong Marvel character needs: Silver gauntlets that resemble bracelets but can withstand an enemy's weapons. These fierce gauntlets are texturized with studs and provide a metallic sheen that stands in contrast with the metallic gold bodysuit layer.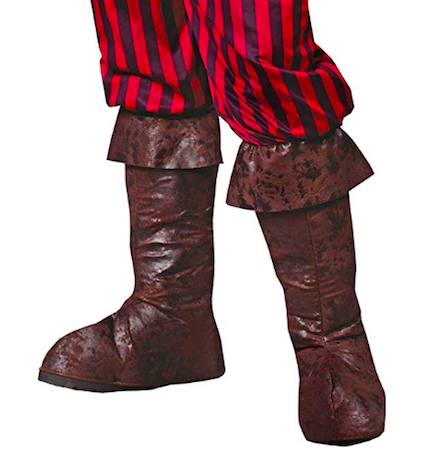 6. Boot Tops
FunWorld Pirate Boot Tops ($18)
Real boots cost major money. Unless you already own a pair of flat brown boots--and, if you do, they'll do the job nicely with this costume--save your money and buy these boot tops instead.
Despite the fact that they are, technically, pirate boots for a pirate costume, they're perfect for all of the trekking and journeying expected for a DIY "Black Panther" Halloween costume.
SheFinds receives commissions for purchases made through the links in this post.