As many women know, no matter how beautiful your dress is or how perfect your makeup looks on your wedding day, if you're having a bad hair day you're simply not going to be a happy bride. We asked professional hair stylists about the most common mistakes brides make with their hair, and here are the top seven they say you should avoid.
[Photos: Shutterstock]
Forgetting About How The Weather Will Affect Your Hair
One thing we don't have control of is the weather on our wedding day. Just as it's important to pick a hairstyle that compliments your facial features and your dress, it's just as important to pick a hairstyle that will last all day. Kristina Maccaro of Love Lane Salon says it's super important to consider the weather on your big day before getting your hair done. "If you are getting married outdoors on a humid day and your hair is prone to frizz, strongly consider wearing it up," Kristina says.
Bringing Too Many People To Your Hair Trial
While you should absolutely go for consultations to get your hair right before the wedding day, you don't want to bring too many people and run the risk of conflicting opinions, says Bryant Anthony of Salon Eva Michelle. "Bringing more than one person into the wedding trial, too many opinions from friends, family and loved ones can affect the outcome of the bride's desired style."
Forgetting Your Accessories
Dana Caschetta of Eufora suggests bringing all of your chosen accessories to your hair trial: veil, earrings, necklace, and hair accessories. This will give you a better idea of how everything will come together for the completed look on your wedding day.
Getting Too Elaborate
Many brides look to completely reinvent their hair when prepping for their big day. However, Waveney Antoine of Koil Hair says you shouldn't go too crazy when choosing your bridal hairstyle. "By trying the most elaborate updo in wedding history, they (brides) stress themselves out, and it can be frustrating if it doesn't work exactly as expected," Waveney says.
Skipping Haircuts
Some brides may skip out on haircuts if they are trying to grow it before their wedding day. However, failing to get regular haircuts can result in split ends and unhealthy hair. Dana further recommends tips for brides and says healthy haircuts are essential for brides. "Split ends do not style well, nor do they hold," Dana says. "Maintaining bi-monthly trims is the best way to get dead ends off and keep hair looking its best."
Adding The Wrong Extensions
Erin Zemet of Main Street Salon says you should bring any hair extensions along with you for any hair coloring appointments you have before your big day so that you can ensure that they will match. Extensions that don't match your natural hair can be an eyesore in photographs.
Failing To Wash Your Hair Before Your Big Day
Brides don't have to come with clean hair on their wedding day, but it also shouldn't be overly dirty, says Holly Pistas of Gordon Salon. "I'd personally rather 'dirty up' the hair with products than deal with unmanageable dirty hair that we have to, last minute, wash and blow dry adding unscheduled work into the timeframe of their appointment," Holly says. "I'd suggest washing the hair the night before or that morning with products their stylist has discussed with them."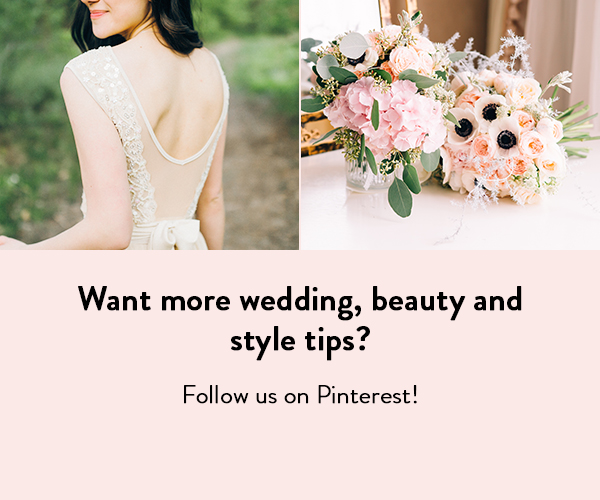 Want more wedding tips and advice? Follow SHEfinds on Pinterest!