Eating sweet treats does more than just put a huge smile on your face — though that's the best reason of all to indulge. If you are trying to lose weight or burn belly fat, making good choices about dessert can keep you satisfied and prevent you from overindulging in high calorie, high sugar options that will be more difficult to burn off.
Don't skip dessert. Choose one of these five desserts that you can eat (in moderation–of course!) that will still keep you on track toward losing belly fat.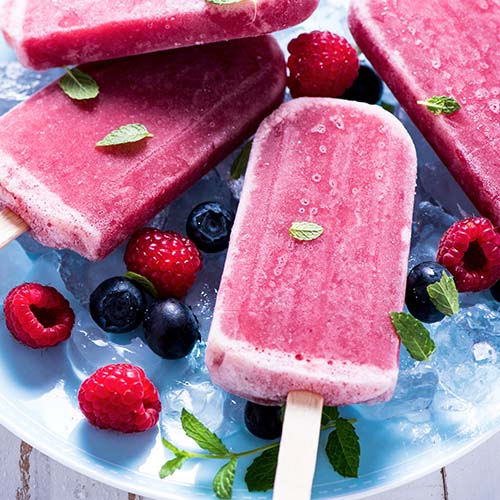 Shutterstock
Ten Calorie Lemonade Popsicles
Your average ice-cream cone has 120 calories and 23 grams of fat — and that's before you add sugar-laden toppings like sprinkles. But if you make these homemade popsicles, which require just three ingredients, you're whipping up a super easy recipe that has just 10 calories per pop. Here are the ingredients you'll need:
Frozen strawberries
Frozen raspberries
Lemonade
Shutterstock
Berries With Whipped Cream
Make yourself the most antioxidant-rich dessert by combining one cup of blueberries, blackberries, and raspberries and topping it off with a generous tablespoon of light whipped cream or sugar-free vanilla pudding. The sweet taste is intensely satisfying, you'll reap the benefits of a multitude of vitamins and minerals, and one serving has about 95 calories.
Shutterstock
These low-calorie coconut macaroons have just 30 calories per macaroon and you can make a huge batch to store and even freeze for when your sweet tooth gets the best of you. The seven ingredients you'll need include:
Unsweetened shredded coconut
Flour
Lite coconut milk
Agave syrup
Stevia
Coconut extract
Salt
Shutterstock
Getting your omega-3 fatty acids and skin-nourishing amounts of vitamin E has never tasted this good. These chocolate avocado cookies take just 25 minutes to make and have only 30 calories per cookie. Your taste buds and skin will thank you.
You'll need these ingredients:
Whole wheat flour
Salt
Baking soda
Granulated sugar
Brown sugar
Unsweetened cocoa powder
Mashed avocado
Unsweetened almond milk
Vanilla extract
Eggs
Chocolate chips
Shutterstock
Almonds Covered In Dark Chocolate
Even science is on your side here: a study has shown that almonds can reduce belly fat — and their high omega-3 fatty acid content also cuts down your risk of cardiovascular disease. Dip almonds in dark chocolate made up of at least 70 percent cacao and you benefit from serious antioxidants that can combat free radicals and help fight inflammation in your body.