As bad as we feel for ourselves when we want to lose weight before a big event, it's difficult to imagine the pressure celebrities face to look, literally, picture perfect before a huge, televised event like the Academy Awards or VMAs. You might think they stop eating altogether and subsist on a diet of the lemon water they seem to love so much — but the opposite is true, according to the experts who work so hard to help them get fit.
This is the diet many celebrities swear by when they need to look good for an event fast — and it doesn't include (much) deprivation (whew).
Shutterstock
They Don't Starve Themselves

Rule number one when preparing for one of the biggest events of a celebrity's career? Do not under any circumstances deprive yourself of healthy foods and necessary fat, protein, and calories, and — yes, even carbs — in an effort to better fit that designer gown.

"Whatever you do, avoid starving yourself at all costs. In order to maintain your weight in time for your big event, you must eat properly," Celebrity Fitness Trainer Corey Calliet told Women's Health. "Stick to a meal plan that's full of healthy fats like avocado, salmon, nuts, and seeds, and do not deplete yourself. If you want to start dieting, start 21 days out to give your body enough time to tone up and burn fat the healthy way."
Shutterstock
They Eat Specific Protein-Rich Foods

Of course, some food sacrifices will be necessary if you want to look as toned and healthy as possible — life isn't so fair that celebs indulge in chocolate three times a day prior to walking the red carpet.

The key though is avoiding refined carbs and sugar and choosing specific protein-rich foods that contain healthy fats and fiber and will fill you up. In addition to avocado, nuts, salmon, and seeds, foods like legumes, grilled or baked chicken, berries, eggs, and Greek yogurt have excellent protein-to-calorie ratios.
Shutterstock
They Skip Caffeine

It's tempting to try and speed up your metabolism with caffeine, but celebrity trainers say that's the last advice they give their clients before events.

"In the two weeks leading up to your event, avoid adding extra caffeine to your diet," says Celebrity Fitness Instructor Gunnar Peterson told Women's Health. "Sometimes people start feeling run down as they push toward an event or goal so they reach for extra caffeine in the form of coffee, energy drinks, energy shots, etc., to pump themselves up. Instead, you'd be better off going to bed a little earlier or catching a quick nap."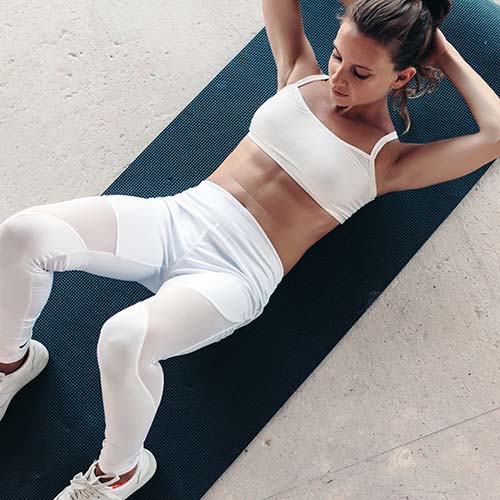 Shutterstock
They Workout — But Within Reason

It's one thing to work out each day — doing so can build your confidence and make you feel strong and confident before a big day or night. But there's a huge difference between engaging in a light to moderate strength training session, pilates, or a quick run and daily intense exercise intended to make up for lost time.

In short: take it easy on yourself. An injury is the last thing you want to show up with at an event.

"When training right before your big event, avoid a heavy load day, which can not only cause acute soreness in the muscles, but can also tax the connective tissue," Celebrity Fitness Instructor Tricia Brouk told Women's Health. "These coupled with the slight microtears in the muscles can lead to soreness and stiffness — two side effects that are not conducive to a sexy strut down the red carpet of any kind."