Wrinkles are a natural part of aging, but that doesn't mean many of us won't do whatever we can to prevent them.
The way our faces age has a lot to do with genetics, but lifestyle choices are the one component in which we have some control when it comes to aging. Most of us already know that smoking, drinking excess amounts of alcohol and caffeine, and not sleeping well can seriously affect our skin. But where you find wrinkles can actually clue you into some of the things you are doing that are contributing to fine lines and wrinkles.
None of us should give up laughing until our bellies hurt anytime soon (even if it can cause a few crinkles around the eyes). We have to live, right? But there are a few easy steps we can take to help prevent wrinkles from forming in certain areas of our face. First we need to get a handle on what each wrinkle type means.
Different Types Of Wrinkles
Smile & Laugh Lines
The technical name for the lines that appear around the mouth is nasolabial folds. This is one of the first areas people look to address early signs of aging. These lines usually have two causes: a lifetime of laughing and smiling, which creates the lines themselves, and the natural aging process in which cheek fat and volume diminishes a bit and the face sags slightly. As this happens, these lines around the mouth become more evident.
Solution: The one thing you should never do is stop laughing or smiling. If nasolabial folds are bothering you, you can use a topical vitamin C serum to stimulate collagen production and sunscreen to prevent further damage caused by UV rays. A cosmetic procedure like Juvederm Voluma injections can help restore lost volume in the middle of your face, which gives a slight "pulling up" effect to help make these lines look softer.
Lip Lines
If you're a smoker, lip lines may be an unfortunate reality. But, believe it or not, years of puckering your lips to drink through straws can also be a culprit, as can the sun's damaging UVA and UVB rays.
Solution: Obviously, quitting a smoking habit is one of the best things you can do for your health and skin health. Not using straws will help. But the number one way to prevent lip lines is by making sure you don't neglect this area of your face when applying a sunscreen—each day, rain or shine.
Forehead Lines
Your forehead is another one of those places that will likely develop fine lines before other areas of your face, thanks in part to all of that amazing time spent outdoors. UV rays hit your forehead and can break down collagen and elastin, which leads to wrinkles. Repeatedly lifting your eyebrows to form a surprised expression can also contribute to lines.
Solution: Wear a hat if you're planning on hiking, walking, or running outside. Always wear SPF 30 or higher, even if the sky is overcast (those sneaky UV rays have a way of getting through). If you truly want to obliterate wrinkles (temporarily), Botox is the most popular and most effective solution. Antioxidant serums and moisturizers also serve as a preventative measure.
Frown Lines
Contrary to popular belief, frown lines aren't just caused by frowning. The "11s" that creep up between our brows are extremely common and have more to do with simple aging and genetics. Sun exposure breaks collagen down faster, as will stress and smoking.
Solution: More sunscreen. Less stressing out. Try yoga or meditation if you have stressful days and make sure you are getting enough sleep at night.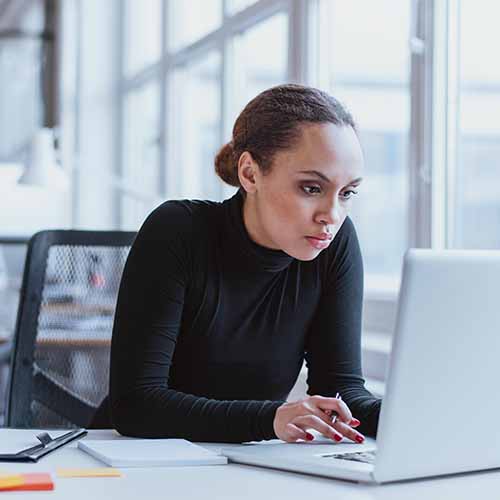 Crow's Feet
Those crinkly fine lines that appear beneath and on the sides of your eyes are "affectionally" referred to as crow's feet and are very likely the first place you'll notice aging on your face. The skin around your eyes is extremely thin and delicate, which makes it more susceptible to damage. If you work a lot, squint, and spend late hours up on your computer, you could very well be contributing to crow's feet.
Solution: A good eye cream that contains retinol and peptides is your best defense against crow's feet, as is sunscreen. Make sure your glasses or contact lenses prescription is accurate to prevent squinting and find ways to de-stress throughout the day—even if that just means leaving your desk at lunchtime to take a walk.
For more skincare tips, check out:
--5 Cheap Products Dermatologists Swear By To Get Rid Of Wrinkles
--5 Drugstore Anti-Aging Serums That Work Better Than Botox
Shop our anti-aging product recommendations below:
Algenist Genius Liquid Collagen ($115)
Collagen production decreases with age and results in your skin looking older. Collagen is essential to maintaining firm, supple, resilient skin. Algenist's best selling vegan skincare serums help reverse the signs of aging like fine lines and wrinkles in just 10 days. Using this amino acid and peptide-packed serum will hydrate, nourish, and visibly restore skin's radiance.
TruSkin Naturals Vitamin C Serum ($19.99)
Thousands of Amazon customers rely on this vitamin C serum to boost collagen production, brighten your complexion, help improve the appearance of lines and wrinkles, and fade hyperpigmentation. It contains a powerful blend of 20 percent vitamin C, as well as skin-plumping hyaluronic acid and vitamin E.
Alba Botanica Fragrance-Free Sunscreen Lotion ($8.99)
You best defense against aging is using a sunscreen with SPF daily. This lightweight daily mineral sunscreen by Alba Botanica is biodegradable, reef-safe, paraben-free, gluten-free, cruelty-free, and provides broad spectrum protection to help fight wrinkles.
IT Cosmetics Bye Bye Under Eye Eye Cream™ Smooths, Brightens, Depuffs ($48)
If crows feet or fine lines around your eyes are a concern, you need a good eye cream. This eye cream by IT Cosmetics contains intense anti-aging ingredients that have been clinically proven to brighten and diminish dark circles, puffiness, fine lines, and wrinkles. The skin around our eyes in sensitive giving it a little extra TLC always helps!
SheFinds receives commissions for purchases made through the links in this post.