The rich and vibrant colors that come with fall make it a magical season to say I do. With so many gorgeous hues to choose from, it can be hard to know where to start or how to choose the right combos for your special day. But help is here in the form of some of our favorite wedding experts who are ready to share the most common color mistakes many fall brides make. Once you know what to watch out for, selecting your perfect shades will be a snap!
Shutterstock
1. Picking All Fall Colors
Fall colors are traditionally red, yellow, and orange--but that doesn't mean that you should use all of those colors at your wedding, explains Marie Kubin of Rent My Wedding. "Choose one bold fall color, and pair it with more subtle hues."
Shutterstock
2. Not Daring to be Different
Most fall weddings boast rich jewel tones and earthy color palettes, but don't be afraid to be different. "Choose the colors that you love and add an accent of a fall color," suggests Shannon Tarrant, Founder of WeddingVenueMap.com. "Think about the color palette that goes with where your wedding is taking place. Rich jewel tones don't always make sense in a tropical place with palm trees when it's 85 degrees outside."
Shutterstock
3. Choosing Trendy
"The biggest mistake I see with fall weddings is that couples pick the color that is trendy now," says Lindsey Nickel of Lovely Day Strategy. "For example, blush and all-white are still quite popular and work well for spring and summer. For fall trendy color palates like blush and all-white clash with the rich tones and textures that naturally exist in fall."
Shutterstock
4. Forgetting Complementary Colors
If you do opt for fall colors, Kubin suggests balancing them out with complementary hues. For example, a red theme works well with white, gold, or black accents. Orange looks great paired with ivory, magenta, and green. Yellow tones are complemented by grey, black, or navy blue.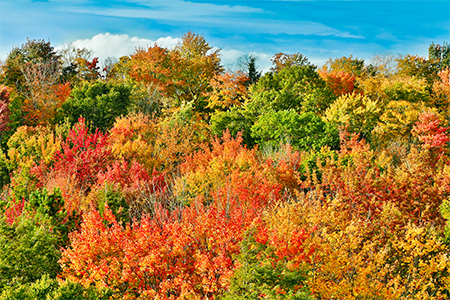 Shutterstock
5. Going Too Traditional
You don't have to strictly stick to traditional fall colors, says Leah Weinberg, owner & creative director of Color Pop Events. While burgundy, pumpkin, and marigold do make stunning color options in the fall, but there are so many more options out there.
Try jewel tones like emerald green, teal, or a rich purple. Or you can flip the script and desaturate these deeper tones for a softer look. For example, amber, sage and coral feel autumnal without screaming the season."
Shutterstock
6. Skipping Pops of Color
You don't have to go crazy with fall colors when you can incorporate pops of color throughout the venue, such as bright and bold mini pumpkins and red berries. "The great thing with fall colors is pops of colors are all you really need because of their rich bright tones," says Judith Accilon of Jam Pack Party Rentals & DJ Entertainment.


Shutterstock
7. Going Too Dark
One mistake couples make is that they choose a dark linen with deeper floral tones, resulting in one dark table, notes Jacqueline Hill, owner of Jacqueline Events & Design. "Make sure you add in a variety of shades to provide contrast for photos."
Shutterstock
8. Ignoring Your Bridesmaids
Not all complexions look good in traditional fall hues, says Emilie Dulles of Dulles Designs. "Consider who your bridal party is before assigning attire colors. Better yet, give your bridal party more than one color option so they can find an outfit that coordinates with your wedding colors and is flattering to their complexion."


Shutterstock
9. Clashing with the Season
Be sure you don't simply pick colors that you love, yet they will clash with the coordinating hues in your venues' natural surroundings. "If you are having a fall wedding in Manhattan and plan on taking pictures in Central Park, then consider what the trees will look like. Choosing the right colors will also come out in your wedding pictures, which last forever," says Dulles.
Shutterstock
10. Thinking Inside the Box
"I always encourage our team of designers to think out of the box, gathering color palette inspiration from a favorite photo of a landscape or living space," says Sarah Chancey of Chancey Charm. "Mixing those colors with a warmer palette creates something fall, unique, and fun!"
Shutterstock
11. Opting Only for Jewel Tones
Just because it's a fall wedding doesn't mean you can't incorporate bold berry, pastel pink or even a pop of lavender. "Many spring colors contrast well with fall shades," says Shelley Grieshop of Totally Promotional. "Experiment with your favs, ask friends for advice and don't be afraid to break tradition!"