Flowers play such an important part of your wedding day. From the bouquet you'll carry down the aisle to the centerpieces that will compliment your reception décor, you want to make sure the bloom you choose look their absolute best. With that in mind, we asked some wedding professionals to share the biggest mistakes they see brides make when it comes to floral arrangements so you can be sure to avoid them.
[Photos: Shutterstock]
1. The Best Arrangement Height
You want your floral arrangements to be conversation pieces, but you don't want them to hinder conversations, Amanda Lankford of Amanda Jewel Floral + Design says. "Putting massive eye-level arrangements on guest tables is often a mistake as it hinders guests from being able to chat comfortable across the table," Amanda says. "Save these arrangements for guest book tables and other areas and instead opt for more conversation-friendly centerpieces for your reception tables."
2. The Venue Aesthetic
Every bride thinks about what color her nails will be, what color her bridesmaids dresses are, and what color the groom's tux will be--and they factor all of that in when choosing florals. But according to Michele Velazquez of Pop the Knot, brides often don't think about the overall aesthetic, including the venue, which makes a huge difference. "If you are getting married in a completely rustic surrounding but your florals are too modern, it could look strange," she says.
3. The Weather
Your wedding is more than just a few hours--it's often a long day, so you need to make sure the flowers you choose can withstand time, Brandi Hamerstone of All Events Planned says. "So many brides get caught up on the idea that they must have this one flower or this one type of bouquet without giving thought to whether the bouquet itself can withstand an 8 or 10 hour day," Brandi says. "These arrangements are moved around, carried and without water so they need to be sturdy."
4. Flower Source
While you might see a flower is "in season," that doesn't necessarily mean that specific flower is in season in your state, or where your wedding is taking place. Sarah Parlos of One Fine Day Event Planning & Floral Design says many of the flowers she uses come from various locations. "Many of our flowers are flown in from South America and Holland, along with California for businesses located on the East Coast," Sarah says.
5. The Ribbon
While ribbon is often forgotten or an afterthought, it can really enhance the look of an arrangement--especially the bridal bouquet. Mary Simmons of Persephone Floral Atelier says that there are so many more options than the classic satin ribbon. "My favorites are hand dyed silk ribbons and velvet ribbons. Both have a luxurious feel and add texture to the bouquet," Mary says.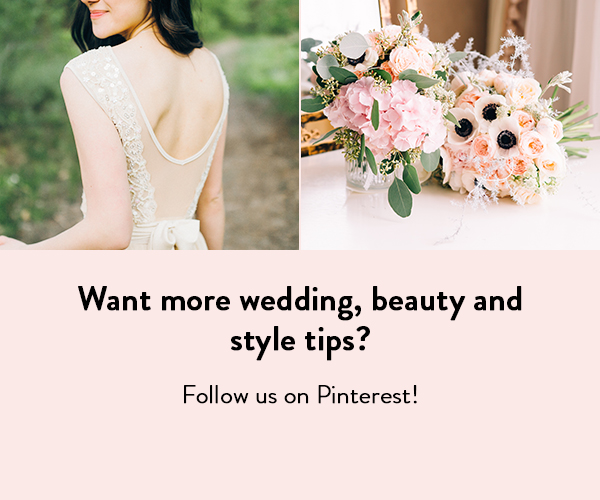 Want more wedding tips and advice? Follow SheFinds on Pinterest!