Picking out a conditioner can be difficult, especially if you struggle with hair loss. Although conditioners are designed to moisturize your hair, some of them do the opposite and can lead to damage.
According to Adina Mahalli, hair and skincare expert for Maple Holistics, you should avoid silicones in conditioner.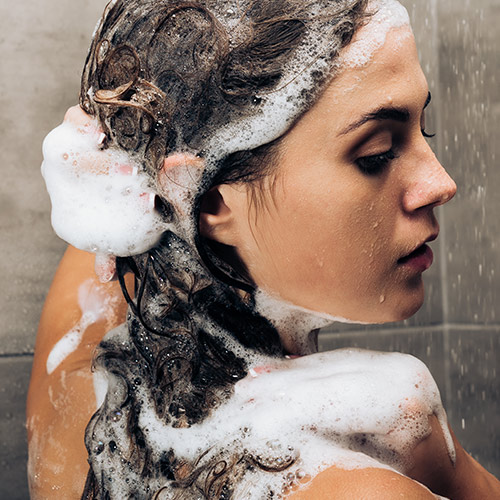 Shutterstock
Silicone
She explains why this ingredient is still common in conditioner: "The danger of using silicones is gradually on the rise, but one of the most common places that you'll still find this harmful ingredient is in your conditioner."
She continues, "Silicones coat the hair shaft to give it the silky-smooth feel you get from a conditioner."
Shutterstock
Although creating a silky-smooth look sounds like a good thing, the way silicones work has some negative consequences as well.
Mahalli explains, "This coating can also clog your pores and cause buildup. This can increase inflammation in the scalp which can cause irritation and dehydration of the hair follicle."
Shutterstock
With this in mind, these silicones can hurt the longterm health of your hair and lead to breakage.
She continues, "Essentially, silicones create a fake moisture barrier that blocks out real moisture absorption. Although this isn't the case for all silicones, consumers should definitely be cautious of ingredients that end in 'cone' when checking conditioner labels."
Shutterstock
Sticking to silicone-free conditioners is a great place to start if you are struggling with hair loss and do not know why. Some popular options include Aveda Rosemary Mint Conditioner and Maui Moisture Conditioner.
SheFinds receives commissions for purchases made through the links in this post.