J.Crew Factory is having one of their epic extra-50%-off clearance sales right now, the Clear The Clearance event, and we couldn't be more excited because our wallets really needed a break. From the Zara Summer Sale to Nordstrom's Anniversary (just days away!), the deals just keep getting better and better (and I keep getting poorer and poorer).
But the prices at Factory's clearance sale are insane and won't put you in the poorhouse–think $11 for cardigans, $18 for men's chino shorts, under $10 tops and more. Here's everything you need to know:
What Is It
J.Crew Factory has "clear the clearance"-type promotions several times per year (historically, in months like March, April, May, July, September, October and November). These sales feature an extra 50% off women's, men's and kid's clearance styles with a specific code at checkout. The sale typically lasts a few days and is online-only.
In July 2019, the store is offering an extra 50% off off your first two items, then an extra 60% off three or more with code MORESALE at checkout. Don't miss out!
You can also receive complimentary delivery with J.Crew Rewards.
When Is It
The sale started today, July 11, 2019 at 12:01am EST and will run through July 15th at 11:59pm ET.
What To Buy
Cardigans For $15
Pretty cardigan sweater styles are marked down under $15 from over $50. Careful--this one is final sale! (Not all of them are.)
J.Crew Factory Cotton Caryn Cardigan Sweater ($14.99, down from $54.50)
Dresses For $14
The selection of summer dresses featured is solid--snag one for as little as $15 down from $45. Not too shabby!
J.Crew Factory T-Shirt Dress ($14.95, down from $45 with code MORESALE)
T-Shirts For $11
Their everyday items are the best, like this lightweight slub V-neck that's marked down to just $11, down from almost $20. We'll take it!
J.Crew Factory Featherweight Slub Cotton T-Shirt ($11.50, down from $19.50)
Chino Shorts
A summer staple, these 9 inch chino shorts will become your go-to. And for just $18, you can't say no!
J.Crew Factory 9" Frankie Bermuda Chino Short ($18.50, down from $46.50 with code MORESALE)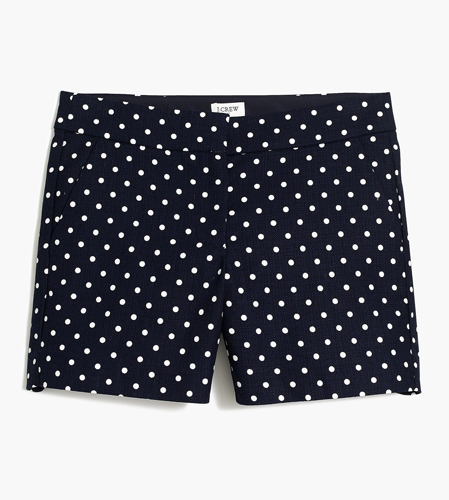 J.Crew Printed 5" Basketweave Short ($29.99, down from $39.50)
J.Crew Mid-Length Slip Dress ($39.99, down from $79.50)
J.Crew Retro Cat-Eye Sunglasses ($19.99, down from $29.50)
J.Crew Raffia Round Block-Heel Sandals ($89.99, down from $128)
SheFinds receives commissions for purchases made through the links in this post.