She's so much more than a beauty YouTuber—Jaclyn Hill just dropped her second makeup collection with Morphe and the highly anticipated collaboration is a must for any Hill devotee who has been mesmerized with her eye makeup looks from day one.
Jaclyn Hill x Morphe Vault Collection
The Jaclyn Hill x Morphe Vault Collection consists of four eye makeup palettes that will retail at $60 for the entire quartet, though get this: you can make them yours for just $49 now that they hit shelves.
But we're getting ahead of ourselves.
What can you expect from these four palettes and why does anyone actually need four eyeshadow palettes? Simple: Hill has always had a knack for helping to create gorgeous, highly pigmented, and interesting shades, with some that are much more wearable than they look (and she serves as the perfect YouTube model to prove that point). Hill also listens to her fans and responds to their needs, so expect the Jaclyn Hill x Morphe Vault Collection to be a fan favorite fast.
Here's everything you need to know about this exciting makeup collaboration, including where you can grab one (or, better yet: all four) palettes.
The Jaclyn Hill Collection With Morphe
Who Is Jaclyn Hill?
This isn't Hill's first time working with Morphe or even collaborating with other brands. For years, Hill has been providing makeup tutorials and advice that's beyond helpful and, in the process, has gained five million subscribers and nabbed a few sweet deals with big beauty brands. She has worked with brands like Gerard Cosmetics, with whom she had a very public breakup, and released a popular skin perfecter called Champagne Pop with BECCA Cosmetics.
And just last year she and Morphe Brushes launched a 35 shade eyeshadow palette that included lots of bright, rich, and burnt shades in the gold, red, and orange families (like I said, they're super wearable though).
Most fans adored Hill's original Palette. But as is expected of a YouTube beauty guru with millions of followers, she also got an earful when it comes to advice and criticism about what fans felt she should do differently with her next palette.
And so, Hill's coming at us with her second attempt at eyeshadow palette greatness.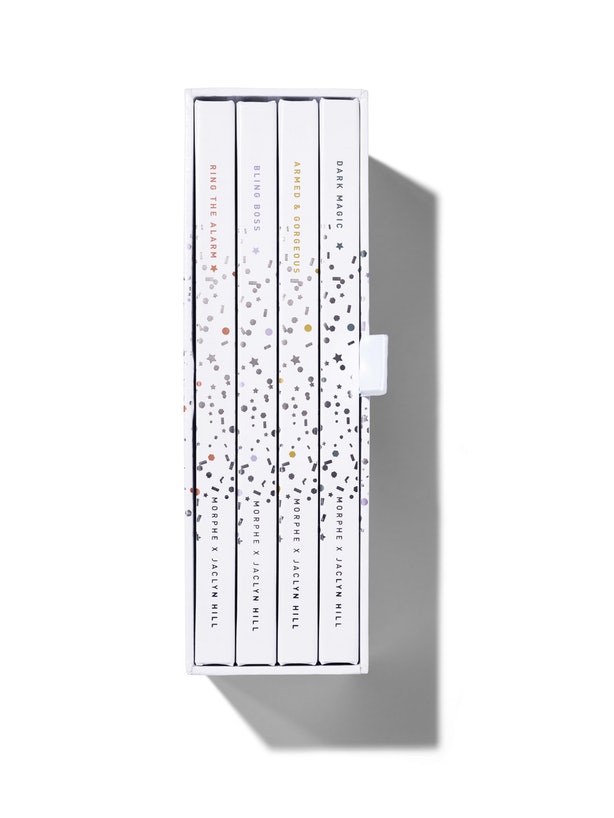 How Will Jaclyn Hill x Morphe Vault Collection Differ From Her Original Palette?
For starters, the size of her new palettes is everything. One of the biggest complaints about Hill's original 35-shade palette was that it was too large and bulky to take anywhere. The Jaclyn Hill x Morphe Vault quartet of palettes are smaller, sleeker, and far more portable than her original palette. And they have cool names like Dark Magic, Armed and Gorgeous, Bling Boss, and Ring the Alarm.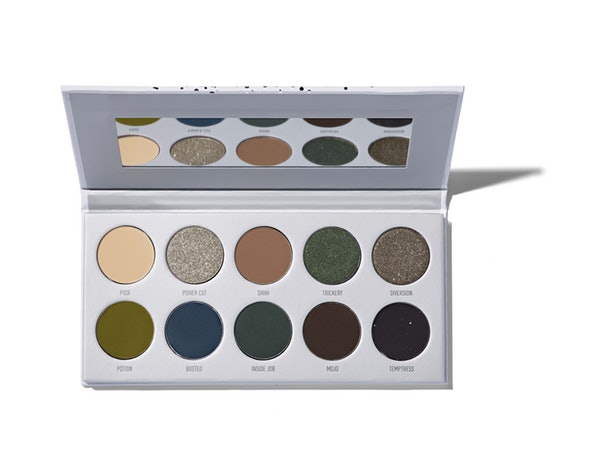 The Palettes Are Loaded With New Colors & Design Features
There will be 40 shades in total across four palettes and, according to Fashion, they will likely include plenty of eye colors that Hill came up with last year but simply didn't have the space to fit into her one Morphe x Jaclyn Hill palette. Exact details about the colors themselves haven't been revealed yet, but if you check out some of the YouTube tutorials made by vloggers like MakeupShayla—and you pause the vid—you'll be able to get a few clues about what to expect.
The shadows are color coordinated and placed at the bottom of the palette, with a mirror on top (which is something Hill's fans requested). The palettes are divided into purple/pink/neutrals, gold/red/orange/yellow, blue/grey/green tints, and a brighter take on earth shades.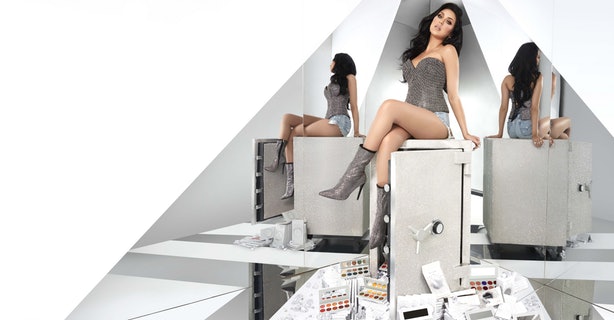 Morphe Brushes
Where Is The Jaclyn Hill x Morphe Vault Collection Available?
The big question: when and where can you get your hands on Jaclyn Hill x Morphe Vault Collection palettes? The collection officially became available for purchase at MorpheBrushes.com on August 14 and less than 24-hours later, it sold out.
Although the retail price for all four palettes will be $60, they'll sell for $49 at first, or you can purchase each palette for just $15.
If you'd rather go to a physical store to try on the shades first, you're in luck: the palettes will also hit Ulta shelves (and will be available on Ulta's website).
While the collection is sold out on Morphe's website, they are still available at Ulta, just not in a bundle. If you want all four palettes, you will have to purchase them separately.
Shop The Jaclyn Hill x Morphe Vault Collection At Ulta
Morphe x Jaclyn Hill The Vault Ring the Alarm Eyeshadow Palette ($15)
Morphe x Jaclyn Hill The Vault Bling Boss Eyeshadow Palette ($15)
Morphe x Jaclyn Hill The Vault Dark Magic Eyeshadow Palette ($15)
Morphe x Jaclyn Hill The Vault Armed & Gorgeous Eyeshadow Palette ($15)
SheFinds receives commissions for purchases made through the links in this post.