As an American turned British princess in the making, Meghan Markle will undoubtedly be the most modern bride to ever walk down the aisle with a royal. When Meghan and Prince Harry get married on Saturday, May 19 at St. George's Chapel in Windsor Castle, all eyes will be on Meghan—specifically, her bridal gown, bridal hair, royal makeup. We can't wait to see every last little detail of their wedding, right down to the flowers in her bouquet.
Rumor has it that Meghan, an independent free thinker, has had a heavy hand in planning her nuptials and that her taste is much more sophisticated and modern than the Royals may be used to. We already know their cake is unconventional. The organic and seasonal lemon elderflower cake with buttercream frosting made by London-based Violet Bakery sounds all kinds of delicious but shares little in common with Prince William and Kate Middleton's traditional eight-tiered fruit cake covered in white icing. We also know Meghan and Harry won't share a traditional first kiss in front of a public audience on the balcony of Buckingham Palace, but instead, go on a royal carriage ride.
But that doesn't mean Meghan won't adhere to a great many royal rituals at their wedding–we'll just have to wait and see which ones. Of all the questions left unanswered surrounding her royal bridal look, whether or not she'll wear a bridal veil is possibly the biggest.
Judging by the royal traditions Meghan and Harry are following and royal feelings about veils as a wedding hair accessory, we took a guess at what Meghan Markle's bridal veil will look like.
Meghan Markle's Royal Bridal Veil
Why All Of The Fuss About A Veil?
Most of us view wedding veils as a bridal accessory that we can take or leave. The romantic piece is deemed by some to be outdated, especially when a bride wears it to cover her face while walking down the aisle. Since ancient times, a veil "wrapped brides from head to toe to represent the delivery of a modest and untouched maiden," according to Brides. The veil also "hid her away from evil spirits who might want to thwart her happiness."
Now, not all brides who opt to wear a veil do so because they want to present themselves as virginal packages, obviously. But there's no denying it has appeal in the royal family. Kate Middleton was a modern bride who wore a full veil covering her face when her father walked her down the aisle to marry Prince William.
A Long Line Of Royal Women Have Worn Veils
Kate Middleton was only following royal protocol when she wore a veil at her wedding back in 2011. Though it's important to note that many modern brides have taken the veil back and are wearing one simply because it's pretty and a nice added touch to your wedding.
If Meghan chooses not wear a veil, she will be breaking a long-standing tradition. Princess Diana wore an elaborate veil when she married Prince Charles and Queen Elizabeth's veil was so long it trailed down a staircase when she posed for her wedding portrait.
"I think the veil adds to the tradition, fantasy and pageantry surrounding a big wedding, especially a royal one," a royal expert at Daily Break told Express. With that said, there's no rule about Meghan having to wear a veil to complement whichever tiara she will borrow for the day.
"In all my research on royalty, I've never come across anything that dictates what a royal bride should wear on her wedding day. I believe it's more tradition than anything else that a bride — royal or not — wear a veil."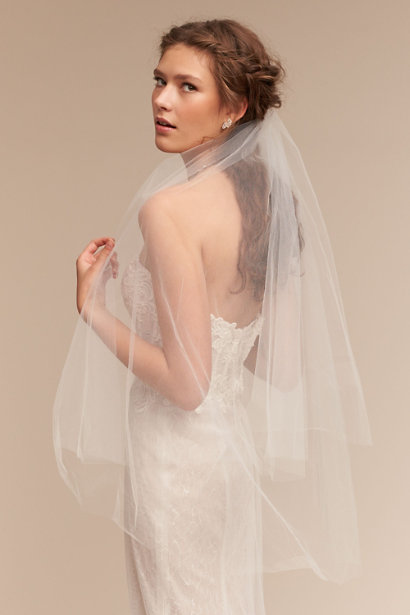 Cirque Veil ($210)
Let's remember Meghan is keeping some traditions alive—Kate and William's children will play a major role in her wedding, as most Royal children do. Meghan and Harry are even embarking in a carriage ride around Windsor after their wedding to pay their respects to citizens. Given those factors, there's a good chance Meghan will wear a veil. And our bet is that it will look a little something like this.
This gorgeous Cirque Veil is a fingertip veil that's a little bit traditional, and a little bit modern. It could attach right to Meghan's low chignon, should she choose to wear her hair in this favorite style of hers. Our guess is that she will opt not to wear her veil over her face for that long memorable walk down the aisle. Stay tuned this Saturday when all of our most burning royal wedding questions will finally be answered.
For more Meghan Markle wedding news, check out:
--You've Definitely Seen Meghan Markle And Prince Harry's Wedding Day Carriage Before
--Will Meghan Markle Have A Maid Of Honor
--We're Everything We Know About Meghan Markle's Royal Wedding Day Tiara
[Photos: Splash]
SheFinds receives commissions for purchases made through the links in this post.