If you love pop culture, Halloween is the perfect time to pay homage to your favorite celebrity. Not sure which A-lister would make for an easy costume? Why not dress up as the woman whose fierce style and unapologetic attitude have been shaping the culture with a DIY Nicki Minaj Halloween Costume?
The Look You Should Copy For A Nicki Minaj Halloween Costume
We love every single outfit that Nicki Minaj wears and every risk she takes, but her look at the 2018 Video Music Awards blew us away, even more than usual. The singer doesn't hold back on stage, nor is she ever shy about trying on high fashion designs that others might consider controversial and then absolutely owning those pieces. You could pick out one of the hundreds of looks the singer has sported over the years to create a perfect DIY Nicki Minaj VMAs Halloween Costume, but this time around, we're going with her extra, extra VMA style.
The Items Every DIY Nicki Minaj Halloween Costume Should Have
Minaj showed up at the VMA's wearing a super-sheer ensemble designed by Virgil Abloh from his streetwear collection called Off-White. Instead of donning a single dress, a pair of shoes, and a swipe of lipstick before calling it a day, Minaj brought on a complex mix of a beige bodysuit, sheer floor-length gown on top, interesting belt, and oh my goodness, that long hair in pigtails.
Everything You Need To Make A DIY Nicki Minaj Halloween Costume
There are times when you spot a celeb wearing a specific outfit and you just know it's going to go down in history as one of her most iconic. Here's how to get Nicki Minaj's sexy, cool VMA look this Halloween without breaking the bank: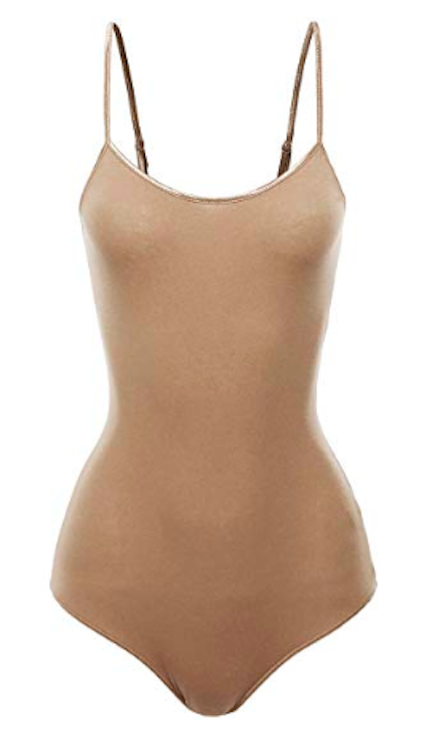 1. A Beige Bodysuit
Awesome 21 Bodysuit ($9-12)
Kick things off with this simple beige bodysuit, which has adjustable spaghetti straps and is made from a comfortable and stretchy blend of cotton and spandex. The bodysuit costs less than $15 but will easily become a staple basic piece in your wardrobe and one you can wear long after Halloween is over.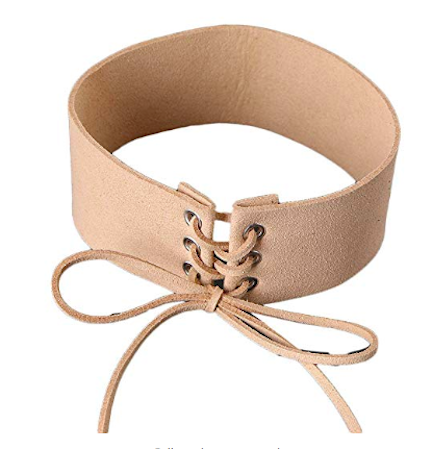 2. A Choker-Style Necklace
Minaj's cool beige bodysuit extends upward to transform into a half turtleneck style. Instead of spending extra money on a fancier bodysuit, wear this beige choker-style necklace to recreate the same look for a lot less money.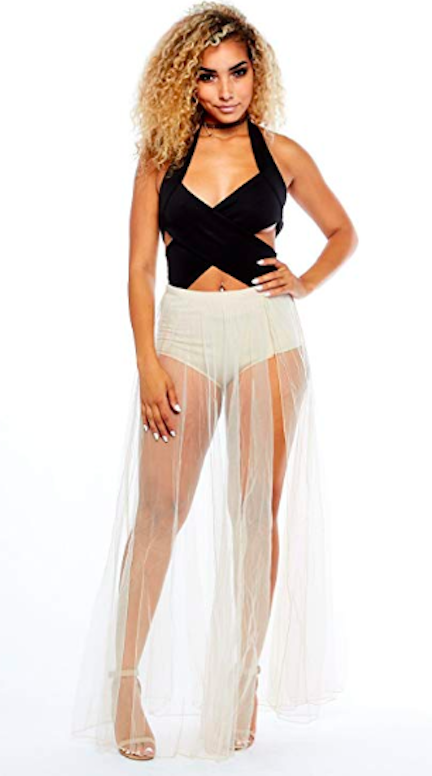 3. A Nude Mesh Maxi Skirt
GENx Mesh Maxi Shirt ($26)
There are a few different ways you can go with this Nicki Minaj VMA Halloween costume. If you prefer to feel slightly more covered up on top, you can opt for a full-length sheer or semi-sheer nightgown. Otherwise, this maxi skirt designed with nude mesh material is perfect. This skirt comes in small, medium, and large sizes. And because it's made with mesh material, it's also a lot easier to cut and shorten at the bottom if it requires a few simple alterations.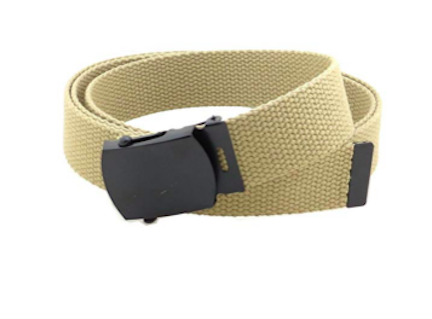 4. A Beige Belt
BC Belts Canvas Belt ($8)
Cinch your entire outfit together and create a Nicki Minaj hourglass silhouette with the help of this simple beige belt with black buckle. The belt Minaj wore at the VMA's boasts a very specific style. You will not likely find that exact same belt out there, but grab this belt and check out the next step.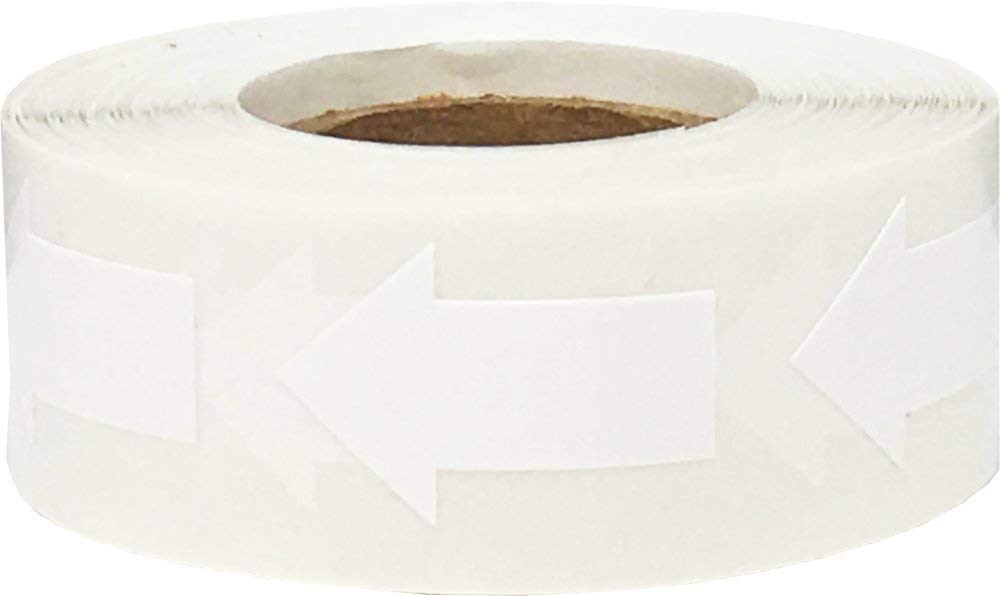 5. White Adhesive Arrows
Color Coding Arrow Labels ($12)
These white adhesive arrows are usually used to label boxes and packages. But in the case of this Nicki Minaj costume, you can place two arrows directly on top of your black belt buckle to imitate Nicki's look.
6. A Long, Straight Black Wig
Topbuti Cosplay Wigs ($12)
There isn't a hair color Nicki hasn't tried, and she looks amazing in any shade. But this playful long, black, straight-as-a-pin is a new favorite. And it's simple to recreate, starting with this cosplay wig. Part the wig down the middle and brush the wig into two parts on either side of your head. Secure each part with a thin elastic band to create two low side ponytails.
7. Gold Hoop Earrings
Pavoi 14K Gold Plated Earrings ($12)
With an outfit this creative and interesting (and, some might say, outrageous), it helps to not pile on accessories so that you can shine an even brighter spotlight on your costume. Copy Minaj's earring style with these simple gold hoops. Add a few thin gold bracelets and serious bright red nails and that's all you need to complete this amazing DIY Nicki Minaj VMAs Halloween costume.
SheFinds receives commissions for purchases made through the links in this post.